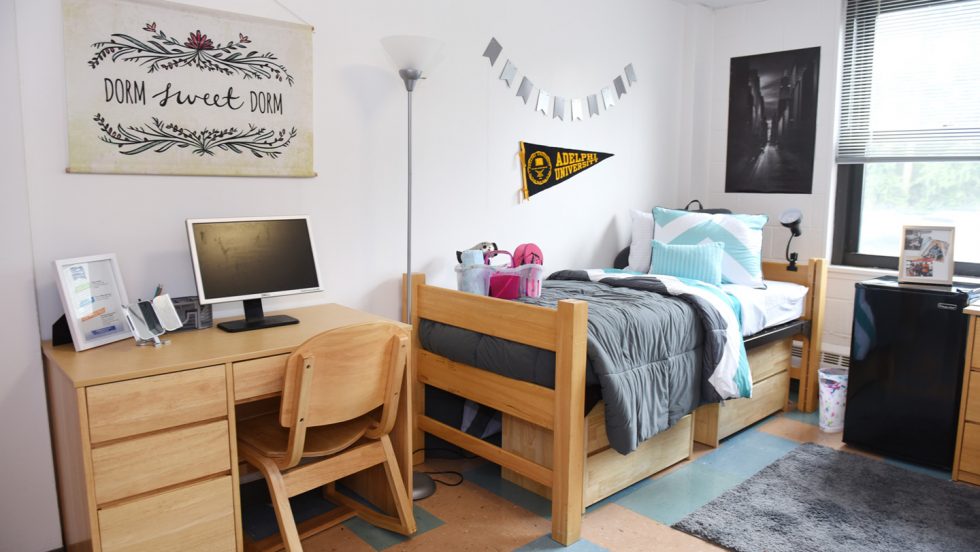 This fall, Adelphi met an enviable goal that many colleges and universities failed to accomplish: keeping campus—including the residence halls—open up to the Thanksgiving holiday. Not only did residence halls stay open, students made the most of the semester, enjoying days, evenings and weekends on our beautiful grounds and socializing while remaining socially distant.
Now, Spring 2021 is around the corner, and Adam Visconti, associate director of residential life and housing, is confident that next semester will be a great time for students to get the full experience by living on campus.
Visconti filled us in on what res life was like this past fall, how everyone worked together to keep campus open and what's in store for spring.
What feedback have you gotten from students on residential life this fall?
Residential students consider our campus to be their home. They've adapted to the safety precautions and online learning and say it's well worth it to live on campus.
In fact, students tell me their building communities are closer than ever. For example, in Eddy Hall, students have formed groups where they can play games together in the quad or just talk for hours. Even behind a mask, there are no barriers to communication and relationship-building on campus.
What are the advantages to living on campus versus living at home or off-campus?
Residential students use the study rooms in our residence halls, the library and all over campus. These rooms offer ample, quiet spaces where they can take their online classes without the interruptions they might have at home.
Living on campus is especially great for our students who have on-campus jobs, internships or clinical rotations in the area.
Is safety a concern for students?
Adelphi has worked hard to implement safety protocols. As a staff member who lives in Earle Hall, I feel very safe living on campus. We all wear our masks and maintain social distancing. Everyone who lives on campus gets free COVID-19 testing every two weeks, which gives us peace of mind. Our partners in Adelphi Health Services are always on top of what needs to be done to keep us healthy.
Our hall attendants who work during the night hours ensure everyone who enters the building wears a mask and has completed the daily health check. We use the temperature scanners by each residence hall's exit to check our temperatures. This gives us an added layer of security, safety and reassurance.
(See the video "Adelphi Restart 2020: Planning a Safe Return to Our Residence Halls" for more information.)
Sharing meals is a big part of campus life. How are students handling not being able to dine together at one table?
Our students are very good at being social in responsible ways. They'll eat socially distanced outside of Post Hall, on the baseball field and on the picnic tables outside of Chapman Hall.
On the topic of dining and socializing, the Ruth S. Harley University Center (UC) will reopen in January. Is this a draw for students?
Absolutely. Our students are counting down the days to the UC reopening in January 2021. They're excited for the many great dining options, including a full-service Starbucks, and the numerous spaces where they can spend time with their friends. The spaces for students to hang out in are large, open and exciting.