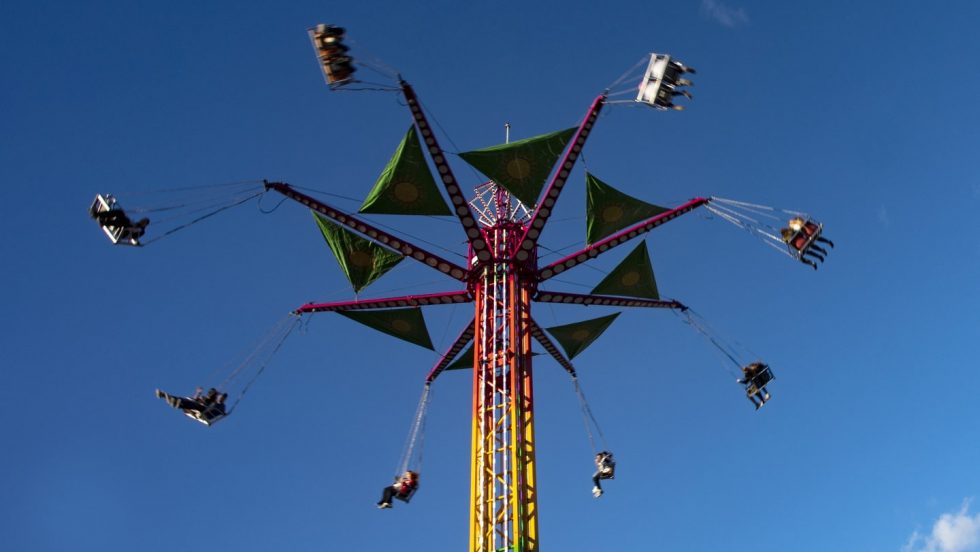 Spirit Weekend is one of Adelphi's newest and already most beloved traditions. From Casino Night to Prestigious Panthers, it's a weekend where students, alumni, faculty, staff and community members can come together to show Panther pride and connect with one another.
This year, from Thursday, October 14, to Sunday, October 17, Spirit Weekend is extra special: Adelphi is celebrating our 125th anniversary as well as a return to some Spirit Weekend events being in person after being all virtual for 2020.
"We worked very closely with all of our alumni groups to determine comfort levels around gathering in person," said Katie Grant, associate director of alumni relations. "We want to ensure all of our attendees, whether in person or virtual, feel comfortable, safe and excited to be coming together as a community."
The Fun Continues, Virtually and in Person
The Panther Carnival is one of Spirit Weekend's signature events, and this year it's back on campus. Carnivalgoers can look forward to rides and games, carnival food, like cotton candy, and different booths hosted by Adelphi organizations. A highlight of the carnival is the announcement of the Prestigious Panthers and the Spirit Court.
Casino Night is another Spirit Weekend favorite. This year it's back in person with a twist: It's now under the stars. For Casino Night Under the Stars, guests can gather safely outside to enjoy blackjack, poker, slot machines, bingo and other casino games. Participants will receive play money to compete, which they can exchange for prizes, such as Adelphi swag, gift cards and electronics.
The fun doesn't stop there. There will be Spirit Weekend programs just for first-year students, transfer students and new graduate students. Students looking to add a little magic to their lives can come to the Ruth S. Harley University Center Ballroom to see award-winning magician Daniel Martin on Thursday, October 14.
Students, staff, alumni and faculty can participate in our annual Spirit Weekend Service Project to Crossroads Farm at Grossman's. Volunteers will work with farmers and staff to plant, harvest, garden and do other seasonal tasks while learning about organic growing methods, plant care and local food.
"The carnival allows student organizations to be represented in our carnival booths while fundraising through fun, engaging games," said Arianna Livreri, associate director for the Center for Student and Community Engagement. "Student organizations also are able to showcase their Panther pride through the Spirit Car Display competition. The Center for Student and Community Engagement will share the winners after our Prestigious Panthers are announced by R. Sentwali Bakari, PhD, vice president for student affairs, at 1:30 p.m."
Grant said virtual events have become an important part of Spirit Weekend, especially for alumni. "Last Spirit Weekend, when it was all virtual, we had alumni tune in from 18 different states," she said. "If that was in person, that certainly would not have been the case. So we wanted to make sure we provided those opportunities again."
For Panthers interested in a delicious arts and crafts activity, Spirit Weekend will feature a Boba Tea Virtual Experience on Friday, October 15. Presented by Vibrantry.com, the Boba Milk Tea/Coffee Kit Guided DIY Workshop will provide boba kits for participants to create their own boba beverage with the virtual help of Vibrantry.com professionals.
Another virtual Spirit Weekend opportunity is the Multicultural Alumni Chapter Annual Meeting and Gathering. Everyone is invited to join an important discussion via Zoom on supporting students of color, their initiatives and the growth of the chapter.
An Anniversary for the 10 Under 10 Ceremony
Adelphi's 125th birthday isn't the only anniversary being marked this Spirit Weekend. It's also the 10th anniversary of the 10 Under 10 Young Alumni Recognition Program, another Spirit Weekend tradition, which honors alumni who have achieved exceptional career and professional accomplishments within 10 years of graduating from Adelphi. This year's ceremony, the 10 Under 10 10th Anniversary Celebration, will also recognize alumni who have been inducted into the program since 2012.
"This is a time where we really get to celebrate and honor the incredible things that alumni have accomplished," said Grant. "With a virtual ceremony, inductees can attend from wherever they are in the world, and their families and friends can watch them receive this award."
Whether in person or virtually, Spirit Weekend offers many ways for "everyone in our community to come together," said Grant. "It's a time for our Panthers to come home and really celebrate Panther pride and the great things that Adelphi is doing."
Learn more about Spirit Weekend and the schedule of events.