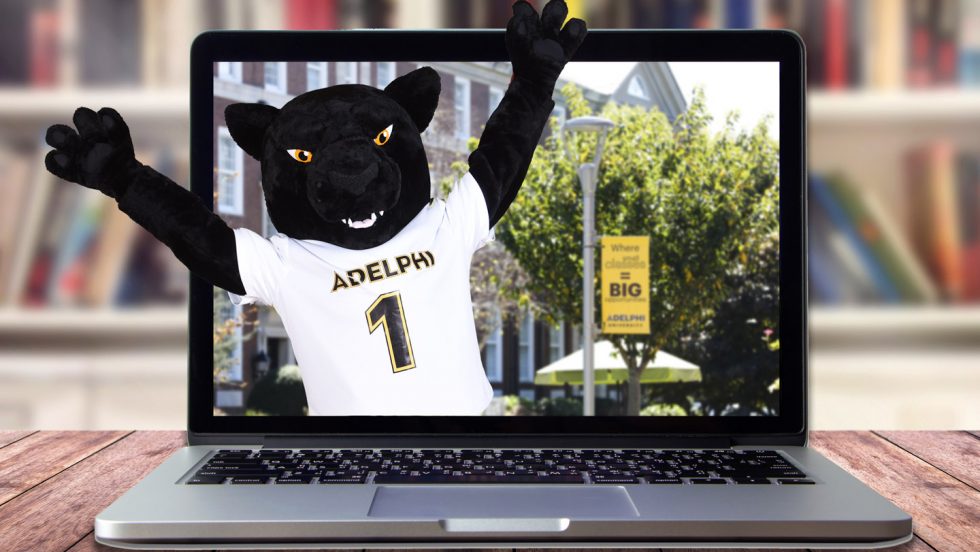 Adelphi's annual Spirit Weekend celebration is going virtual for 2020. This year, the Adelphi community, including alumni students, faculty, staff and families, will come together to show their Panther spirit, safely, through various activities, reunions and events from Friday, October 23, through Sunday, October 25.
While the traditional events won't be taking place on campus this year due to the COVID-19 pandemic, the Center for Student Involvement (CSI), Office of External Relations and the campus planning committee have worked hard to convert activities online and make Spirit Weekend feel special for all.
"Spirit Weekend is all about celebrating our Panther pride as we come together as a community," said Jodie Sperico, executive director of alumni engagement and annual funds at Adelphi. "This year, more than ever, we look forward to sharing the Adelphi spirit with alumni, students, parents and families, faculty, staff and our community."
Spirit Weekend events will include a twist on old favorites, with reunions and gatherings, a virtual casino game show and new events such as the Virtual Panthers Series.
Events include, but are not limited to:
Adelphi Steps for Impact Virtual 5K
Adelphi's annual 5K run/walk race takes place where you are and when you want, going on now through Monday, October 26. The entire Adelphi community is encouraged to come together, get some exercise and raise funds to benefit the Special Olympics New York.
2020 10 Under 10 Awards Ceremony
On Friday, October 23, Adelphi will celebrate and honor 2020's 10 under 10. The celebration honors alumni that have achieved professional success, made a powerful difference in their communities, and loyally supported Adelphi as partners, advocates and inventors, all within 10 years of graduating. The event will be hosted via Zoom beginning at 7:00 p.m.
This year's honorees include:
Kyle Savage '15, founder and director, Shining Studios
Lila Shams-Talis '10, MS '14, APRN, RN-BC, AGNP-C, nurse practitioner in private practice
Charalambos "Harry" Loizides '11, MA '14, mathematics teacher, West Hempstead Union Free School District
Dhalia Puri '12, registered nurse, Pediatric Intensive Care Unit, Cohen Children's Medical Center
Angelica Cintron '11, CAGS '12, MBA '12, human resources manager, ProHEALTH Care
Joseph A. Bruno '13, Esq., judicial law clerk, U.S. district court
Philip F. DiSanto '12, JD, associate attorney, Willkie Farr & Gallagher LLP
Maria Lopez '13,

 

elementary school teacher, Avenues: The World School
Oswaldo Luciano '12, clinical program manager, Mount Sinai
Chitwete John-Njokanma '15, co-founder, FINT Technology Africa
Register to attend the ceremony.
Casino Game Show
In place of the traditional Casino Night, Adelphi's Center for Student Involvement will host a new virtual game show, including four family-friendly rounds of casino-themed games and trivia on Friday, October 23, starting at 8:00 p.m. Games will include Guess the Card, the Wheel Celebrities and Jackpot Trivia. Prizes will include Amazon gift cards. Spots must be reserved by Wednesday, October 21.
Register for the event.
Support Our Panthers
Whether you are making a gift to celebrate a milestone reunion or looking to support one of the University's areas of greatest need, your donation will give current Panthers a life-transforming Adelphi education during these unprecedented times. Show your spirit. Support our students.
Donate today.
Check out all of the 2020 Spirit Weekend events.