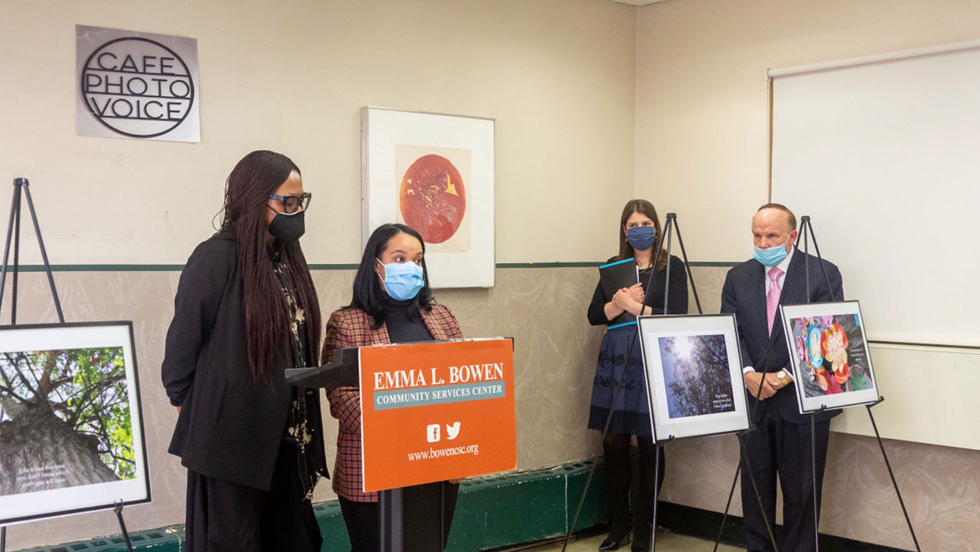 A student-led photovoice project empowers people in treatment to share their experiences and build community ties.
People in treatment for mental health and substance abuse rely on relationships with friends, family and their community for support. But during the height of the COVID-19 pandemic, forced isolation threatened to significantly weaken—and even sever— these ties.
Chrisann Newransky, PhD, associate professor, and Philip Rozario, PhD, professor, both of Adelphi's School of Social Work, who had already been partnering in New York City with Harlem's Emma L. Bowen Community Service Center through a grant from the Substance Abuse and Mental Health Services Administration of the U.S. Department of Health and Human Services, saw an opportunity to engage local populations who were feeling the worst effects of social distancing. After recruiting several Adelphi students to help with study design and implementation, they launched Café Photovoice at the Bowen Center in 2021, where it still remains on permanent display.
Photovoice is a participatory research method that puts the tools of documentation in the hands of participants. People in treatment at the Bowen Center were given a camera to capture moments in their daily lives during the pandemic, including their use of mental health and substance use services. In addition to offering service providers and policymakers firsthand insight into how people access their services, this methodology also enabled participants to connect with peers facing similar circumstances.
Julissa Adames-Torres, a doctoral candidate at the time who received her degree in 2021, and Master of Social Work student Shelita Birchett Benash, who received her degree in August 2022, led efforts to recruit participants, facilitate group discussion sessions and visually present data. "Julissa brought with her years of experience and training in group facilitation and clinical social work, which were essential in establishing rapport with all participants and engaging them in the process of photovoice," Dr. Newransky said. "Shelita, who is a trained photographer and artist, combined her creative skills and social work knowledge to highlight and amplify participants' voices using their images and words in the graphic presentation of their concerns."
For Dr. Adames-Torres, the experience was a deeply meaningful one. "I was able to connect with the participants' resilience," she said, "which meant engaging with them as they shared their lived experiences, understanding their present circumstances during a pandemic and processing moments of hope for the future."