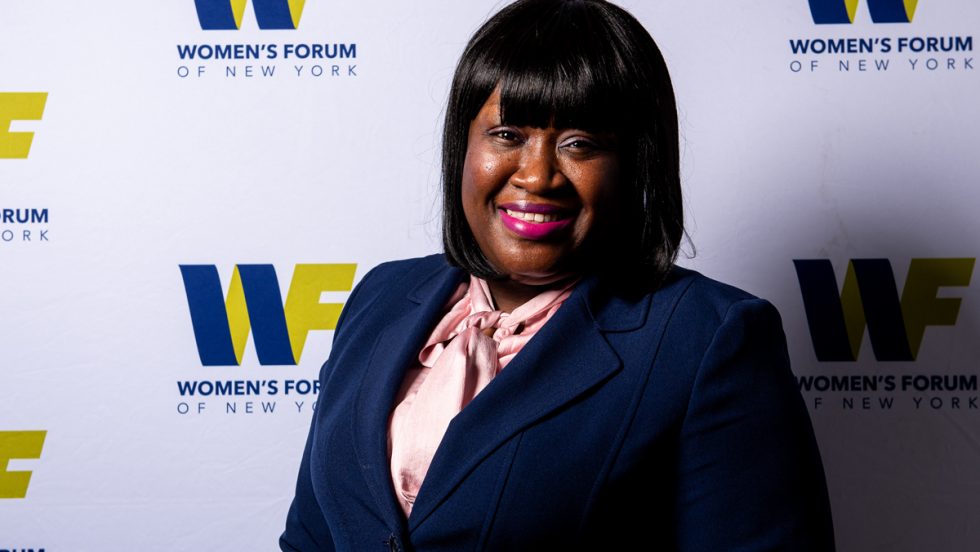 Classmates call her Mommy Louis, professors at Adelphi's Manhattan Center say she is an exceptional student and Women's Forum of New York lauded her for achieving success in the face of adversity. Still, 44-year-old Myrdline Louis, a native of Haiti who moved to the United States 23 years ago, is modestly proud and pragmatic about her ability to overcome significant obstacles in order to be on track to graduate this spring with a bachelor's degree in social work. She will begin the University's MSW program this fall.
"My son is my legacy," said Louis, who is a survivor of domestic violence and a single mother. "I made a promise to him that I would be the first person in my family to graduate from college and would make a better life for us than I had growing up. He sees that failure is not an option, and I know that he, too, will become highly educated." Now 14 years old, her son is a straight-A student. Louis is his staunchest advocate as he moves through the public schools, where she once worked as a school safety officer for the New York Police Department.
While motivated by her son, Louis credits much of her success to "the incredible faculty and staff at Adelphi," her drive to "make a difference in this world" and her strong faith.
Finding Open Doors and Opportunities at Adelphi
Upon transferring to the University in 2021 after attending community college, Louis first met professor Andrew Peters, director of Manhattan programs. "He opened so many doors for me," she said. "As an immigrant, I needed someone to show me the path. Professor Peters is among those who have always been there for me." She added, "Everyone at Adelphi has been so supportive and caring … they don't judge a book by its cover. They open the book and get to know you."
Peters called Louis' ability to pursue college in the past few years "a triumph." He said she is the "ideal Adelphi student … a very caring person who looks after her classmates like family, both personally and in terms of offering support to anyone who is falling behind." He said she "understands the value of community, as well as how difficult it can be for foreign-born individuals to navigate big bureaucracies of service."
Louis said she strives to show others the same kindnesses she has been afforded. "I'm humbled when someone calls me a role model," she said. "I see my son in the younger students and try to encourage those my age and older to educate themselves … knowledge is power."
"Myrdline has done exceptional work in her courses and her social work internships," Peters added. She currently interns at Foster Care Unplugged, an agency that addresses the needs of children who have been sex trafficked. "She's really gone above and beyond to help kids and make them feel valued," he said.
Award Recognizes Triumph in Face of Adversity
Knowing that the Women's Forum of New York works to empower women—particularly those who have not had equal opportunities—to advance their education and careers, Peters suggested last year that Louis apply for the organization's Education Fund award. Open to high-potential women 35 and over, whose education and lives have been disrupted by extreme adversity, the award includes a $10,000 scholarship and various networking and enrichment opportunities.
It is not surprising that the Women's Forum, a network of women leaders representing the highest levels of professional achievement, found Louis' journey compelling and worthy of recognition.
Naja Pazant, the nonprofit's communications and social media manager, called Louis' accomplishments "extraordinary." She added, "Myrdline's ability to persevere despite tremendous personal challenges—and her commitment to give back to her community—make her an ideal award recipient. She didn't let past experiences hold her back. She has grit." The organization found Louis "very impressive," and Pazant said they are "delighted to welcome her into our sisterhood of women who are achieving great things."
One of 20 women from throughout New York City chosen to receive the honor, Louis said, "The scholarship and being able to participate in the organization's personal and professional development programs are such gifts." She described attending the Elly Awards in June, an event honoring awardees of the Education Fund, as an "incredible experience."
Commitment to Pay It Forward
The soon-to-be college graduate said her future will be devoted to her son and serving her community by paying forward the kindness and support she's received. "It's never too late to make a difference," she said.
Once she earns her master's degree, Louis hopes to work with domestic violence victims and others in need of assistance and encouragement. "If you believe in yourself you will strive to achieve your goals even when life isn't easy," she said. "I am proof of that."
She clearly is grateful for those who have supported her on her educational journey. "From the bottom of my heart, I want to thank everyone who has helped me since I first enrolled at Adelphi University, and also to express my appreciation to the Women's Forum for all of their assistance. Education certainly is the key to the future."