Elizabeth Palley, JD, PhD, a professor in the School of Social Work, was awarded an $80,000 grant from the Washington Center for Equitable Growth to research informal, home-based child care providers—often those who care for children from low-income families—and identify challenges providers face in delivering high-quality, affordable care.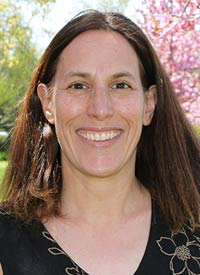 Dr. Palley is a family policy expert and frequent contributor to public discourse surrounding child care. The author of two books—Social Welfare Policy in a Changing World (Sage Press, 2019) and In Our Hands: The Struggle for U.S. Child Care Policy (NYU Press, 2014)—she and her work have been featured on CNN, WNYC, Fortune, The Hill and in many other media outlets.
Her current research could not be more timely. "Because of COVID, there's been a greater understanding of the importance of child care," said Dr. Palley. "Parents who are not [previously] stay-at-home parents have had to try to educate their kids from home. There is a renewed kind of opening to say, 'Look, this is really hard work,'" she said. "We have a window of opportunity, where people are really listening, to point out that child care is hard work."
Dr. Palley and her research collaborators are hoping to use this window of opportunity to elevate the voices of child care providers who often aren't heard—not formal day care centers or preschools, but informal, often unlicensed providers.
"These are some of the most amazing women," said Dr. Palley. "They're considered like babysitters, and they're not. These aren't just poor women who are doing it to make a buck. Many of them get as much training as they can. They're committed to how they can do their job as well as they can."
Dr. Palley and two collaborators—Corey Shdaimah, PhD, of the University of Maryland, and Bweikia Steen, EdD, of George Mason University—will be working with a small team of research assistants, several of whom are Spanish speakers, to conduct interviews and focus groups with home-based child care providers, whose contacts have already been gathered by the Virginia Department of Education. Bringing their insights into the conversation around child care is important, said Dr. Palley. "Elevating these women—their opinions, their perspective and their professionalism—is part of the goal of the research," she said.
First-Ever Grants to Research Child Care
The Washington Center for Equitable Growth is a nonprofit research and grant-making organization dedicated to advancing evidence-backed ideas and procedures that promote strong, stable and broad-based economic growth and to helping build a bridge between academics and policymakers so that new research is relevant, accessible and informative to the policymaking process.
Equitable Growth has funded the work of more than 150 scholars since its founding in 2013. This year, Dr. Palley and her collaborators are part of the organization's first-ever group of grants focused solely on research into child care. It's a new program area Equitable Growth attributes directly to the coronavirus pandemic and the economy not being able to function smoothly without adequate child care. Day care centers usually open in the morning and close in the early evening, so these at-home providers are the only option for parents who work hours other than the traditional nine to five, such as those working overnight shifts in a hospital. Dr. Palley pointed out that these jobs and, by extension, the work of the child care providers she is researching, comprise an "important piece of the labor market."
Manoj Pardasani, PhD, dean of the School of Social Work, noted the significance of Dr. Palley's prestigious grant. "The Washington Center for Equitable Growth is a world-renowned institute that supports economists and social scientists in their research on economic inequality," he said. "Social justice and equity are critical to the mission of the School of Social Work. Dr. Palley, with her extensive scholarship and expertise on child care policies, will explore the needs of this vital component of the system and highlight issues of access to care."
A Collaborative Approach
At the end of the grant, the team's aim is to publish their research in a scholarly journal, but also to share their findings with media and policymakers through the Washington Center for Equitable Growth's network, as well as to offer insights to the Virginia Department of Education.
Beyond the window of opportunity when people are listening, Dr. Palley said—with new infrastructure spending proposals currently being considered in the United States—is a window in which real action is possible. "There's all this money potentially coming into child care," Dr. Palley said. "But how can we make sure that the money goes where the people who are providing the care want it to go or need it to go?" She and her collaborators are working to offer answers to that question very soon.