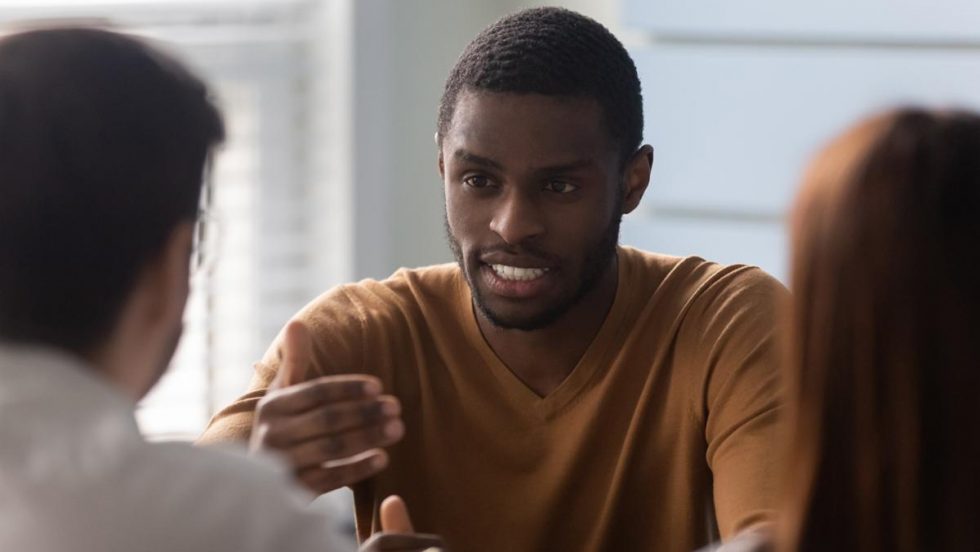 Last fall, Schanica Pickens, director of the Master of Social Work program and director of student engagement and academic affairs, moderated Media Perceptions of Black (MEN)tal Health Practitioners.
The panel presentation, co-moderated by Ohiro Oni-Eseleh, MSW '93, director of Adelphi's Hudson Valley School of Social Work program, featured Black mental health professionals highlighting the complex challenges and opportunities for men in the profession. Panelists discussed perceptions and societal stereotypes that have impacted their experiences within different communities.
Panelists included:
Marcel Crooks, MSW '18—social worker; psychotherapist; CEO of Represent The Alternative, LLC
Sean Doorn, PhD '17—consulting behavior intervention specialist; New York City Department of Education school psychologist
Warren Graham, PhD '22—adjunct faculty, Adelphi University School of Social Work; founder, Obsidian & Indigo Consultants, LCSW, P.C./Preferential Peace, LCSW, P.C.
Dwayne James '15, MSW '16—social worker and founder of Dwayne James & Co., LLC
The Office of Diversity, Equity and Inclusion recently interviewed Pickens to learn more about her vision for this panel.
What was your inspiration for the fall Media Perceptions of Black (MEN)tal Health Practitioners event?
Media Perceptions of Black (MEN)tal Health Practitioners was inspired by my admiration of the Black man and those that I'm privileged to know, have mentored and taught, and my raising an adolescent male. The impact of violence, abuse and particularly social justice continues to be a major problem in the Black and brown community and so to shed positive light on Black male practitioners. All alumni who are successful, however, must contend with media perceptions that oftentimes depict and distort Black and brown men. All participants are engaged in social justice activities to eradicate injustice, mental health, homelessness, etc. The tragic event of George Floyd, along with other devastating killings of Black people, pierced my soul, and one of the first things that came to my mind was the fact that my son, father or brothers are not exceptions to abusive treatment by law enforcement—and that this killing could very well have been one of them.
What did you enjoy most about the panel discussion?
I enjoyed reuniting with the alumni and hearing the raw stories about their Adelphi experiences and their ability to speak freely without judgment. Also, the ability to captivate and engage the participants in discussion, Q and A.
What was the overall feedback from the attendees of the event?
The feedback was extremely positive. Many of the attendees referenced the discussion as powerful.
What do you hope participants learned?
I hope participants learned that the perceptions of others [are] typically the reality for people of color. What do you hope they walked away with? It is my hope that the participants learned about the plight of Black and brown people, men in particular, demystified any myths and narratives, the disparities in education, policing/justice and mental health.
Do you plan to hold similar future events? If so, what will the focus be?
Yes. The focus will be on leadership, civic engagement, COVID, social justice and inequality, and self-care—just to name a few.