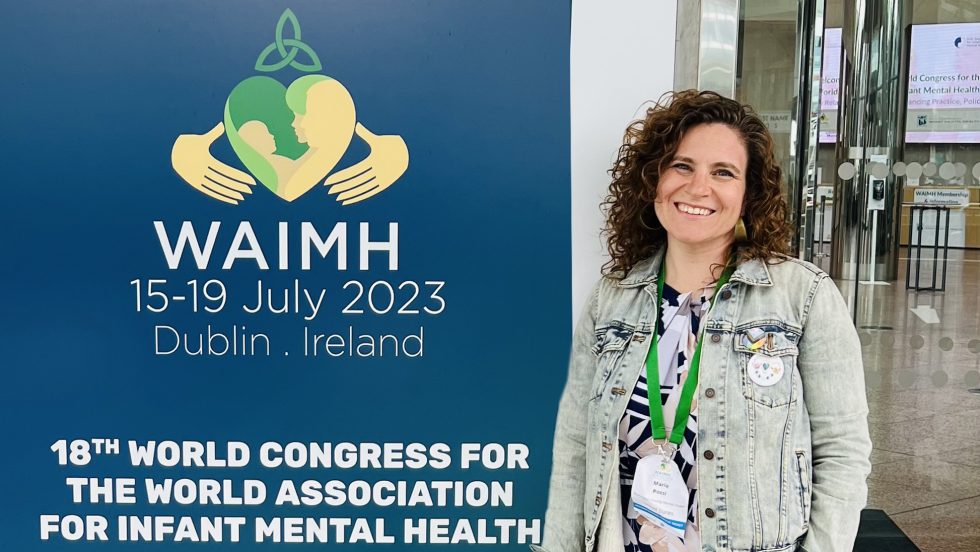 Maria Rossi, a student in our Master of Social Work program, found a unique way to improve women's health in her rural Vermont county—she combines doula counseling with social work advising. She presented her innovative thinking at the World Association for Infant Mental Health Conference in Dublin this summer, an impressive global honor for a graduate student.
What inspired a doula with years of experience serving a small community in Vermont to enroll in a Master of Social Work program?
Maria Rossi, an MSW student at Adelphi who co-founded a highly successful project in 2014 that provides doula support for local residents through community mental health services, explained.
"I came to social work because I have really learned over the years—and I believe this so strongly—that doula work is social work, and that birth work is done best when it's done in advocacy," she said.
The Doula Project, which she and her colleagues established at Washington County (Vermont) Mental Health Services, is now attracting attention far beyond its county lines. This July, Rossi, who is coordinator of the project, traveled to Ireland to help present research on the project at the 18th annual World Association for Infant Mental Health World Congress in Dublin.
What do doulas do?
As Rossi noted, doula care is birth work. It provides emotional, physical and informational support to pregnant women and their families during pregnancy, labor and delivery, and postpartum.
For Rossi, doula care has an even greater purpose—as a powerful means of addressing the maternal health crisis in the United States.
Maternal death rates in the United States are the highest in the developed world, and the most common obstetric complication is mental health disorders that occur during the perinatal time frame—from pregnancy through the year after delivery.
Perinatal stress and mood disorders can lead to an increased risk of preterm birth, low birth weight and small-for-gestational age infants. There is a higher risk of child developmental, socio-emotional and psychiatric disruptions. Those numbers are much worse for people of color and those living in poverty.
According to recent research, those who received doula care during labor and birth dropped their chance of developing postpartum depression and/or anxiety by two-thirds. Those with pregnancy complications who received doula care cut those chances in half, compared to those without doula support.
The services provided by the Doula Project are very popular in her community, Rossi said.
"Washington County has an average of about 250 births a year. In the last eight months I've connected with over 100 families who wanted to have a doula," she said. "That's an enormous number when you're considering the number of families that we have in our community. No other agency has those first touches on so many families."
Presenting results at international conference in Ireland
The Doula Project's success inspired Kalin Jean Gregory-Davis, MD, then a medical student, to study it and present her findings in a paper titled "The Design and Impact of a Rural Community Supported Doula Program." Rossi and Dr. Gregory-Davis presented the research at the conference in Dublin.
The Doula Project is the first in Vermont, and possibly the nation, to offer doula support through community mental health services and was originally established for those on Medicaid or who qualified for it. The agency recently received two federal grants that allowed it to offer free doula support to everyone in the county and increase services for those at high risk.
The power of advocacy
Advocacy in the form of doula services is particularly important for the residents of Washington County, many of whom struggle with homelessness, poverty, and drugs and alcohol. Those who suffer from mental health issues or cognitive limitations, or who are trauma survivors or struggle with addictions, have unique needs during pregnancy.
Given her previous birth training and experience, getting an advanced degree in social work was the right next step, and Adelphi made it easy, Rossi said, especially as a single mother. She could attend part time and take most of her classes online—and entirely online once the pandemic began.
"Being able to enroll in the human services track at Adelphi was a really big draw for me," she said. "My experience, especially with the professors, has been amazing. I've gotten so much validation that the work that I've been doing belongs in social work. Working in maternal health is a path for social workers just like any other, especially given the maternal health crisis in the United States."