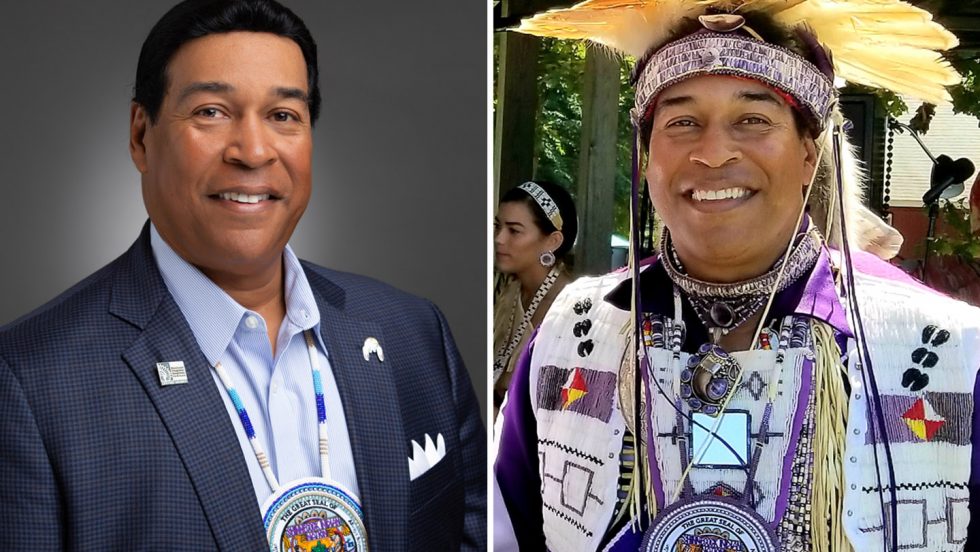 Lance A. Gumbs '93, whose tribal name is Fierce Eyes, walks in two worlds.
He's a business-savvy entrepreneur who revived the family business as a teenager in order to pay for his education at Adelphi University. He's also tribal ambassador/representative of the Shinnecock Indian Nation, co-chair of the annual Shinnecock Indian Powwow and vice president of the National Congress of American Indians for the Northeast region. He recently attended a White House reception in honor of Native American Heritage Month. As chairman and senior trustee of the Shinnecock Indian Nation, he guided his tribe through the final decade of a 32-year effort to become a federally recognized tribe in 2010.

"Adelphi made me the tribal leader that I am today," Gumbs said. "It gave me the willpower to understand that I could be more than just another citizen in a community that was impoverished yet located in one of the wealthiest communities in America. The lifelong relationships that I made there and the confidence it gave me made me want to thrive in this society that always puts our people down."
Gumbs grew up on the lands of the Shinnecock Indian Nation, where he still lives. Located on 1,200 acres on Shinnecock Neck in present-day Southampton, New York, the reservation is home to about half of the 1,600 enrolled tribal members (and more than 1,000 waiting for enrollment) who continue to fish, hunt and farm as they have for 13,000 years. His mother founded and ran the Shinnecock Indian Outpost, along with his father, and she was also a teacher. Then when Gumbs was 16, his father died and the business closed.
Finding Adelphi
Gumbs was excelling in high school and thinking about college when his father died. But his guidance counselor was dismissive. "She told me, 'You people, you don't excel in college, you're better off in the armed forces,'" he said. "It was insulting. It made me want to prove her wrong. So I said, 'I'm going to take you up on that. I'm going to find a school that will take me in.'"
The first time he walked on the Adelphi campus, he said, "I felt so comfortable. I just fell in love with the campus, with the small-school atmosphere."
His first semester, he took an accounting class with Professor Saul Myers that was to change his life. "One day he told the class, 'You will never be rich if you work for someone else. What you need to be thinking about is owning your own business.' This little lightbulb went off in my head. I wanted to reopen the Shinnecock Trading Post. I told him, "I need you to help me set up the books." He said, 'OK, I'll help you.' And he did."
Running the store earned Gumbs enough money to pay his college expenses. After graduating with a degree in business economics, he served as Adelphi's first director of multicultural recruitment and retention, a position he held for 15 years in which he traveled around the country, at first recruiting potential Native American students and then expanding to students of color in general.
One of these students was Maisha Y. Land, the first legislative manager for the Atlanta Department of Watershed Management and known for her Stroll to the Polls video that went viral during the 2020 presidential elections. She met Gumbs at a college fair when she was a high school senior.
"I handed him my résumé," she said. "He read it, smiled and said, 'You should attend Adelphi University. We need minority students like you.' He helped me to secure an academic scholarship. It would be the first step in a beautiful experience filled with activism, education, culture and self-discovery. My time in New York and on the campus of Adelphi literally changed my life, because it changed how I saw myself and the world."
Showing Up for His Tribe
Gumbs continues to run the Shinnecock Indian Outpost—now with his son—and he shows up for his tribe in every way he can.
During the pandemic, being a leader meant shutting down his nation and spending 15 weeks straight serving food to his tribe because, as he said, "We did not want them to go off the reservation to bring COVID back into our little community. COVID really affected us in the Hamptons because city people brought it here when they came to their summer homes." Gumbs lost his mother and both of his brothers to COVID in the space of three months.
"Being a leader means upholding the traditional values of your heritage and culture," he said, "teaching these to your young ones, creating the programs that will sustain us culturally, revitalizing our language program, traditional dances and songs. It means continuing our programs for health, education and housing, and protecting the water and the land. We live off our shellfish and the land. It's about the collective people being able to live in a good and harmonious way."