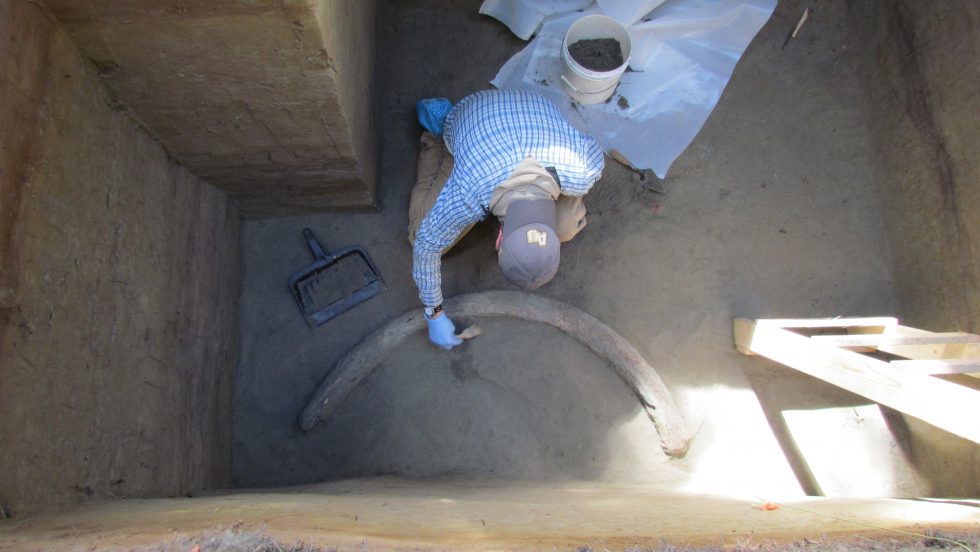 In 2016, two Adelphi University anthropology faculty members, working in Alaska with student collaborators, found a virtually complete, 14,000-year-old tusk of what may have been one of the last woolly mammoths on the Alaska mainland. At the time, it was thought to offer clues as to why the mammal later went extinct.
Adelphi's Brian Wygal, PhD, associate professor, and Kathryn Krasinski, PhD, assistant professor, who led the project, will join with other experts to share updates on the find and its meaning. Along with Dr. Wygal and Dr. Krasinski, presenters will include Julio RuizDiaz of Adelphi's Honors College, Barbara A. Crass, PhD, of the University of Alaska Museum of the North, and Charles E. Holmes, PhD, affiliate research professor at the University of Alaska Fairbanks.
Historically, mammoths flourished in Siberia and North America during the Ice Age, which was at its coldest 22,000 years ago. As Earth's climate warmed over the next 10,000 years, the mammoth's habitats underwent significant changes. By the end of that time of "rapid" warming, the animals were virtually extinct, likely due to either climate change or overhunting. This particular discovery was notable because it demonstrated an instance of humans hunting live mammoths, rather than just scavenging ivory from older sites. See more about the discovery in a 2017 news story.
The presentation, "A Mammoth Discovery: Ice Age Archaeology of Alaska," will take place on Monday, September 28, at 2:00 p.m. on Zoom. The free presentation is open to the public and preregistration is required at bit.ly/mammothupdate.
For those observing Yom Kippur on that Monday, the event will be recorded and available online.