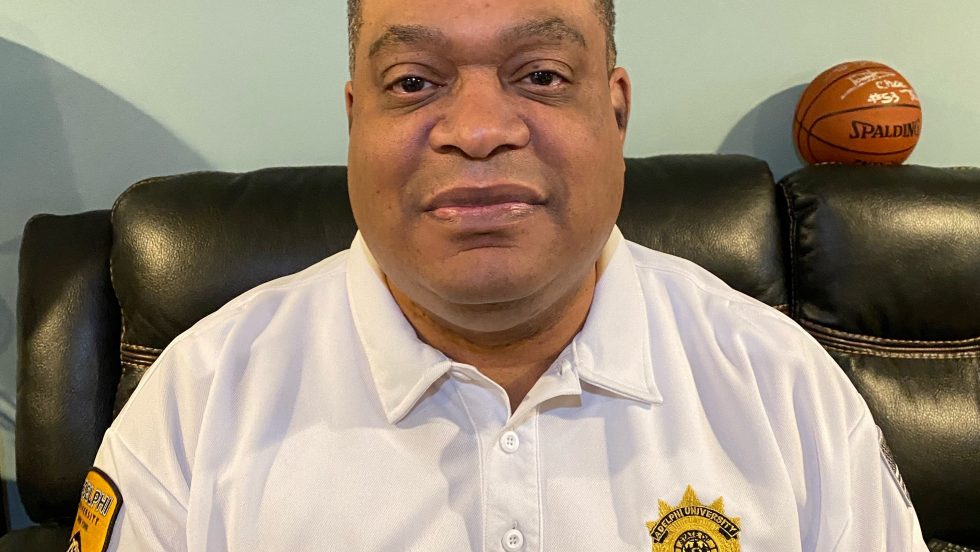 Adelphi has brought a new face into its Department of Public Safety and Transportation, adding another voice to the climate of diversity, inclusion and tolerance that is a staple of University programming and operations.
Shaun Kelly started his posting as captain of operations, emergency management and training in the Department of Public Safety and Transportation on January 19, 2021. He came to Adelphi with, literally, a world of experience, having managed protection efforts around the globe as a headquarter security assistant for the United Nations. Since that time, he has worked as a supervising investigator and response supervisor for the Kings County District Attorney's Office in Brooklyn, coordinated security systems for JetBlue and served as assistant chief of patrol for the New York City Taxi and Limousine Commission. He started his career with the New York City Police Department, where he worked for 22 years and reached the rank of sergeant.
At Adelphi, Kelly is responsible for public safety operations, emergency management and training. The position of captain is the highest-ranking uniformed administrative officer position in the department.
The law enforcement veteran said he hopes to bring a message that "not all police are bad" to students, and to promote respect for diversity in the department. He is already in conversation with the Office of Diversity, Equity and Inclusion about new initiatives that might be taken with student groups and introducing new diversity training to campus security.
"I want to see if I can get some of my guys and we can sit down and talk to some of these groups," he said. "I want them to see my face when I talk to them."
That face is one that has seen prejudice and learned from experience.
"Because of my name, people think I'm Irish until they meet me," he said. "I'm used to it. I came from an interracial background. My father's side is from Alabama, my mother came from Canada. I learn to adapt. It's the normal prejudice that goes on in the world today. I adjust to it."
His life learning continued as a father. Kelly has four children, two currently serving in the United States Marine Corps and two enrolled in MBA programs. "My middle son is gay," he noted. "I had to help him deal with prejudice."
Enlisting Kelly furthers the efforts Public Safety has already taken toward promoting an atmosphere of tolerance on campus.
"While we felt Shaun was the most qualified candidate, diversity is also important to our department," said Adelphi Chief Administrative Officer and Associate Vice President Gene Palma. "One of the benefits of having diversity in the force and of diversity training is that Public Safety officers are able to communicate with cultural nuance. Campus law enforcement departments that are rich in diversity are simply more likely to garner individual trust among a group of students and employees because the department is reflective of the Adelphi community and is inclusive of officers of many backgrounds and experiences."
As Adelphi continues a safe and gradual reopening under ongoing pandemic conditions, Kelly plans to make sure students know the campus is as safe as possible, in every sense of the word.
"When they bring everybody back on campus," he said, "I want to let them know: Don't ever worry about coming to me, don't ever worry about filing a complaint."