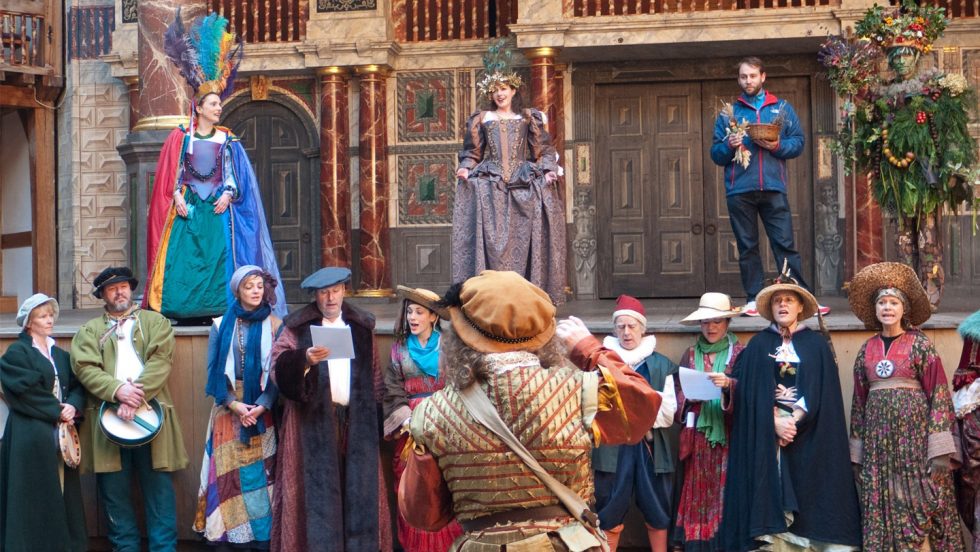 When Louise Geddes, PhD, associate professor and chair of the Department of English at Adelphi, and Valerie M. Fazel, PhD, instructor of English at Arizona State University, attended the Shakespeare Association of America annual conference in New Orleans in 2016, they were struck by the sights and sounds of an elaborate jazz funeral held in honor of the 400th anniversary of the playwright and poet's death.
Approximately 1,000 people cheered as a giant likeness of William Shakespeare rolled into the room on a parade float. A high-energy New Orleans brass band led a growing procession, and Dr. Geddes and Dr. Fazel joined in, dancing, waving handkerchiefs, laughing and cheering around and around the enormous room. In the moment, it hardly felt like a scholarly conference at all, but more like a boisterous fan club celebration.
The two Shakespeare scholars were in the planning stage of their book, titled The Shakespeare Multiverse: Fandom as Literary Praxis, which explores Shakespeare fandom from the 1600s to the current times of the 21st century. In this book, the authors reveal the wildly diverse fan groups and activities that have emerged over the centuries in celebration of the literary icon in the context of literary theory, fan studies and popular culture.
"The Shakespeare Multiverse holds that there can be many versions of something and all can be different yet valid," Dr. Geddes said. "As we researched Shakespeare fandom for this book, we explored a multiverse that encompasses the many different worlds that embody the various perspectives that different fans bring to Shakespeare."
Fandom is not a new concept—look no further than your own family and friends for examples of people who display extreme devotion to an athletic team and even specific athletes. Wearing jerseys, gathering to watch games, putting bumper stickers on their cars. Most of us are fans of some musician or actor. And then there's cosplay.
Cosplay, a portmanteau of "costume play," is when groups of people with a shared interest gather dressed up as their favorite characters at events like Comic Con (short for comic convention).
Fanfic (fan-written fiction) is another popular method of expressing fandom; fans write stories based on the universe and characters of their chosen fandom.
The vast theatrical writings of Shakespeare lend themselves quite perfectly to such fandom.
While these fan activities have been around for decades, the arrival of social media transformed the landscape of fandom. Thanks to social media platforms, the vast international fan bases of Game of Thrones, Star Wars, Lady Gaga—and yes, Shakespeare—can gather and share fanfic and cosplay virtually any time.
"After Valerie and I found ourselves caught up in the fantastic charade of Shakespeare's faux funeral, we thought, 'Why are we not talking about the fact that we are obsessed with Shakespeare? Can we not be scholars and fans at the same time?'"
Of course they can. Conversely, great fandom is not exclusive to scholars.
"Often we don't think critically about why we love what we love," said Dr. Geddes, "and yet it is so important for us to do so as scholars, as it informs how we teach."
The authors have been impressed with the work of "Shakesfans" on Reddit, Facebook, Tumblr, YouTube, DeviantArt and various online fanfic platforms.
"It's not necessarily about getting Shakespeare right, but getting Shakespeare right for me."
Shakespeare has had an enduring place in popular culture for four centuries, and fans arrive in various ways. In a contemporary example, movie star Tom Hiddleston became a popular heartthrob after playing the recurring character of Loki in numerous Marvel Cinematic Universe feature films, including the The Avengers and Thor movies. When he then played the title role in a production of Shakespeare's Coriolanus, his fans followed him there and fell in love again, this time with Shakespeare.
The timelessness of Shakespeare was illustrated yet again at the 2022 Academy Awards ceremony. Nominated were The Tragedy of Macbeth featuring Denzel Washington and Frances McDormand, and West Side Story, based on Shakespeare's Romeo and Juliet, adapted by Steven Spielberg and starring Ansel Elgort and Rachel Zegler.
Dr. Geddes traces her own interest in Shakespeare to when she saw a production of A Midsummer Night's Dream when she was in college.
Given the breadth, depth and quality of original works based upon the writings of Shakespeare, the authors felt they could not do justice to Shakespeare fandom without including some Shakespeare fanfiction in their book. Therefore, within the pages of The Shakespeare Multiverse, readers will find a poem titled "An Ode to Ophelia" and original plays, including Hamlet's Buzz and The Prince's Shadow: A New History, Four Songs for Lady Macbeth and more, all penned by fans of Shakespeare.
What would Shakespeare think of these wildly diverse exercises in fandom?
"Shakespeare never published final drafts of his plays," Dr. Geddes said. "He wrote drafts and sold them with the understanding that people and theater companies would do with them what they will. It was never his intention that they be etched in stone but rather that they serve the basis for creative theatrical work."
And this explains the latter half of the book's title—The Shakespeare Multiverse: Fandom as Literary Praxis. Fans' creation of fanfic, engagement in cosplay, production of Shakespearean-inspired videos is praxis, that is the active practice of engaging with the object of their affection.
"Fan scholarship such as this book serves a double purpose: It is both archival documentation of fan creative practices and critical exploration of fan work," said Dr. Geddes. "In recognition of our position as both academics and fans in the broad spectrum of Shakespeare use in early 21st-century culture, Valerie and I propose that scholarship has much to gain from recognizing its own complicity in Shakespeare fandom and embracing the fruitful cross-pollination between creative fan work and formal scholarship—the latter of which constitutes fannish activity in itself."