Spring break is a time to get away from campus, but, at least for some student scholars at Adelphi, it's not necessarily a time to get away from their studies.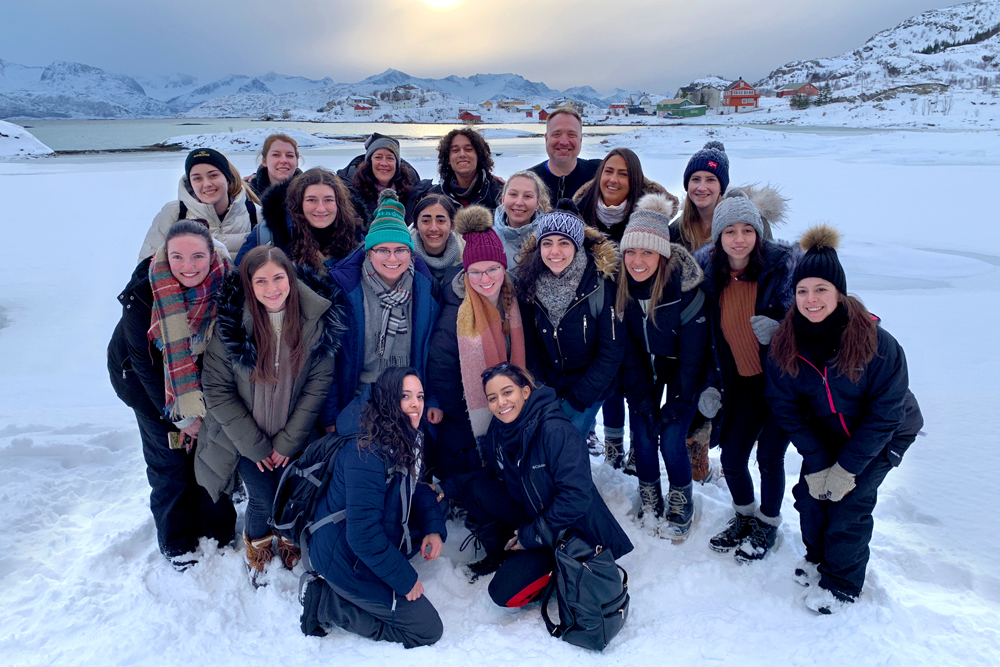 Spring break is a time to get away from campus, but, at least for some student scholars at Adelphi, it's not necessarily a time to get away from their studies. This year, students and faculty left the campus environs behind to gain knowledge and get practical experience around the world, including on faculty-led trips in England, Morocco, Norway and Spain.
Eighteen adventurous Adelphi students in Ruth S. Ammon School of Education Director and Professor Robert Linne, Ph.D., and Clinical Associate Professor Mary Jean McCarthy's class Northern Lights: Illuminating Norwegian Culture, Environment and School Connections spent the break above the Arctic Circle exploring the interrelationship between education and the natural environment. Visiting schools, going reindeer sledding with indigenous Sámi people and taking in the Northern Lights, the students experienced the northern lands of Norway and learned about that country's models of community-based experiential learning.
"I will definitely incorporate place-based learning into my future classrooms," one of the students reported, "because I was able to see how much happier the children were and how they were eager to learn."
Eleven other Panthers spent spring break completing their Spain: Social Movements course with Languages, Literatures and Cultures Assistant Professor Ana Isabel Simón-Alegre, Ph.D., and Lecturer Sara Aponte-Olivieri, Ph.D. The three-credit course, conducted in Spanish, included pre-trip lectures and readings about the Spanish Civil War, campaigns for women's suffrage and LGBTQ+ rights in the country, and other social justice movements. Once they got to Europe, they expanded on that context with trips to Madrid, Barcelona and smaller municipalities, visiting museums and meeting with local educators.
One student on the trip advised any Adelphi students who have the opportunity to take advantage of such an experience: "Study abroad because it will open your eyes to a new world, different culture, different food and different people."
Meanwhile, another 13 students were exploring the roots of gothic literature in London and York, taking in the streets of Dr. Jekyll and Mr. Hyde and the moors of Wuthering Heights. The course, Literary Cities: Gothic Cities, began stateside, with six weeks of discussion about British literary history. Then, students traveled with Associate Professor Louise Geddes, Ph.D., and Assistant Professor Kelly Swartz, Ph.D., to examine the gothic elements of the land firsthand and study the historical traditions that gave birth to 19th-century British literature.
To the south, Professor and Chair of the Ruth S. Ammon School of Education Devin G. Thornburg, Ph.D., took a staff contingent to the International Conference on Educational Quality in Morocco. Associate Director of Residential Life and Housing Adam Visconti, Center for Student Involvement Director Anna Zinko and Coordinator of Substance Abuse Counseling and Prevention Programming Scott Zotto '03, M.S.W. '09, joined Dr. Thornburg on a panel about student engagement. Dr. Thornburg is already working to reassemble the delegation next year on Adelphi's campus and incorporating students in a follow-up conference.
"It is the group that I hope to bring to Adelphi in May 2020," he said. "Each of them is addressing how to engage students in programming with a social justice focus."
---
For further information, please contact:
Todd Wilson
Strategic Communications Director 
p – 516.237.8634
e – twilson@adelphi.edu