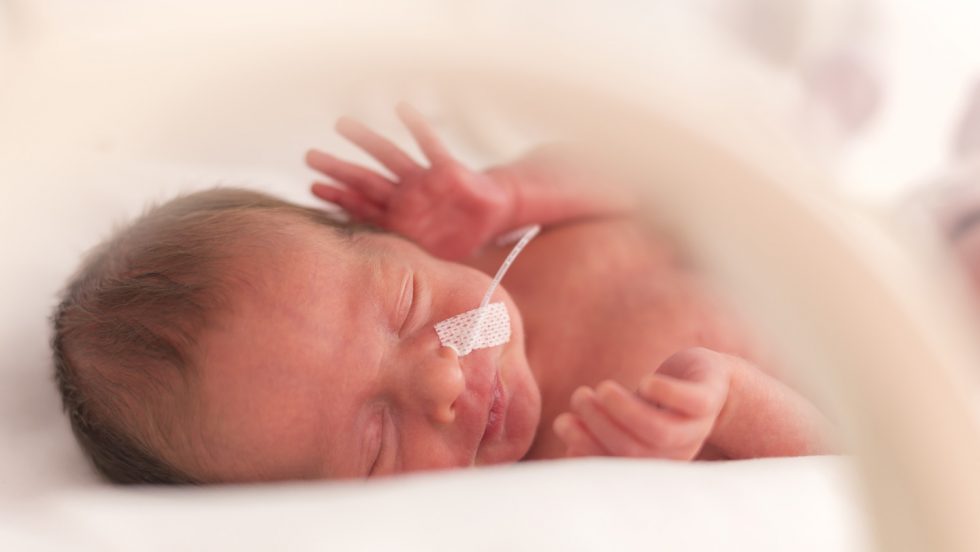 Parents of newborns often struggle with the question, Should I feed my baby on demand or try to get them on a schedule? In hospital nurseries, the traditional approach has long been schedule-based. Every three hours or so, a nurse or parent wakes the baby, changes the diaper and attempts to feed them.
Sometimes, however, the wakened baby is not really hungry or is just still sleepy, which can lead to incomplete feedings as babies go back to sleep while nursing. Furthermore, studies show that when infants are fed when they're not ready to eat, their heart rate and breathing are negatively affected and their skin color may change.
Ani Jacob, DNP, clinical assistant professor in Adelphi's College of Nursing and Public Health, recently participated in a research project with colleagues from North Shore University Hospital (NSUH) in which they used clinical data to compare the outcomes of scheduled feeding versus on-demand, or cue-based, feeding.
Often the cues that a baby is hungry are quite clear. They wake up, fuss or cry and are happy to take the bottle or breast, feeding vigorously. More subtle are the cues that they are not ready to eat—continued sleepiness, disinterest in the nipple, failure to even open their mouths.
The notion of forced feedings is particularly troubling for preterm/premature babies, affectionately known as preemies. Given their low birth weight and possibly incomplete development, they tire more easily. Feeding them when they are not hungry drains their strength, and the physiological changes it causes—trouble breathing, a drop in heart rate, decreased oxygen saturation in their blood—are akin to signs of infection, so these preemies are often subjected to unnecessary blood tests.
Babies typically have 109 milliliters of blood per kilogram of body weight; in imperial terms, this translates to a 5.5 pound baby having only about 7.3 ounces of blood. The stress and blood loss brought about by repeated blood tests caused by the babies' physiologic reaction to force feeding further illustrates the need to reexamine the common practice.
Successful oral feeding is an important factor in an infant's readiness for discharge from the hospital. Feeding difficulties in the neonatal intensive care unit (NICU) can prolong hospital stay, hinder parental bonding, increase healthcare costs and predispose infants to eating struggles.
Dr. Jacob's and her colleagues' study found that cue-based feeding improved infants' ability to achieve full oral feedings, decreased hospital length of stay and resulted in cost savings for the institution. Implementing cue-based feeding can also promote parents' involvement in the feeding process for their preterm infants.
"It is important to note that for the cue-based feeding of preterm infants to be successful, it is vital to make the change consistent throughout the neonatal intensive care unit—and to make it a culture change," said Dr. Jacob. "Many neonatal nurses have been feeding babies for 20 or 30 years, and it can be difficult for them to make the change away from scheduled feedings."
The results of the study were published in an article titled "Implementation of Cue-Based Feeding to Improve Preterm Infant Feeding Outcomes and Promote Parents' Involvement," in the Journal of Obstetric, Gynecologic & Neonatal Nursing.
In addition to her faculty position at Adelphi, Dr. Jacob is a nurse scientist in the Office of the Chief Nurse Executive, Department of Nursing Research and Evidence-Based Practice, at Northwell Health in Lake Success, New York. In addition to holding a Doctorate of Nursing Practice (DNP), Dr. Jacob is a board-certified Nursing Professional Development professional (NPD-BC) and a Registered Nurse Certified in Neonatal Intensive Care Nursing (RNC-NIC). At Adelphi, Dr. Jacob teaches Pediatric Nursing, Maternity Nursing and Translational Science in Nursing in Adelphi's DNP program.
Dr. Jacob's collaborators were Tesi Thomas, MSN, certified clinical nurse educator and NICU nurse at NSUH in Manhasset, New York; Rebecca Goodman, MS, RD, CNSC, CDN, a neonatal dietitian who was at NSUH at the time of the study but has since moved to NYU Langone Hospital Department of Pediatrics (formerly Winthrop Hospital) in Mineola, New York; and Deborah Grabher, RNC, MPA, BC-NE, a nurse manager in the NICU at NSUH.