"The scholarship [Mr. Palmer] is providing truly means everything to me."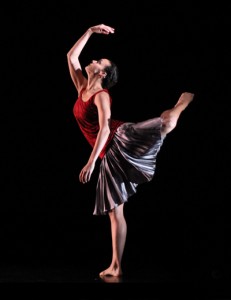 "The scholarship [Mr. Palmer] is providing truly means everything to me." —Sasha Smith
Sasha Smith has been dancing since she was five. When it came time to apply to colleges, the Syracuse native knew she wanted access to the performing arts opportunities New York City has to offer. She was originally looking at "big name" schools before auditioning for Adelphi. When she entered the University in 2010, she knew she had made the right decision.
"At Adelphi I get personal attention every single day. I wouldn't get that at a big university," she said. "We're just a train ride away from Manhattan. We can go to the city and experience that, but then we can come back and really hone in on ourselves."
As a student at Adelphi she has gotten to work with master's in the world of dance including choreographers from Netherlands Dance Theater; Amy Marshall, artistic director and choreographer of her own company; and Orion Duckstein, former dancer for the Paul Taylor Dance Company, now assistant professor at Adelphi. This fall she is looking forward to training with members of the Parsons Dance Company.
While she loves being just a 40 minute train ride from the city, living and learning on Adelphi's campus, and performing in the state-of-the art facilities within AUPAC, she has taken advantage of the opportunities Adelphi offers students to immerse themselves in different cultures.
In January 2013, she traveled to Bangalore, India with Adelphi, studied music and dance, and participated in community service, working with children at the Shanti Bhavan school. The trip made such an enduring impact on her that in January 2014 she will study abroad in Taiwan.
Before embarking on her senior year at Adelphi, she dedicated her summer to her art, dancing in the Garth Fagan Summer Movement Institute in Rochester and the Paul Taylor Dance Intensive in New York City. "It was exhausting," said Ms. Smith, whose schedule could be as grueling as two classes and two rehearsals in one day. "But, getting past the feeling, 'I'm tired,' I really loved it. The experience solidified that I can really do this."
A recipient of the Geoffrey Palmer '61 Scholarship, Ms. Smith said she wouldn't be where she is today without the financial support she has received. "If it weren't for this scholarship I wouldn't be at Adelphi, I wouldn't have been able to take advantage of the summer study that I have."
In September 2012, Ms. Smith had the opportunity to meet Ruth S. Harley Society Member Mr. Geoffrey Palmer, the benefactor funding her scholarship. "It was a complete honor," she said. "Mr. Palmer had never met me before, but he felt the need to give back to Adelphi and support students like me. The scholarship he is providing truly means everything to me."
Now in her senior year, Ms. Smith said she is excited to continue the Adelphi experience, and is looking forward to entering the dance world after graduation. "There is so much opportunity in New York," she said. "As long as I'm as hungry for and passionate about dance as I am now, I know I will find my niche."
Published August 2013
---
For further information, please contact:
Todd Wilson
Strategic Communications Director 
p – 516.237.8634
e – twilson@adelphi.edu