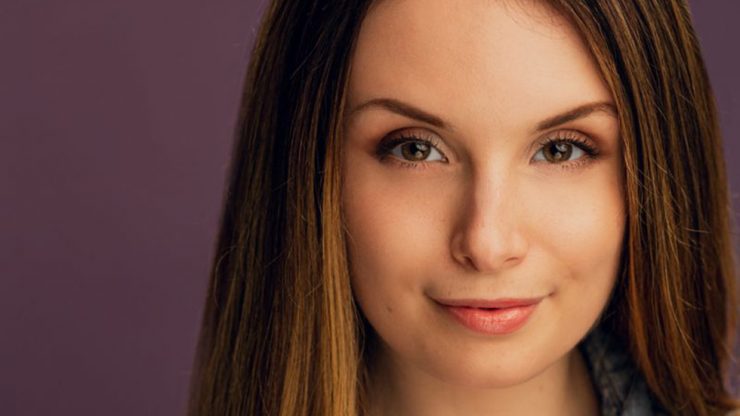 Samantha (Sami) Coleman '17's guiding star can be defined by one phrase that was shared by her father, Sean Coleman: "Stay true to who you are, be yourself, you are enough."
Member of Adelphi University's 10 Under 10
College of Arts and Science – Theatre Arts 
That one simple, yet powerful, phrase is the string that ties together Coleman's life. Throughout high school, college, activism, and her personal and professional life, she always remained true to who she was, even if it was difficult. 
Growing up, Coleman was an athlete—a soccer player who competed at school and participated in the Olympic Development Program. However, when she discovered theater and was cast in a school play for the first time, she fell in love. She found something she was passionate about and that would impact her life in profound ways. Little did she know, she would also leave a lasting impression on theater and spark change that is still being felt today. 
Beyond performing, Coleman loved seeing everything and anything that was available on Broadway. She would pour her heart and soul into reviews that she wrote about Broadway shows, before she was even a teenager. Her intelligence, thoughtfulness and kindness shone through in her reviews; Broadway actors, producers and others started to take notice. One particular actor and playwright, Lin-Manuel Miranda, sought her out to talk about Broadway—a friendship that continues to this day through Coleman's parents.
Coleman's reviews touched many on Broadway, either through her positive praise of a performance or a well-written and kind rebuke. After high school, she attended Nassau Community College, where she earned an associate degree and then turned her attention to what came next. When thinking about where to pursue a four-year degree, it was simple; the school had to be close to Broadway and someplace where she could be independent, but still close to family. She chose Adelphi for those reasons, and it came with an added bonus: Jonathan Larson '82 was a graduate. Both Coleman and Miranda were fans of Larson's work, so the opportunity to attend his alma mater was the final piece to the puzzle.
During her time at Adelphi, Coleman was diagnosed with an autoimmune disease that ultimately robbed her of her sight and hearing. However, that did not stop her from fully participating in the Adelphi University experience or graduating. A big part of that experience for her was working with Maggie Lally '87, associate dean of faculty programs in the Department of Theatre, and Nick Petron, MA '70, professor and chair of the Department of Theatre (who has recently retired). Their empathy, kindness and patience, coupled with Coleman's intelligence and determination to find success, graduate and make an impact, are the reasons that she graduated from Adelphi in 2017. 
While at Adelphi, and after losing her sight and hearing, Coleman found an outlet in activism. She was introduced to the theater community of people with disabilities (particularly the deaf community), which sparked her to become an advocate, both in class and outside of it. She started to share her experiences with inaccessible environments, and the fact that Broadway shows were not inclusive of those with disabilities. With the support of Lally and Petron, she pushed the theatre department to stage an accessible and inclusive production of Circle Mirror Transformation by Annie Baker. Coleman had the leading role and worked with Lally and Petron so that all rehearsals and backstage areas were accessible and safe. A partnership with the Adelphi University Center for Health Innovation allowed the theatre department to hire open-caption artists for the performance. After that, the Adelphi University Women's Giving Circle stepped in and underwrote one open-caption production per semester, in the Olmsted Theatre, thanks to Coleman's advocacy and voice. 
After her graduation in 2017, Coleman began working with New York Deaf Theatre and Adelphi alumna Marlee Koenigsberg '11. She then accepted an internship with a prestigious summer theater. At this point, Coleman's advocacy really took flight. She was going toe-to-toe with New York theater producers, questioning why they did not currently offer accessible and inclusive productions, and pushing them to do more. Thanks in no small part to Sami's efforts, many shows are now both inclusive and accessible. 
During Coleman's more than 15 years of involvement in the world of Broadway, she befriended many people, sold merchandise for various shows, and used Instagram as a platform to get her message about the need for accessibility out to the world. She showed the strength of her character and her message in the fall of 2022 when she was pulled into a Broadway controversy. While attending a performance of Hadestown and utilizing an iPad-like open-caption device, she was called out publicly by an actress onstage for taking pictures with a cellphone. However, during the ensuing months of media coverage and publicity, Coleman did not grant interviews and did not lose her focus on the most important things she could do: educate and fight for others. She made one statement on social media—a plea for understanding for the actress and to focus on the issue: Actors should be made aware that there are individuals with disabilities in the audience, and those individuals should be welcomed, not called out. 
Tragically, Coleman passed away on March 3, 2023. When asked about her greatest accomplishment, her father said, "No matter what life gave her, Sami found a way to be successful. She was strong and determined and she fought for everyone—everyone that needed a voice. She was a born activist and I am so proud she fought for others."
Coleman's legacy is one of inclusion, accessibility and openness and it was recognized on March 13, 2023, by the New York State Assembly with a formal citation for her exemplary service to her community and fierce advocacy for the disability community. 
Her father shared that, at her wake, a countless number of Adelphi alumni and people she had met during her lifetime came to him and all shared the same sentiment: Sami Coleman made them feel that they were okay, that they were enough just as they were. That was the gift she gave to the people she met and touched.