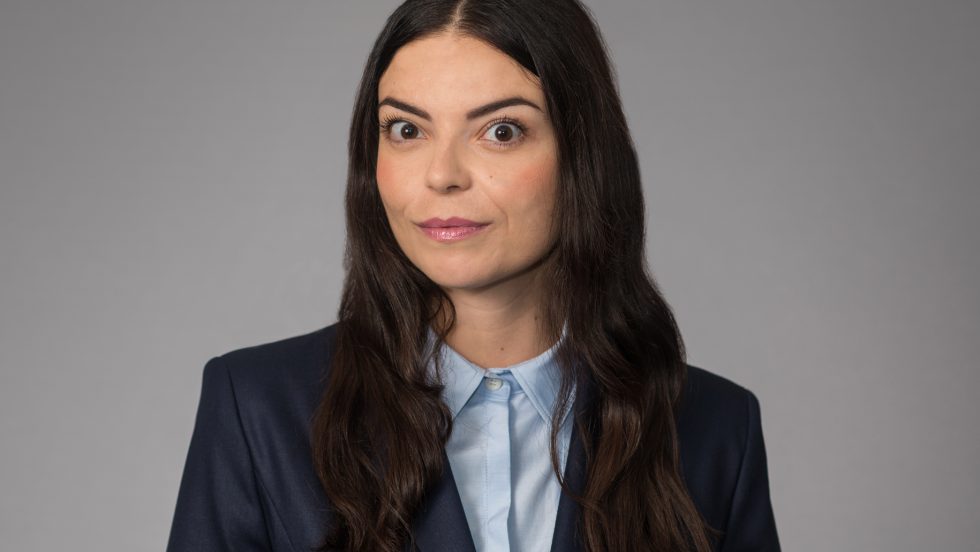 Beyond the academic direction and the life lessons I learned at Adelphi, I also met some of my best friends there and I am forever grateful for them.

Member of Adelphi University's 10 Under 10
Economist, International Monetary Fund (IMF)
Romina Kazandjian, PhD, readily meets every challenge head-on. As a woman working in the male-dominated field of economics, she has had an arduous academic and career journey, with a level of success that proves her boundless perseverance.
As a student coming from Bulgaria, Kazandjian was drawn to the reputation of the Honors College, as well as the comfort and support it offered international students. She gained invaluable advice from a number of professors – Professor Nicholas Rizopoulos, Professor Marsha Darling, former Dean Richard Garner, former Associate Dean Della Croce  – all of whom became more than mentors to her. They were like a family away from home.
After graduating, Kazandjian went on to earn her MA and PhD in economics from American University. She successfully defended her ambitious PhD dissertation on the topic of inflation expectations, economic uncertainty, and central bank communication and continued to conduct further research in the fields of macroeconomics, monetary, international, and gender economics. 
Kazandjian's work history includes previous employment at Open Society Foundations, UNFPA, Innovations for Poverty Action, and Gender Asset Gap project.  She was a visiting scholar and summer intern in IMF's Fund Internship Program, where she researched the effects of gender inequality on economic diversification. Kazandjian was an American Economic Association (AEA) summer dissertation fellow at the Federal Reserve Bank of Boston and an international economist (Pathways) at the U.S. International Trade Commission (USITC).
Currently, Kazandjian works as an economist, Economist Program (EP), at the International Monetary Fund (IMF). Her work focuses on economic growth and inflation, as well as the monetary and structural sectors in the Kingdoms of Lesotho and Eswatini. She also serves on the Tail Risk Group, Research Advisory Group, Gender Policy Group, and Diversity and Inclusion Group in the IMF African Department. She recently returned to American University to teach gender macroeconomics as an adjunct professor. Outside of work, she is a member of the Women's National Democratic Club in Washington, DC.
Looking back on her successes, Kazandjian's advice to current students is to work hard toward their goals, but also to welcome any unexpected changes along the way: "Spend some time thinking about the person you eventually want to become and then trace back the steps that will get you there. It is OK if your journey does not end up quite as planned. So much of success is really just luck and timing. However, unexpected opportunities will come your way if you work hard and are just a nice person to work with. And especially to the women—apply for the job you want even if it may seem to you that you are not qualified. You will be surprised!"