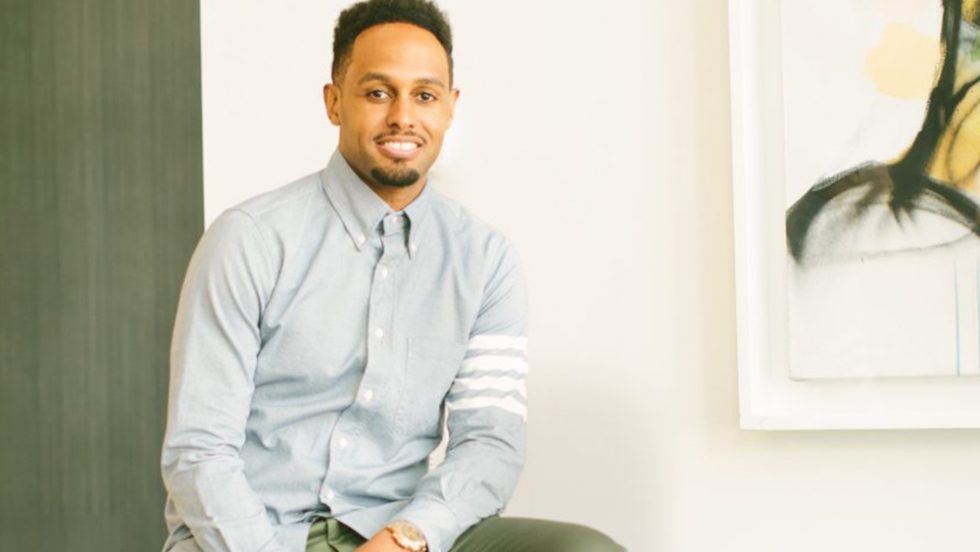 Omar Grant '03 always wanted to be in music. Now the co-president of Roc Nation's record label, he said he never would have gotten there without his business degree from Adelphi.
Omar Grant '03, one of Adelphi's 2012 10 Under 10, is co-president of Roc Nation's record label, tasked with boosting the talent roster while developing strategies for current signed artists.
Grant always knew he wanted music in his life. Though his career is in a creative industry, he said that without his business degree from Adelphi, he wouldn't have progressed as far.
When he was choosing a college, he was attracted to Adelphi's campus size and the business program, which he thought would be a good foundation for whatever he decided to do. He credits Adelphi with instilling a "go get it" attitude in him early on, as he juggled classes and DJ and other music jobs in the city.
"Every business class was eye-opening to me, especially marketing," said Grant. "There was a course where we had to start a mock business from the ground up in teams, and those skills I still take with me."
His work schedule limited involvement on campus, but he did write music articles for the school newspaper, The Delphian, including one on Jay-Z, who later founded Roc Nation.
Grant was still a first-year student when he landed his first internship at Columbia Records. From there, his career skyrocketed. After graduating from Adelphi, he was the road manager for Destiny's Child, after which he became the creative director of urban A&R (artists and repertoire) for the EMI Group Limited. From there, he became senior director of A&R at Epic Records before joining Roc Nation.
He said the business and marketing classes he took at Adelphi prepared him well. "I think having a business degree gives me a leg up on competition—the A&Rs who haven't had that college experience that I had," Grant said. "Having a strong background in business in this field is huge. I think also having that life experience goes hand in hand, and when you have both of those things together, you're unstoppable.