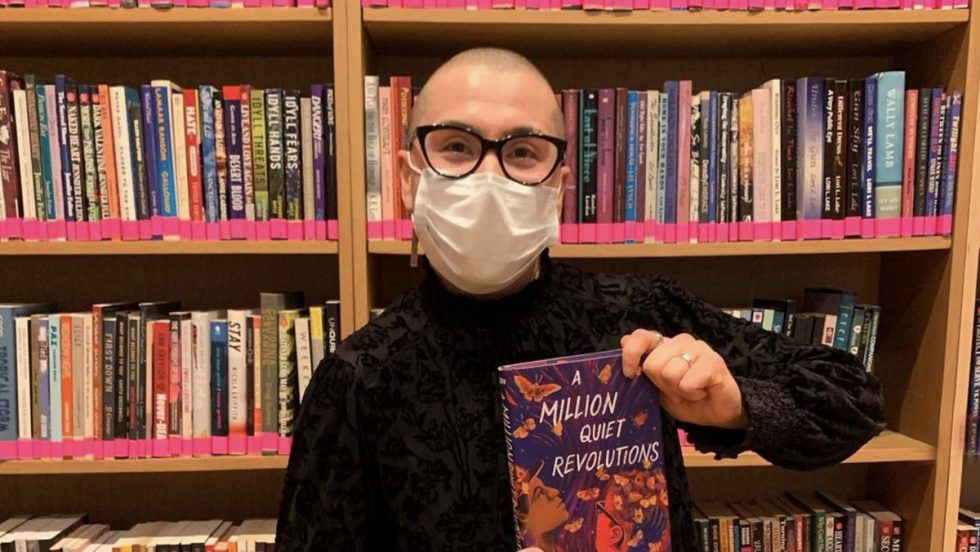 Just three years after earning a master's degree in creative writing, Robin Gow, MFA '20, has sold three books to major publishers.
The number of titles for middle grade and young adult readers that feature LGBTQIA+ characters has sharply increased over the last two years, according to market research firm The NPD Group. Major book publishers are looking for authors to craft authentic stories—authors like Robin Gow, MFA '20.
Just three years after earning a master's degree in creative writing, Gow (who uses (it/fae/he pronouns) has sold four books to two major book publishers. His two books for young adult readers, A Million Quiet Revolutions (2022) and Ode to My First Car (June 2023), are published by Farrar, Straus and Giroux, which is a part of Macmillan, one of the "big five" book publishers. His first middle grade book, Dear Mothman (2023) was published by Harry N. Abrams, another major publisher, which will also publish his next middle grade book, scheduled for 2024.
Gow identifies as genderqueer, autistic and a writer, but "When listing my identities, I'd list myself as a poet before anything else." Two of Gow's identities are reflected in his books for young readers: His first three books are about LGBTQIA+ characters and written in verse.
He has also published six collections of adult poetry.
Finding His Path—and an Agent
In college, Gow came out as nonbinary, then as a trans man, then reverted to nonbinary, which is what he identifies as now. "It's an ever-evolving situation," he laughed. "I like being creative about gender and not being in a fixed place."
After completing his undergrad education, Gow began researching writing programs for his Master of Fine Arts. Jacqueline Jones LaMon, JD—an award-winning poet, former English professor, and Adelphi's vice president for diversity, equity, inclusion and belonging—visited his persona poetry class as a guest speaker. Gow loved how she talked about writing and decided to attend Adelphi for his MFA. The University's proximity to Manhattan's LGBTQIA+ community and literary scene was also a big draw. "I learned a lot about being a queer person being in NYC," he said.
While pursuing his degree, Gow published poetry collections and taught creative writing as an adjunct professor for three semesters. His professors taught him the value of revision and how to navigate being a professional writer, and mentored and supported his work. But most importantly, Gow's middle grade/young adult writing course opened his eyes to a new kind of storytelling. "I didn't even think I'd like the class," he laughed. "But it showed me how expansive and innovative those genres can be."
For a project, his middle-grade professor asked the class, "What story did you need or want growing up?" Gow began writing that story, and then continued working on it outside of class.
With his MFA and first book under his belt, Gow embarked on the most difficult part of the writer's journey: finding an agent—almost always a necessity for landing a book deal with a major publisher. He queried "millions of agents" before getting a response from New Leaf Literary & Media. The result was A Million Quiet Revolutions, Gow's first published book.
Boom and Backlash
The explosion in LGBTQIA+ middle grade and young adult books has also been met with backlash. Many communities have banned such books, including Gow's. He said he's sad for the young readers who need these books and have trouble accessing them.
Plenty of young readers are still reading Gow's novels, though. Many have written to him and have shared their experiences and expressed their appreciation for his work. Even adults have written to him, divulging how much his books have helped and healed them. "We view youth writing less valuable than adult writing," said Gow. "But youth literature is really valuable, especially for any kind of marginalized person."