Thanks to Adelphi, Bedard, who was born with cerebral palsy, is ready to pursue his calling as a disabilities rights lawyer.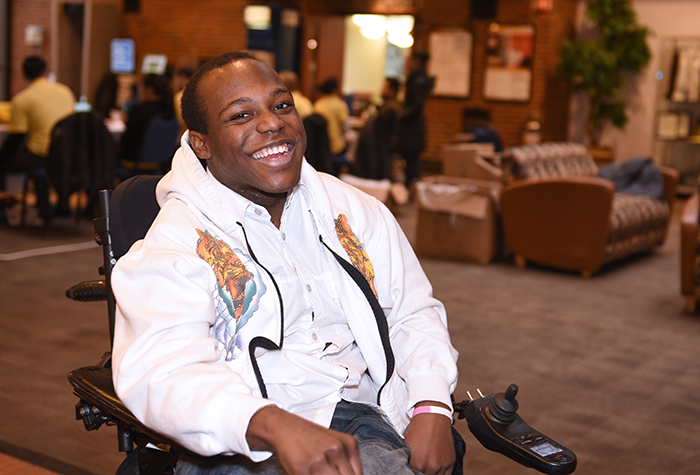 Richard Bedard might have a harder road to travel than some. But, he says, his path to Adelphi University was clear.
Bedard—who will graduate with a B.A. in English in Spring 2017—was born with cerebral palsy and still relies on a wheelchair to get around. From second to 12th grade, he attended the Henry Viscardi School for children with physical disabilities, where Adelphi education students do fieldwork and get valuable,
on-the-job experience.
"The students were the ones who told me that Adelphi is really disability friendly," Bedard said. Growing up in West Hempstead, New York, with a cousin who earned an M.A. in education from the University, Bedard said it was an easy decision to make. "I was Adelphi-bound from the very first day I went to school," he said.
The promise, he added, held true.
"The education is excellent," Bedard said. "They have note takers, they have extra time if I need it, they have all the things that I need to prosper in my education."
Rosemary Garabedian, Adelphi's director of the Student Access Office, has known Bedard since he was at the Viscardi School, and said that even then she saw in him the "skills for self-advocacy." "From the first time that we met, I knew that he would be one of the students who would be successful," she said.
Garabedian's office is responsible for such things as ensuring access to classrooms and making sure pathways are clear on campus grounds and in buildings. The Student Access Office also arranges for volunteer students to take notes and for access to technology, which can help overcome physical limitations. When she took the job in 2002, there were 70 students with disabilities enrolled at Adelphi. In the Fall 2016 semester, that number had risen to 550. Bedard, who lives on campus, apparently isn't the only one who heard that Adelphi takes equal access seriously.
After graduating, Bedard plans to go on to law school and eventually be an advocate for disability issues in the schools.
"I want to help people get the maximum education they can," he said.
But those aren't his only goals.
"I stretch every day and work my muscles out," he explained. "I expect to stand. I expect to walk, but even if I don't, I expect to make it the best I can. My mom has always told me that the sky's the limit."
---
For further information, please contact:
Todd Wilson
Strategic Communications Director 
p – 516.237.8634
e – twilson@adelphi.edu