Perry Greene, PhD, who will be retiring as vice president for diversity and inclusion at the end of the 2019–2020 academic year, is continuing to add accomplishments to his Adelphi University legacy.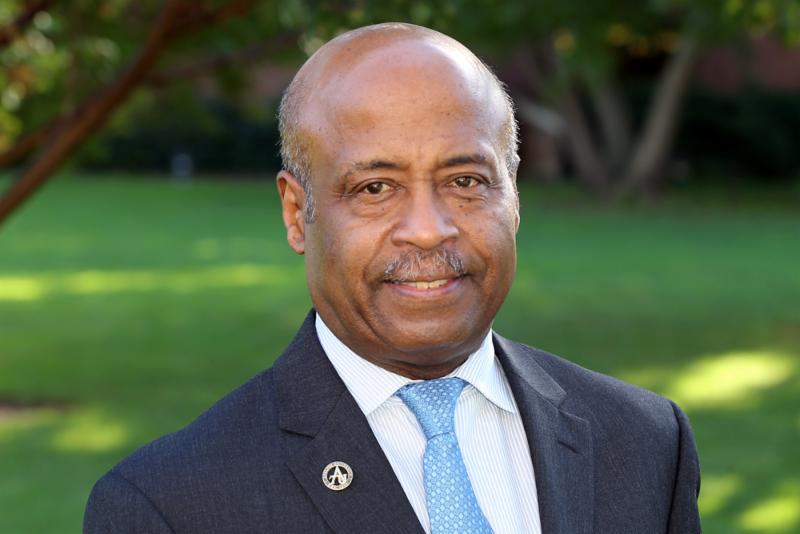 Perry Greene, PhD, Adelphi's former vice president for diversity and inclusion, is continuing to add accomplishments to his Adelphi University legacy.
He is not slowing down his efforts to call attention to diversity and inclusiveness issues. His latest op-ed was published in August 2019 by History News Network.
Dr. Greene is now on sabbatical leave and will retire at the end of the 2019–2020 academic year. Calling the retirement news "bittersweet," Adelphi President Christine M. Riordan said in a July 2019 announcement, "Perry informed me that he will accept the voluntary retirement option that was offered by Adelphi this year to our eligible faculty."
Dr. Greene—who served in his last position since 2016 and joined the University in 2005 as a faculty member and associate dean of the Ruth S. Ammon School of Education, later rising to Adelphi's associate provost for faculty affairs and institutional diversity—has made "valuable contributions to our University [that] have advanced our Momentum goal to be a model of diversity and inclusion and enriched our entire community with heightened inclusiveness, awareness, appreciation and compassion for the full human experience," Dr. Riordan said.
His most recent contributions include:
Most notably, in his remaining time at Adelphi, Dr. Greene has been spearheading "a very special program" on Adelphi's behalf, a truth and racial healing initiative in collaboration with the Association of American Colleges and Universities (AACU), Dr. Riordan said.
He and a team of Adelphi faculty and administration were invited to attend the eminent Institute on Truth, Racial Healing and Transformation (TRHT) Campus Centers in June 2019. Adelphi's selection for this five-day conference at Villanova University, conducted by the AACU, "demonstrates the association's confidence in our community to create and drive meaningful and effective truth and racial healing initiatives here at Adelphi," Dr. Riordan said.
She added, "Perry will lead the charge to develop Adelphi University as a TRHT Campus Center and a vehicle for transformation on and off campus."
Through his establishment of a TRHT Council with key liaisons from across Adelphi, Dr. Riordan said, "Perry will help Adelphi expand our mission to be a model of diversity and inclusion by increasing education and engagement programming, working to embed the racial healing framework into our curriculum, and continuing to build and strengthen our community relationships with a goal of helping transform our broader community and area schools as well."
This fall, the Adelphi group will be finalizing a proposal that will then be submitted to the AACU's TRHT initiative, Dr. Greene said.
Those who accompanied Dr. Greene to the Villanova conference in June were: Adelphi's Marsha J. Tyson Darling, PhD, CarolAnn Daniel, PhD, Jacqueline Johnson, PhD, and John Drew, plus an external partner, Kevin Dougherty, a principal from the Sewanhaka School District.
The Diversity Certificate Program continues to advance. Adelphi's Diversity Certificate Program has now expanded to the Eastern Suffolk BOCES, an educational cooperative of 51 Long Island school districts.
Committed to promoting a respectful, inclusive work and learning environment, the Diversity Certificate Program was offered to Eastern Suffolk BOCES' executive leadership from July 23 through August 8. This proved so successful that this fall, Adelphi will be offering the workshops to Eastern Suffolk BOCES faculty and staff from October 11 through November 25.
"The program is intended to address diversity and inclusion holistically including, but not limited to, race, creed, color, national origin, ethnicity, socioeconomic status, sexual orientation, gender identity, disability, and religion in schools," said Fabian Burrell, MS '17, coordinator for programming and community engagement at Adelphi.
Eastern Suffolk BOCES is dedicated to meeting the needs of learners by providing a full spectrum of cost-effective educational and career learning programs. When they learned of the success of the Diversity Certificate Program, they reached out to Dr. Greene to bring the workshops to their team.
The program, first offered at Adelphi in 2016, was expanded earlier this year to different Long Island schools, including the Roosevelt Union Free School District and Sewanhaka Central High School District.
"It is important for Adelphi to connect with the community through these programs," Burrell said. "Take one look at the incoming student body and you can see the difference."
On the LGBTQ+ front, 100 students came to Adelphi's first-ever LGBTQ+ mixer at First-Year Orientation, held July 10 and July 16 in the Center for Recreation and Sports gym. The idea for the mixer came from Erin Furey, one of the newest LGBTQ+ and Allies Committee members, said Scott Zotto '03, MSW '09, also a committee member and coordinator of substance use counseling and prevention programming at the Student Counseling Center—where Furey is outreach, training and mental health promotions coordinator.
Mixer attendees were able to learn about their committee as well as the First-Year LGBTQ+ Student Experience, LGBTQ+ Task Force, Student Empowerment Group and more, Zotto said.
---
For further information, please contact:
Todd Wilson
Strategic Communications Director 
p – 516.237.8634
e – twilson@adelphi.edu