The conference brings together people from every discipline—life sciences, physical sciences, social sciences, nursing, humanities and the arts— to celebrate student research.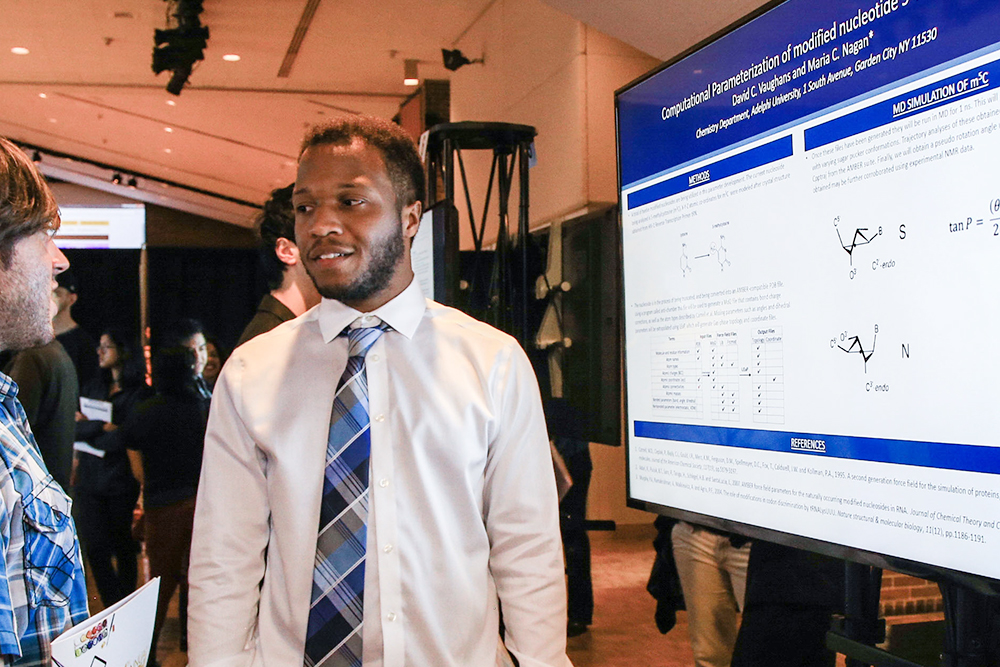 Most of the time, Adelphi physics professor Matthew Wright, Ph.D., is huddled in his lab, using lasers and magnetic fields to cool atoms to just above the absolute zero temperature of the universe. (That's very cold.)
But every year, he emerges from his research den to experience Adelphi University's Research Conference, a day where both undergraduate and graduate students and faculty members showcase their work for colleagues, educators, parents and outside visitors.
"What's great about something like this Research Conference is that we come out of the lab," Dr. Wright said. "We see what else is going on around campus and we tell people what we are doing all year-round."
Coming together
The conference brings together people from every discipline—life sciences, physical sciences, social sciences, nursing, humanities and the arts— to celebrate student research and achievement. To participate, students must go through the same application process as they would at a professional conference.
To be eligible to present an ePoster—a digital poster showcased on a life-size television screen—or an oral presentation, students must develop an abstract and title for their work with the help of their advisers and co-authors, along with the support received from the provost's and president's offices and the Office of Research and Sponsored Programs and faculty reviewers. Conference co-chairs Dr. Wright and Laura Brumariu, Ph.D., assistant professor of psychology, then review the submissions, as do the conference committee members.
The idea behind the formal process is to give undergraduate students the opportunity to be involved in research and research conferences and to experience what it's like to be part of a professional or post-academic community.
"For students, the conference is an opportunity to showcase and get positive feedback on their work," Dr. Brumariu explained. "For many, it inspires them to do further research and gives a taste of what it's like to be part of a research community."
Adelphi's Research Conference also exposes students to the rigors of life after college. "Undergraduate research is what we call a high-impact practice," Dr. Wright explained. "What we try to do at Adelphi is give students as many high-impact experiences as possible."

The 2017 Adelphi University Research Conference Participants
View more photos and videos from the 14th annual conference
The conference
The 14th Annual Adelphi Research Conference, held on April 25, 2017, exposed more than 200 students and dozens of faculty members to research that ranged from mitochondrial analysis to modern Tibetan literature, with digital posters, videos and oral presentations. One physics student shared both a physics poster and an art presentation.
As part of the conference's computer technology workshop, students who develop software presented their computer programs and games, including one where players could control the screen's movement with their eyes. There are awards for students in every department.
Much like the conference, awarded student projects represent the breadth of research that takes place at the University. Jazmin Javier, an undergraduate humanities student, for instance, won an oral presentation award for her work, "Cultural Resistance As a Form of Slave Rebellion in Jamaica." While Javier and her adviser, Marsha J. Darling, Ph.D., director of the Center for African, Black and Caribbean Studies, celebrated the acknowledgment, so too did Mina Gafary '16, a graduate nursing student, for her ePoster on urinary tract infections among bladder cancer patients.
In the same way that the event represents all disciplines, different departments are involved in the development of the day. The IT department built the website. Communications draws awareness to the event. Like the conference, the preparation is rooted in multidisciplinary collaboration.
For the keynote presentation, Leonard LaPointe, Ph.D., a visiting neuroscience professor from Florida State University, spoke about birdsong and human language.
When the conference ends, the interdisciplinary committee debriefs and begins planning the next. Their problems are welcome ones, as the conference keeps growing. "Where is everybody going to sit?" Dr. Brumariu said.
Despite growth, the co-chairs feel confident the quality of the presentations and the diversity of University research will remain high.
"As a member of this Research Day community, I personally learn so much about other faculty members and student interests," Dr. Brumariu beamed. "This is really like a Renaissance fair for scholarship, bringing together art and science—every discipline—to one place. It is fascinating."
---
For further information, please contact:
Todd Wilson
Strategic Communications Director 
p – 516.237.8634
e – twilson@adelphi.edu