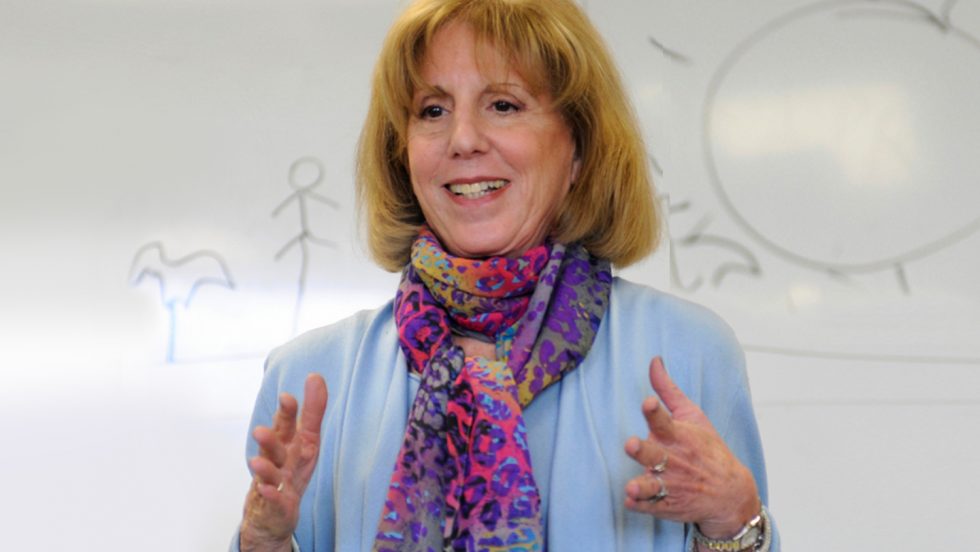 The Adelphi community lost a longtime professor, campus leader and student advocate with the death of Regina Axelrod, PhD, on November 3. Colleagues and alumni share their recollections.
Her colleagues and former students remember her for academic achievements, collaborations to benefit students and personal warmth. Longtime Adelphi political science faculty member Regina Axelrod, PhD, passed away on November 3.
Dr. Axelrod joined Adelphi in 1978 as an assistant professor of political science and retired as a full professor in 2022. She chaired the department from 1980 to 1984 when she became associate dean for academic affairs for the College of Arts and Sciences. She returned as chair in 1990 and served until 2014.
"Regina had multiple interests and was a tireless advocate," said Hugh A. Wilson, PhD, professor emeritus of political science, who was a colleague for many years. "Regina was an excellent chairperson. She listened to the points her colleagues made on an issue and then pulled their ideas together into a consensus opinion."
Dr. Wilson also noted Dr. Axelrod's dedication to collaboration. "She and I co-authored three articles on nuclear power, a subject of great interest to her," he said. "She taught a course in Prague in the summers on nuclear power and brought professors from Prague to Adelphi. She and I collaborated with the art and dance departments for the creation and teaching of the Hate and Conflicts course. She was comfortable with many disciplines."
She earned three degrees in political science: a BA from The City College of New York, an MA from Wayne State University and a PhD from the CUNY Graduate School. She also was a dance instructor and resident choreographer for a time at Wayne State and continued her longtime involvement in dance.
According to her obituary in The New York Times, "Regina was a lifelong dancer, having studied ballet for more than 70 years. She was a founding member of the Dance Theatre of Detroit and also danced with the Paul Sanasardo Dance Company. She was still taking ballet classes until shortly before her death at the age of 80."
"Regina was my mentor, my champion, my friend," said Maggie Gray, PhD, associate professor and current Department of Political Science chair. "She steered our department with love and good humor. There are not enough words to describe how I will miss her."
"I can't wrap my head around the fact that my mentor, colleague and fierce friend is gone," said Traci Levy, PhD, associate professor of Political Science. "She taught me so much and did so much for our department. Regina brought a remarkable sense of curiosity and energy to everything she did."
Recognized for Her Research
Dr. Axelrod's academic specialization was in public policy, energy and environment in the United States, European Union and Central and Eastern Europe, and in public administration. Her many outside academic roles included guest lecturing for universities in Prague and Budapest. She published many scholarly articles and books and served as an editor for five editions of The Global Environment: Institutions, Law, and Policy–which won the 2015 Sage Cornerstone Author Award. Her other honors include being designated a Fulbright Senior Specialist and earning the Distinguished Alumni Award from CUNY.
On a regular basis, Dr. Axelrod co-taught Hate and Conflict: Art, Media and Political Science, the interdisciplinary course that combined art, media and political science to dissect why people hate. "We want the students to feel things," she said in a 2018 story. "We want to startle them. You want to change them so they can look at things differently and want to learn more."
Advocating for Students and Faculty
Along with her interdisciplinary efforts, Dr. Axelrod worked and advocated for political science students.
"Regina taught a seminar for the Washington internships and helped students get the most out of the experience," Dr. Wilson said of the partnership developed with The Washington Center. "The program placed students with officials in the federal government and legislators in Congress. It was an important program to her for which she interviewed students, connected with Washington for the placements and supervised the students."
She also will be remembered for her commitment to shared governance in her service on Adelphi's Faculty Senate.
"She was the great champion of faculty and administrator bonds that were central to shared governance," said Devin Thornburg, PhD, currently a senior adjunct professor of education, in a message shared with the Faculty Senate where he was also a longtime senator and chair. "She sought—always—to bridge the gap that existed between the two in every way possible.
"We honor her today because she was a wonderful part of what the Faculty Senate should be—and how our governance should be," Dr. Thornburg noted. "But most importantly, how human relationships should be."
Friends, Colleagues and Former Students Pay Tribute to Dr. Axelrod