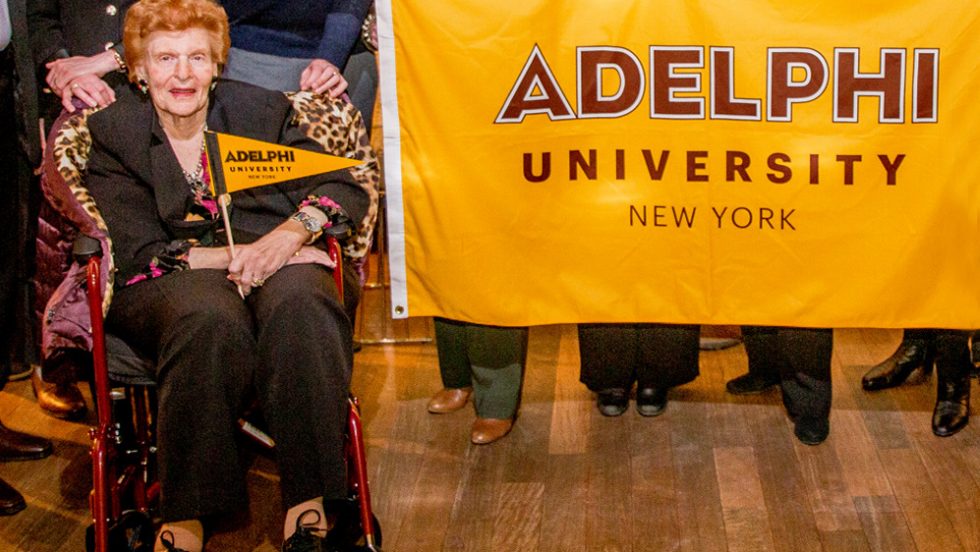 On July 15, 2020, Adelphi lost Marjorie Weinberg-Berman, MS, '61, trustee emerita, who revitalized the Department of Speech and Hearing in 1986.
Weinberg-Berman is credited with establishing the state-of-the-art Hy Weinberg Center for Communication Disorders in memory of her late husband.
Hy Weinberg's gift to his wife was a $25,000 donation to build a speech and hearing center at Adelphi. The creation of the Hy Weinberg Center began on Hy and Marjorie's 25th wedding anniversary.
Even after the opening of the center, Marjorie Weinberg continued to support Adelphi through endowments that provided financial assistance to speech and auditory clients. This tactical support for the center restructured Adelphi's entire speech communication disorders program.
"The Hy Weinberg Center for Communication Disorders would not be the center of excellence it is today without the years of generosity and dedication of Marge Weinberg-Berman," said Anne Marie Skvarla, director of the center. "Marge's commitment to the Communication Sciences and Disorders program provided countless numbers of students the environment and tools needed to become leaders in the field."
In addition to being a limited partner of Goldman Sachs, Weinberg-Berman remained an active member of the Adelphi community, serving on Adelphi's board of trustees from 1998 to 2012. In 2011, she was honored at the President's Gala with the Lifetime Service to Adelphi Award.
According to the staff at the center, Weinberg-Berman would always remind everyone to gently rub Hy's nose for good luck as they passed his bust in the lobby. They plan to continue this tradition in her honor.
"Marjorie Weinberg-Berman was a true friend of Adelphi—a loyal alumna, trustee emerita and incredibly generous benefactor to the University for nearly 35 years," said President Christine M. Riordan, PhD. "Throughout her involvement at Adelphi, Marge's first interest was always our students' success. She will be greatly missed, and always remembered."