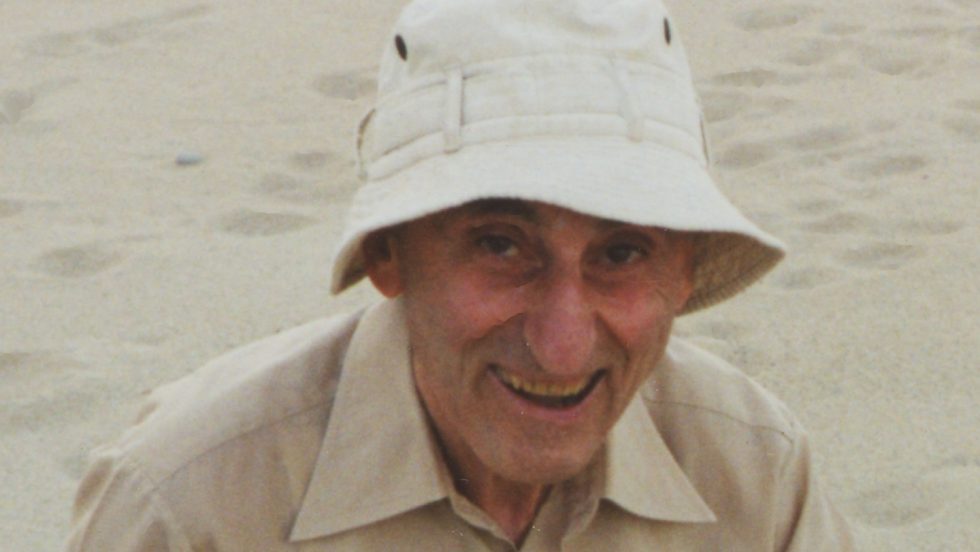 Adelphi recently lost a truly remarkable former member of our faculty: Abe Shenitzer, PhD, professor of mathematics, who survived the Holocaust to go on to a noteworthy career as a mathematician, translator and advocate who spoke publicly about his experience, passed away at the age of 101 in June 2022.
In addition to being a mathematician who promoted what's termed humanistic mathematics, Dr. Shenitzer was a humanitarian who frequently shared his personal recollections and insights into the Holocaust with various audiences to educate and inspire them to continue the fight against antisemitism and hatred.
He is survived by his two daughters, artist and illustrator Miriam Shenitzer and clinical psychologist Rena Mei-Tal, PsyD, and his son-in-law, Michael Zank, PhD, professor of religion at Boston University's College of Arts and Sciences and director of the Elie Wiesel Center for Jewish Studies. Abe Shenitzer is also survived by his three grandchildren: Alon Mei-Tal, musician; Benny Zank, environmentalist; and Rachel Zank, diversity, equity and inclusion (DEI) specialist.
Dr. Shenitzer's daughters summed up his legacy by noting, "To be human is to put an equality sign between yourself and other human beings."
Shedding His Prisoner Past
Dr. Shenitzer came to the United States in 1946 after the British liberated from Bergen-Belsen, one of a number of labor and concentration camps he was interned in during World War II.
He shared his vivid memories of his liberation with author Martin Gilbert, who included them in his book, The Day the War Ended: May 8, 1945—Victory in Europe.
"'These fragments have retained for me the precision and sharpness of a Goya painting,' the twenty-four -year-old, Warsaw-born Abe Shenitzer wrote. 'I am looking up at the man in the lead British tank and asking him questions about the military situation. I feel quiet but intense contentment. . . .
"'I am not hungry. I am wearing my striped outfit with the little yellow mark on the right of my Haftling number—120548—but outfit and number are now irrelevant and slightly absurd…
"'Another fragment. I recall the soundtrack that tells us in a number of languages that we have been liberated by the Allied army. To me it means that I can now spit out the undigested lump of my prisoner past. I remember a choking sensation. I am on the verge of tears. Never before have platitudes about freedom and liberation sounded so real to me.'"
A Humanistic Mathematician
After arriving in the United States, he earned his BS from Brooklyn College and PhD from NYU in mathematics. By 1959, he had begun a 10-year stint as a professor of mathematics at Adelphi University.
Dr. Shenitzer joined the faculty at York University in Toronto after leaving Adelphi, where he spent the remainder of his academic career. In celebration of his 75th birthday in 1997, York University colleague Hardy Grant wrote in the Humanistic Mathematics Network Journal that the by then retired Dr. Shenitzer was "widely recognized as a tireless crusader for 'humanistic' approaches to mathematics. His work consistently champions what he calls the intellectual aspects of mathematics as opposed to the merely technical."
As he wrote in the article "A topics course in mathematics" for The Mathematical Intelligencer, "My abiding ambition is to present mathematics so that it is seen to be as it is—an art."
The author of numerous other articles, Dr. Shenitzer was also a gifted translator of books and articles about mathematics and literature from their original Russian, German and Polish languages.
"The outstanding contributions of Dr. Shenitzer, both as a mathematician and humanitarian, provide us a mere glimpse of what was lost to the world by the murder of 6 million," said David Machlis, PhD, associate professor of finance and economics at Adelphi and a co-founder and vice chairman of the International March of the Living, an annual educational program that brings people from around the world to Poland and Israel to study the history of the Holocaust and to explore the roots of prejudice, intolerance and hatred.
A Heroic Survivor
In 2020, Dr. Shenitzer's son-in-law, Dr. Zank, wrote in BU Today that "Abe always remarks that one of humanity's flaws, as far as he is concerned, is a profound lack of imagination. People cannot, or will not, imagine what happens to others as something that concerns them or could happen to them. The lessons of Auschwitz and the numerous other lagers that dotted Germany and much of Nazi-occupied Europe between 1939 and 1945 is that we need a better, more capacious imagination."
Dr. Zank added, "Those who were saved, as my father-in-law attests, were usually saved by the kindness of strangers."
To hear Dr. Shenitzer tell a joke, watch Miriam Shenitzer's animation titled One of the Best Jokes in Yiddish, in which her father provides the narration. Learn more about Dr. Shenitzer in John Stillwell's tribute, "My Friend Abe Shenitzer," from The American Mathematical Monthly.