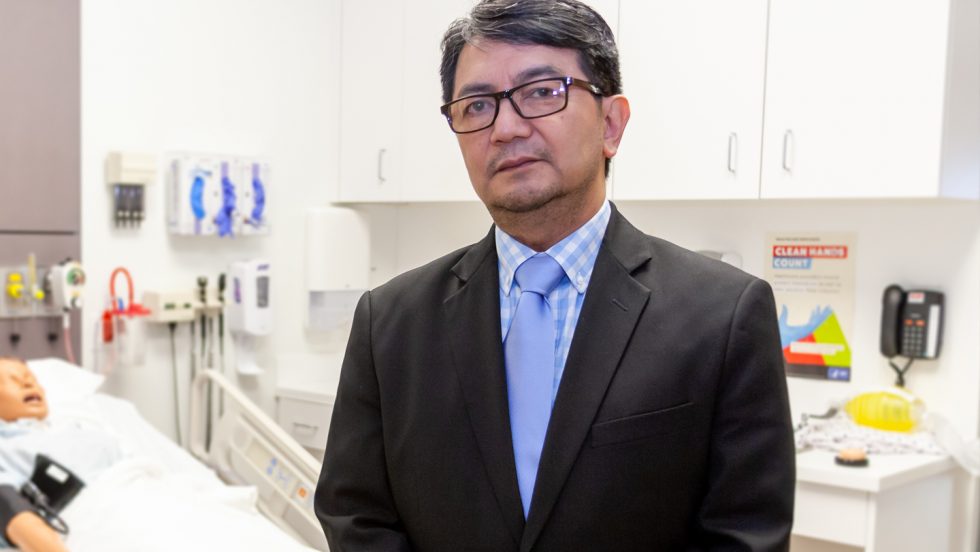 In the fall of 2021, a new class of first-year students started their college experience by participating in Adelphi's First-Year Seminars. One of those seminars was Global Health and Multidiscipline Health Roles, taught by Edmund J. Y. Pajarillo, PhD, associate professor in the College of Nursing and Public Health.
The class is remarkably diverse, according to Dr. Pajarillo. Students who attend are future nurses, doctors, physical education teachers, and others pursuing healthcare and exercise science, as well as those with other majors who are interested in the topic. Four of them are student-athletes. They come from Long Island and out of state, and from different ethnic backgrounds. One is a first-generation college student "who was petrified at the beginning of the semester," said Dr. Pajarillo.
The students found common ground exploring global health and related problems, making connections, being challenged, and learning how to think critically. They learned about cultural competence, equity, mental health, epidemiology, the health and illness continuum, social determinants of health and illness, and the relationship between the host, agent and environment. The class is a place to learn from the professor and fellow students. "It is conducted in a seminar format which consists of open discussions where everyone has an opportunity to reflect on the aforementioned topics, individually and in groups, while being subjected to new perspectives from their classmates," said one student. "Professor Pajarillo created an environment where every student felt safe and comfortable to speak our thoughts and ideas."
At the end of the semester, they were no longer the people who first came to Adelphi. "These young adults have really metamorphosed from being shy high school students who were in lockdown during their junior and senior years to become sociable, critical-thinking and socially responsible adults," Dr. Pajarillo said.
Written Impressions
The students submitted essays in which they reflected on what they learned and how Dr. Pajarillo's class changed them. They wrote about how the host-environment-agent triad helped them to understand the beginnings and implications of a pandemic and how lessons on life's continuum helped them put into perspective how a person's health status can change. One student, whose mother was in the hospital with COVID, wrote that "you don't know how quick someone can go from healthy to sick."
Some of the students themselves had been through health crises, either their own or those of family members and close friends. They reflected on the quality of the healthcare they received and how not everyone has access to good healthcare.
"While equity can at times be hard to achieve in the medical field, healthcare professionals must look past the social determinants that affect a patient and recognize that people of all backgrounds need help," wrote one student. "Dr. Pajarillo changed my perspective on all professionals and showed me how important it is to maintain the highest level of professionalism, ethical and moral standards, and patient care, no matter what social determinants are affecting a patient."
Some students wrote about how they were inspired by the physicians, surgeons, nurses, physical therapists, social workers and other members of care teams they'd encountered in their lives and how this class confirmed their decisions to pursue healthcare careers.
A role-playing exercise made a lasting impact on one student, of whom Dr. Pajarillo said "that I portrayed the role of a nurse very well and that he can see me as a nurse in the future. I felt so touched hearing his words, even though it was just a pretend skit, because it gave me a sense of reassurance that I really am going the right way. … I learned so much about myself through my first-year seminar class. … I pondered whether this is the right path for me in the past, but now all I think about is what my future as a nurse holds, and what amazing things are waiting for me."