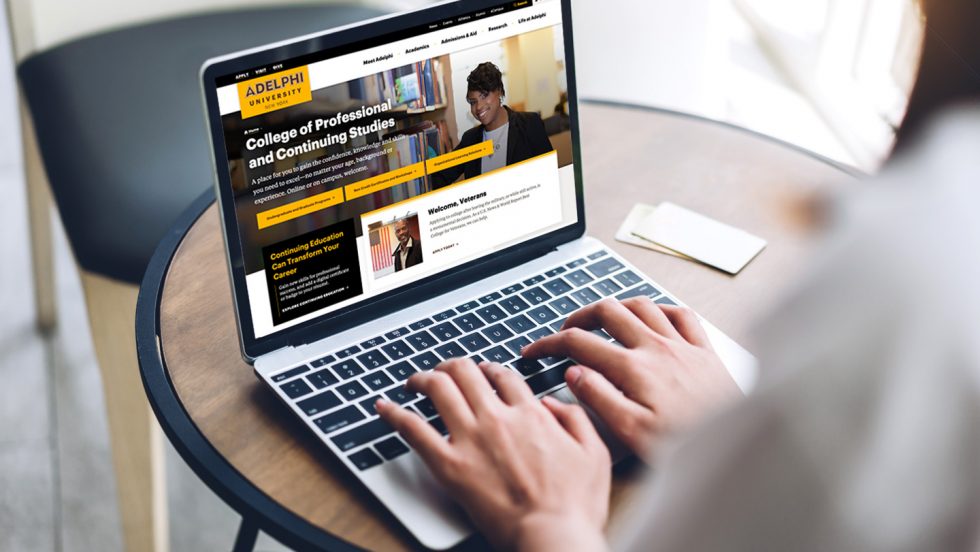 College of Professional and Continuing Studies Dean Andy Atzert wants to foster a community of belonging for adult learners—and he is doing it by making surprising changes.
The Adelphi University College of Professional and Continuing Studies (CPCS) has been meeting the needs of adult learners looking to restart or continue their college degrees, or make career changes, since 1973. In fact, its success as a leader in the field has earned it a spot among Abound's 2021 Top Adult Degree Programs.
Yet, according to CPCS Dean Andy Atzert, flexible online classes and advising; affordable tuition and fees; career-enhancing degree, nondegree, continuing education and certificate programs; and a graduate degree program in emergency management are only part of the story. Atzert, who assumed his role in 2019, is determined to redefine the College's status quo by making changes that matter.
"Our adult learners want to feel a sense of belonging," he explained, by making sure outreach, messaging and advisement are personalized to them. "Small things that look innocent—such as getting mass emails that are really meant for 18–22-year-old undergraduates about letting their parents know about things—can make them feel like they don't fit in or belong here."
For the many adult learners, most of whom are aged 25 and older, who are people of color or are first-generation college students, changing the status quo is all about diversity, equity and inclusion (DEI). "If we are not serving these students well," he insisted, "we are not living up to our claims about DEI and belonging."
Atzert proposes a simple way to ensure that CPCS adult learners feel that they belong. "We need to design everything with adult learning in mind first and foremost to best serve our students," he explained. "We have to find ways to design everything from online orientation and information sessions to new programs that are attractive to our adult learners, who often come to us after a bad experience in higher education and need a lot of TLC."
He understands that prospective students have key questions before they apply: What will it cost? How long it will take to get a degree? Will it disrupt busy lifestyles? How will the programs meet their professional goals? They aren't looking for surprises.
Atzert has plotted out how the College will do this by:
Pre-advising to create an affordable personal degree map.

 

While traditional students aren't assigned an adviser until after they arrive on campus, CPCS will pre-advise applicants on the phone to help them map out a degree plan and learn how affordable CPCS, with a lower tuition than other Adelphi programs, can be. "We try to streamline our programs as much as possible, so that students aren't taking—or paying for—more courses than they need to take," Atzert said. "While adults enter with credits from other schools, their professional training and experience can often be equated with college experience. We are endeavoring to be a pioneer in the area of offering credit for prior learning to our students. To the extent that you can award the maximum number of credits a student brings in, you can lower the cost and reduce the time it might take to earn a degree."
Offering flexible, fully online learning programs.

 

The pandemic accelerated the transition to fully online programs that meet the needs of busy adult learners who often struggle to balance classes with work and family responsibilities. "We're now committed to providing very high-quality online programs," Atzert noted. "Our faculty has been overwhelmingly responsive and has risen to the challenge."
Introducing half-semester intensive course options.

 

"The seven-and-a-half-week format introduced this fall is designed to let students concentrate on fewer courses at any one time, while still earning the same number of credits in a given semester," Atzert explained.
Answering questions upfront on the College's website.

 

Prospective applicants and current students are busy and don't have the patience to search for answers to basic questions. "Our website stands out against other schools' sites," Atzert said.
Helping adult learners advance their careers.

 

The College is looking to offer more certifications in high-growth, high-demand areas such as cybersecurity or web design that will help adults advance professionally.
Atzert is, however, hesitant to overengineer programs. He reported that employers recognize the inherent value in a liberal arts education by often seeking out employees who can think critically, problem solve, listen, write and communicate well. The challenge ahead, as he sees it, is to know how to deliver a level of timely and specific skills that are recognized in the marketplace as well.