After her appointment as Dean of Nursing and Public Health, James Forkan interviewed Elaine (Kaupp) Smith '78, MS '88, EdD, about her priorities, her inspirations and more.
Shortly after she was named Dean of Adelphi's College of Nursing and Public Health in March 2019, James Forkan interviewed Elaine (Kaupp) Smith '78, MS '88, EdD, about her priorities, her inspirations and more.
Returning to her alma mater in 2015 as associate dean of operations was "a dream come true." She became acting dean in January 2017 and interim dean nine months later. Overseeing the College now means "I could give back to the College that had given me so much," she said. In working with faculty, staff and administration to "co-create the next chapter, she said, "I can't think of a more exciting and rewarding role than serving as the new dean."
Dr. Smith was also featured in the 2013 edition of Adelphi's nursing newsletter while she was corporate vice president for nursing education at Northwell Health.
What are your priorities for the College?
I am committed to strengthening the research capacity of the College by providing additional support to faculty in the development of grants and research proposals. In particular, I hope to sustain and grow the emphasis on nursing education science, already a recognized strength of our faculty.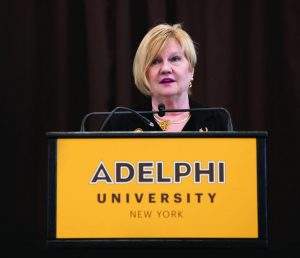 It is imperative that we focus on sustaining and enhancing the programmatic quality gains achieved in 2018. This includes pursuing the accreditation of our Public Health and Healthcare Informatics programs. Our Doctor of Nursing Practice program opened this fall, and I look forward to maintaining the outstanding PhD program that has been a hallmark of our College for 35 years.
I also envision greater emphasis on interprofessional collaboration in the design and implementation of new courses and programs.
Maintaining positive and productive relationships with our clinical agency partners and developing new ones will afford our students continued access to excellent experiential learning opportunities.
I would also like to increase our international relationships. Building on a history of strong scholarly exchange partnership with Jinan University in China, we have the opportunity to continue to grow and evolve in this regard. I would like to see more opportunities for service learning and study abroad for our students.
What inspired you to pursue nursing as a calling—and later to seek leadership roles at Adelphi and, before that, Northwell Health?
From the time I was a young teenager, I always wanted to be a nurse. Volunteering in hospitals from age 14 helped me to broaden my understanding of what roles nurses played in healthcare. I had a strong interest in and excelled in the sciences and enjoyed working with people, so nursing seemed a great career option. I also knew that there would be an opportunity to engage in teaching within the nursing profession—both with patients and, eventually, students. This was very appealing to me.
Nursing also offered such a wide array of specialties and different roles to consider. I was able to fulfill my dream of becoming a nurse, in part, because of the scholarships I was awarded from Adelphi. Having been the recipient of scholarships, I know how pivotal they can be in securing the education of so many students.
As my career progressed, I became deeply committed to the profession and healthcare in general. I was drawn to progressively more responsible leadership positions. I knew that nursing was centric to healthcare quality and that continuing my education to graduate and doctoral study was imperative. Being part of a large healthcare system at Northwell Health afforded opportunities to develop and implement programs and processes that improved care for patients. Working side by side with outstanding interprofessional colleagues and expert clinicians gave me a deep appreciation for the power of teamwork and collaboration in achieving large-scale goals.
Do you have specific programs in mind that you want to add in the near future, undergrad and graduate?
Due to its rapidly changing nature, healthcare offers many opportunities for the development of new programs and courses of study. I see a profound shift from the extensive focus on acute inpatient care to preparing nurses and other professionals for work in community and public health settings. The changing societal demographics will call for clinicians with the necessary knowledge and skills to care for older populations. The demand for rehabilitative and palliative care will continue to grow, prompting a rethinking of the needed programs to prepare healthcare providers for these levels of care. I anticipate continued and growing demand for mental health practitioners with particular expertise in the treatment of addictions.
Technology has changed how and where we do our work. Programs to prepare clinicians and informaticists for their role in telehealth and remote monitoring capabilities will be increasingly important. The transformative impact of genetics and genomics will continue to shape healthcare as we know it.
We will continue focusing on programs preparing educators, administrators and researchers. New roles are emerging such as care managers and navigators, which will require an interprofessional approach to program development. One thing is certain—our graduates must be prepared to thrive in a complex, ever-changing environment. They will be caring for older, more diverse populations within a variety of healthcare settings and ever increasingly in the community.
In addition to formal academic program development, I would like to explore the development of microcredentials with our faculty. We will be innovating with a variety of program delivery mechanisms, and simulation-based learning will continue to be a cornerstone of our teaching/learning strategies.
Looking beyond work, what interests give you the most joy?
Over the past several years, I have made a point of engaging in more international travel. I enjoy visiting different countries and experiencing their respective cultures. My two most recent trips were to Iceland and Greece. I have been to China several times and would like to explore Portugal in the future. A trip to Australia and New Zealand is also on my must-do list.
---
For further information, please contact:
Todd Wilson
Strategic Communications Director 
p – 516.237.8634
e – twilson@adelphi.edu