In March 2019, Elaine (Kaupp) Smith '78, M.S. '88, Ed.D., was named dean of the College of Nursing and Public Health. The announcement may be new, but Dr. Smith is no stranger to Adelphi.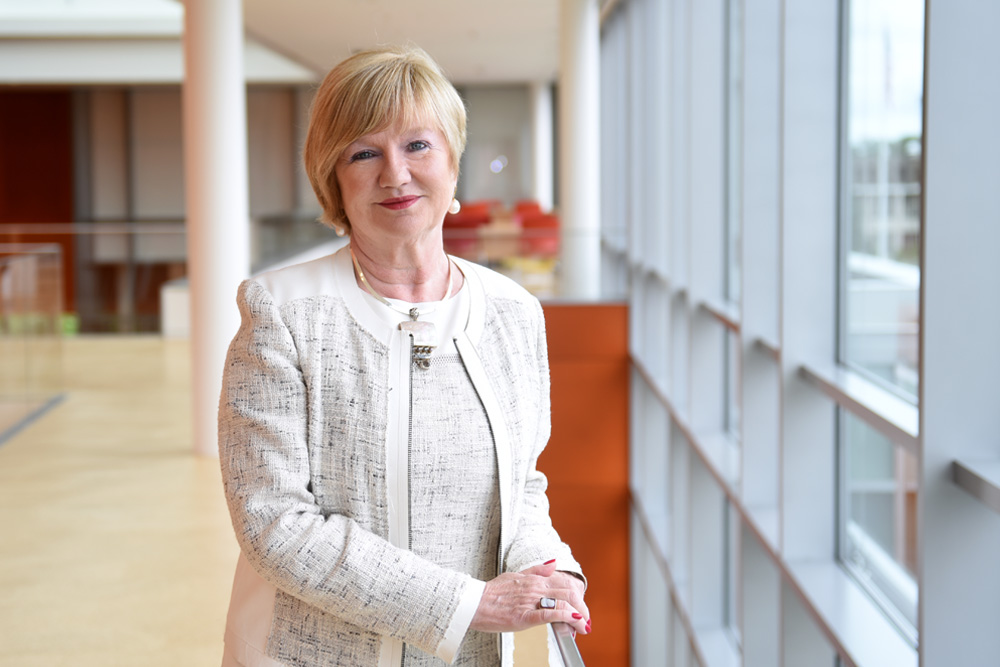 In March 2019, Elaine (Kaupp) Smith '78, M.S. '88, Ed.D., was named dean of the College of Nursing and Public Health. The announcement may be new, but Dr. Smith is no stranger to Adelphi. In addition to being an alumna with two Adelphi degrees, she returned to the College in 2015 as associate dean of operations. She was appointed acting dean in January 2017 and interim dean in September 2017. In between graduating from Adelphi and her return, she obtained her M.B.A. from Dowling College and her doctorate from Teachers College, Columbia University, was a faculty member at the University of North Carolina School of Nursing and the corporate vice president for nursing education at Northwell Health.
Insider News asked Dr. Smith about her experiences thus far, her plans for the College and what it means to be a healthcare practitioner.
How does it feel to take on the role of dean at your alma mater?
Returning to Adelphi in 2015 was a dream come true. I had come full circle. I now could give back to the College that had given me so much. It was energizing to work with faculty as we addressed student learning, programmatic quality and new directions for the College. I look forward to co-creating the next chapter for this well-established school. Together with the faculty, staff and administration, we will be building the programs and conducting the research to support the next generation of nurses and healthcare professionals. I can't think of a more exciting and rewarding role than serving as the new dean. It is an awesome responsibility that I take very seriously. I am honored to be given this opportunity to make a difference in shaping the next chapter of the College.
What accomplishments are you most proud of during your time as acting then interim dean?
I am most proud of working together with the faculty to relentlessly focus on our students' success. During 2018, our NCLEX pass rates for first-time test takers reached their highest level in eight years. Also, the pass rates for the Adult Gerontology Primary Care Nurse Practitioner certification exam reached record highs.
I am also very proud of the faculty leading our accreditation efforts for the master's in public health and healthcare informatics programs. These are two significant programs with tremendous potential for continued growth.
The College of Nursing and Public Health opened the psychiatric nurse practitioner program in 2017 in response to the societal need for more mental health professionals. Interest in the program is very strong, and we have enrolled outstanding students in the first cohorts.
Going forward as dean, what are your priorities for the College?
I am committed to strengthening the research capacity of the College by providing additional support to faculty in the development of grants and research proposals. In particular, I hope to sustain and grow the emphasis on nursing education science that is already a recognized strength of our faculty.
It is imperative that we focus on sustaining and enhancing the programmatic quality gains achieved in 2018. This includes pursuing the accreditation of our public health and healthcare informatics programs. I look forward to the opening of our Doctorate in Nursing Practice program this fall as well as maintaining the outstanding Ph.D. program that has been a hallmark of our College for 35 years.
I also envision greater emphasis on interprofessional collaboration in the design and implementation of new courses and programs—this is a particularly important and exciting area for exploration.
Maintaining positive and productive relationships with our clinical agency partners as well as developing new ones will afford our students continued access to excellent experiential learning opportunities.
I would also like to increase the international relationships our school has established. Building on a history of strong scholarly exchange partnership with Jinan University in China, we have the opportunity to continue to grow and evolve in this regard. I would like to see more opportunities for service learning and study abroad for our students.
What inspired you to pursue nursing as a calling?
From the time I was a young teenager, I always wanted to be a nurse. Volunteering in hospitals from age 14 helped me to broaden my understanding of what roles nurses played in healthcare. I had a strong interest in and excelled in the sciences and enjoyed working with people, so nursing seemed a great career option. I also knew that there would be an opportunity to engage in teaching within the nursing profession—both with patients and, eventually, students. This was very appealing to me. Nursing also offered such a wide array of specialties and different roles to consider. I was able to fulfill my dream of becoming a nurse, in part, because of the scholarships I was awarded from Adelphi. As the recipient of scholarships, I know how pivotal they can be in securing the education of so many students.
How did your education at Adelphi contribute to your leadership skills?
I attribute my interest in leadership opportunities to my education at Adelphi. We were absolutely expected to be leaders in our field. The faculty were outstanding role models, actively engaged in professional organizations and political action. As students, we were included in these formative experiences.
---
For further information, please contact:
Todd Wilson
Strategic Communications Director 
p – 516.237.8634
e – twilson@adelphi.edu