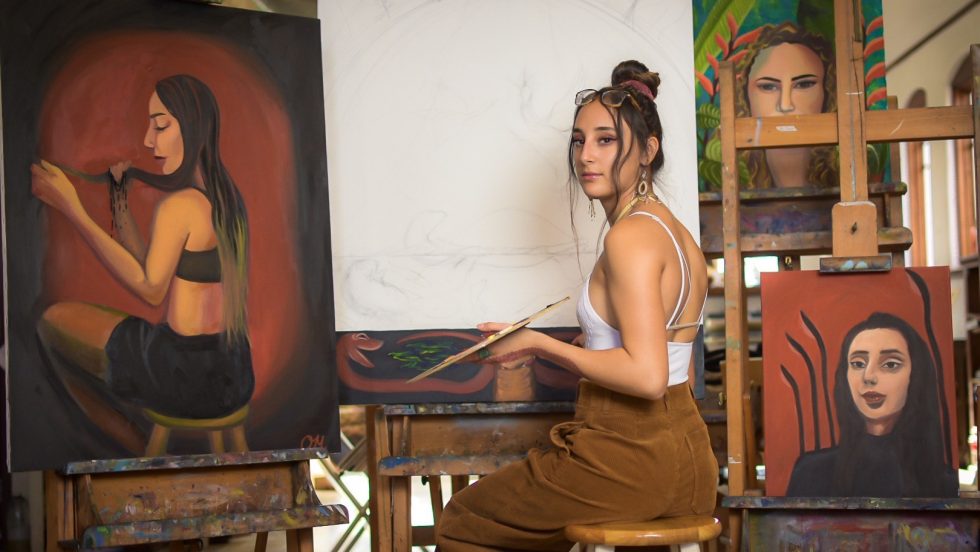 Olivia Maybee, Junior, Art Major and Business Minor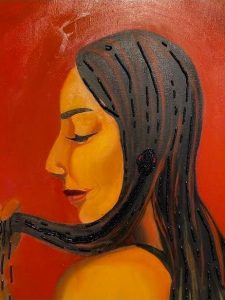 Olivia Maybee is a member of the Seneca Nation, an indigenous tribe in western New York state. She is an artist, businesswoman and activist, and an undergraduate at Adelphi University studying business management and fine arts. She is also an active member of the prestigious and oldest Black women's club in the United States, the National Association of Colored Women's Clubs. She also serves as the treasurer for Adelphi's chapter of Kappa Pi, the International Art Honor Society. Olivia was an activist as early as 2014, protesting on behalf of her tribe's fight for land sovereignty.
Q: Who are your role models, Olivia?
A: My role models are my mom, (Native American author and artist) John Trudell, (U.S. Secretary of the Interior and Native American) Deb Haaland and (Native American fashion entrepreneur) Amy Yeung. My role models continue to teach me the importance of standing up for the betterment of my community and to never stop fighting for my rights as a Native woman. They represent what a strong, educated and fearless leader is.
Q: What is your favorite aspect of Adelphi?
A: During my short time at Adelphi, I have found that the professors and staff truly wish to uplift you and provide opportunities that I couldn't imagine experiencing at another school. By far, the professors and staff I have met are my favorite aspect of Adelphi.
Q: What would you like to share with the Adelphi Community?
A: The importance of an integrated and diverse student population should be a top priority for all higher education organizations and sports teams alike. By celebrating and acknowledging the lived experiences of students, we create a greater understanding for the community as a whole. Putting forth the effort to equally honor and uplift the stories of individuals and groups will create a more welcoming environment for new students of diverse backgrounds. Real allyship can only be achieved through actions rather than words.
Carissa Giuliano, physics major, Scholar Teacher Education Program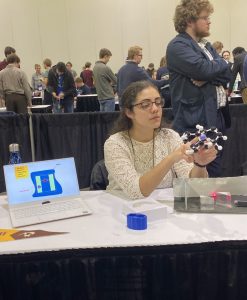 Carissa Giuliano is a physics major in STEP, Adelphi's Scholar Teacher Education Program, and will graduate in 2021 . Her physics poster was an award-winning presentation at the American Association of Physics Teachers (AAPT) meeting this past January. She is a member of Adelphi's chapter of the Society of Physics Students, recognized by the Society of Physics Students as a 2018–2019 Outstanding Society of Physics Students Chapter in America.
Q: Who is your role model, Carissa?
A: My role model is my mother. She is a strong woman who has worked hard to get to where she is today, yet she is also kind and puts the needs of others before her own. I admire her mix of strength and compassion, and I strive to be this type of person.
Q: What is your favorite aspect of Adelphi?
A: My favorite aspect of Adelphi is the size; it is truly the right size to both connect with professors and have access to amazing opportunities. Through Adelphi, I got to visit Tromsø, Norway; Boston, Massachusetts; and Providence, Rhode Island, for research and teaching experiences. My professors know my name and who I am, and I believe these connections have helped me achieve all of the above and more.
Q: What thoughts would you like to share with the Adelphi Community?
A: I would like to share a piece of advice with the College of Arts and Sciences community: Don't be afraid to talk to people and ask a bunch of questions! I would never have known the opportunities available to me if I had not struck up conversations with people. In my experience, most people love helping [and] giving advice. (I know I do!)