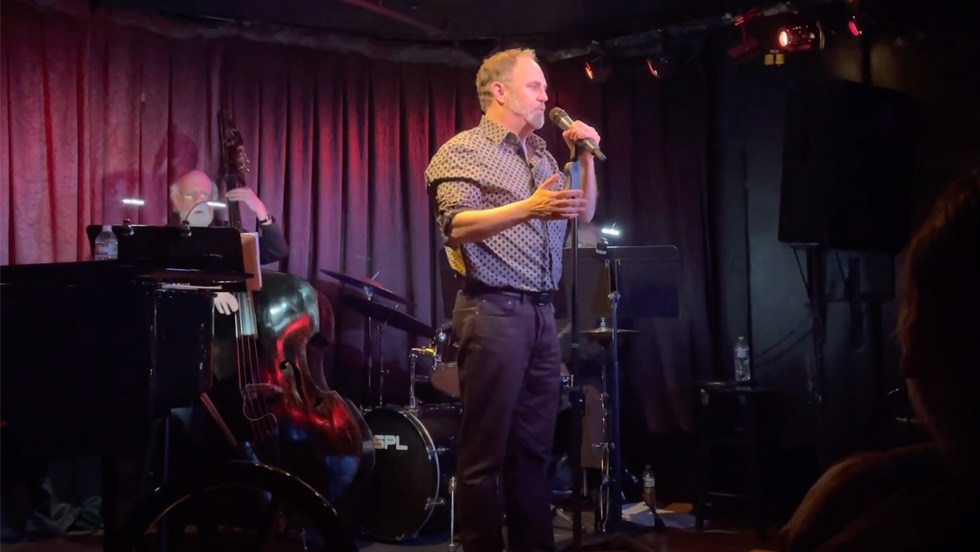 Gordon F. Derner School of Psychology adjunct professor Matt Aibel relates performance to therapy, teaching—and is rediscovering the joys of being back on stage.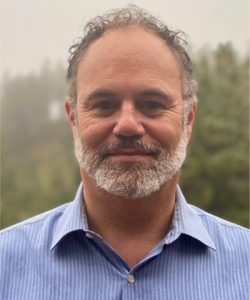 Matt Aibel, a therapist who joined the Derner School of Psychology's faculty as an adjunct in 2022, made psychology a second or even third professional act. Now an established clinician and teacher, he's returning—at least occasionally—to his first love, performance.
An undergrad theater major at Yale, Aibel worked to make it as an actor and singer in New York City, later shifting to theater management. After 15 years, he returned to school for a Master of Social Work and then certification in psychoanalysis and comprehensive psychotherapy from the National Institute for the Psychotherapies, a four-year postgraduate training program. He has since focused on private practice and teaching.
"I continued singing for the Jewish high holidays, which I really enjoy," said Aibel, whose stepfather was a cantor in their temple and mother a principal in a religious school. "But otherwise I welcomed the break from performing. A few years ago, however, I started thinking about a cabaret show, just for fun, with less pressure and competitiveness than when I'd done it professionally."
More on that later.
Aibel's brother is a successful movie and TV writer and producer (credits include Kung Fu Panda and King of the Hill) while his sister is a clinical psychologist. "I guess singing, storytelling, psychoanalysis and humor run in the family, to one level or another," he said.
His stage and entertainment experience adds to his work as a therapist and a teacher. "While performing, you're always trying to read the room and figure out what makes people tick," Aibel said. "You develop listening skills and learn to honor the intention of the play or, in psychotherapy, a therapeutic treatment plan as well as things that may come up spontaneously—and then navigate your way through." Knowing how to read a room is helpful in assessing if you have your students' attention. And if you don't, that's where a little theatrical improvisation comes in handy.
In his first career, Aibel had roles off-Broadway, on national tours, in regional theater and summer stock, and sang in many concert halls, churches, temples and cabarets. He did land one Broadway role, in a 1997 Harold Prince revival of Candide, one of Aibel's favorite shows as a teen. "It ran only three months," he added. "Not long after that, I was back working as an office temp."
From Show Biz to Psychology
Fast forward a few decades, Aibel organized and headlined a January 2023 fundraiser for the National Institute for the Psychotherapies, titled "How Are You Doing? An Emotional Support Cabaret." His Derner colleague Amira Simha-Alpern, PhD, director of Adelphi's Postgraduate Psychology and Psychotherapy Center, attended and later asked him to help with the upcoming dinner gala marking the 60th anniversary of Adelphi's postgraduate programs in psychology.
"It's a real honor to be part of Derner," Aibel said. "It has made such a huge difference in Long Island and the psychology field, producing practitioners and scholars."
Singing for His Supper
Aibel performs musical cabaret standards—including songs by the late great Mose Allison—and for the Derner event, he will sing a piece by Adelphi grad Jonathan Larson '82. "I met him at the diner where he worked in Manhattan, before I knew what a talent he was. It was clear he was a quirky, wry, amusing person."
Aibel also writes some of his own pieces, sometimes alluding to his current professional field, with a bit of humor and irony rolled in. One, for example, is titled "People Are Stupid," which he notes has "a little more dimension to it than the title might imply. Each verse puts into question the certainty of the first verse, which gives it more punch or richness than just a diatribe—as therapeutic as the diatribe might be!" The song is meant as a somewhat provocative, somewhat cheeky lament for the decaying state of critical thinking in our society, with obvious political resonances, after which the song increasingly questions its own certitude, ending with some doubt.
Scheduled for Saturday, November 4, the Derner gala will honor longtime Adelphi community members Mary Beth Cresci, PhD, adjunct professor and a former director of the postgraduate programs, and Marge Burgard, an administrative assistant in the program. After-dinner entertainment will feature talented faculty including Aibel in "an act that's both HIP and HIPPA-compliant" as well as James Oshinsky, PhD, and Robert Mendelsohn, PhD.