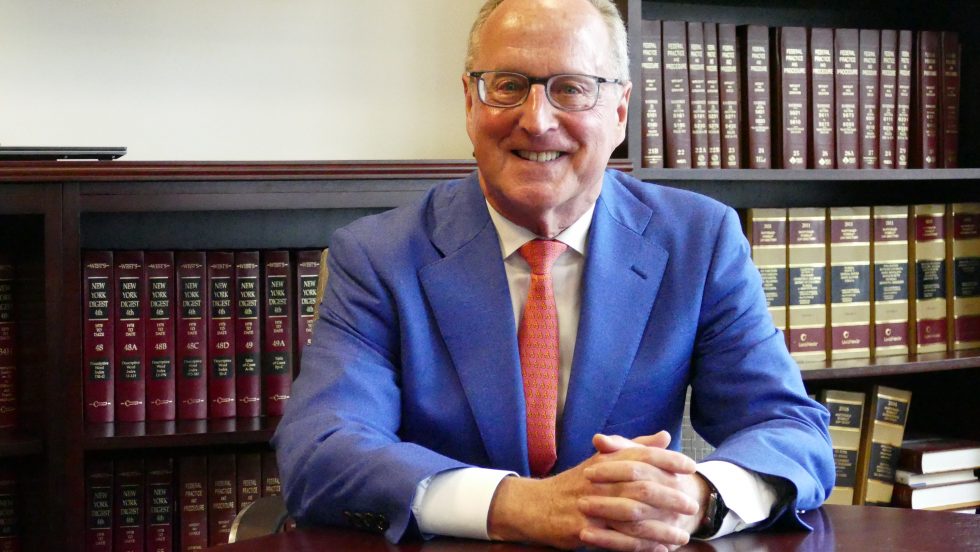 It's a good thing Bern Clair '73, JD, is an early riser, because it inadvertently launched his career.
The Manhasset, New York, native is widely recognized as an elite New York-based matrimonial attorney, whose cases with billionaire clients have garnered headline coverage throughout his career. He is the co-founder of Cohen Clair Lans Greifer & Simpson LLP, recognized by both Martindale-Hubbell and U.S. News & World Report as one of the top-ranked firms specializing in family law and by International Financial Law Review among its IFLR1000 top-ranked Tier-1 firms.
Clair has been recognized as one of New York's Best Lawyers by New York Magazine, the best matrimonial attorney in the world by the New York Post, a Best Lawyer in America in the area of family law and one of the country's "10 Lawyers You Don't Want Representing Your Spouse In A Divorce" by Business Insider.
Back in 1972, as a senior at Adelphi University, he had no idea what he wanted to do after graduation—until his roommate asked him for a favor.
"My roommate, Lee Weinstein, in Linen Hall said he was taking the law boards [LSATs] and said to me, 'You're the only person I know who gets up early,'" Clair explained. "He then asked me, 'Can you wake me up for the test, because I'm afraid I will sleep through my alarm clock.' I said, 'No, I am not going to do it.' Then he said that he would pay for me to take the test, too. I believe it was like $30, which was a huge amount of money for us. I said OK. I scored very well, and Lee didn't."
So, with that decision, Clair's journey to becoming one of the top divorce attorneys began. He eventually applied to St. John's University School of Law based on a recommendation from his father, who was an adjunct professor in the school's film department, and graduated near the top of his class.
"I learned work ethic at Adelphi and the idea of being prepared," Clair said. "Between Omicron Pi [a local fraternity that Clair pledged] and my own sense of what I needed to do to succeed, preparedness was key. That's what I did when I went to law school."
It was in an English class at Adelphi that Clair realized how good a writer he was, even having a few of his stories published in the University's literary magazine. In law school, his strong skills in writing legal briefs and in arguing court cases helped him excel in moot court. These traits and skill sets would help him craft his trade as an attorney.
"I'm a good litigator, meaning I'm very good in court," said Clair, who got his first client after putting an advertisement in the Village Voice for anyone looking for a divorce lawyer for $1,500. "Based on my litigation skills, the other sides have wanted to settle with me. I'm very keen on settlement now."
"Kicking ass and taking no prisoners—and resolving cases. That's what I do for a living."
A Two-Sport Athlete
Two men's lacrosse legends played a pivotal role in Clair's decision to attend Adelphi. He played lacrosse at Manhasset High School for National Lacrosse Hall of Fame inductee Tom Postel and for Adelphi men's lacrosse head coach, Paul "Doc" Doherty '62, MA '70.
"I got into some trouble in high school and I was never going to go to college because of it," Clair said. "My high school coach, Tom Postel, told me the Adelphi coach is going to watch you play and if you do well, there may be a scholarship for you. I said, 'Delphi in Greece?' He said, 'No, Adelphi in Garden City.' I'd never heard of it!"
Coincidentally, Clair and Doc had met previously in Copenhagen, Denmark, while Bern was traveling through Europe after winning the Experiment in International Living award in his junior year of high school.
Now, the two were talking about him joining Doc's program.
"He came up to me at the end of the game and asked me if I wanted to come to Adelphi," Clair said. "I told him I didn't know and that I did not have the application. He said. 'Don't worry, we will go to Adelphi and fill out the application there.' I said, 'Mr. Doherty, they [my parents] took away my car, so let's forget it.' He then said, 'I'll pick you up,' and the rest was history. He picked me up the next day and we filled out the application on the steps of Levermore Hall."
Clair made history while playing on the men's lacrosse team, becoming the program's first-ever freshman All-American. He was a four-year letter-winning defenseman and also played one year on the men's soccer team.
It's All About the People
Clair, who admits to always having the "gift of gab," has demonstrated he is comfortable in any environment, from the classroom to the playing field to the courtroom. He isn't fazed about high-profile clients who seek his services. He has been around people like them since his youth.
"I grew up in Manhasset with celebrities coming to the house because my father was a producer in film. He worked with people like Rod Serling [Twilight Zone] and Howard Cosell [ABC Sports]," Clair added. "So when I represent celebrities, I know they are people just like me."
During his time at Adelphi, he also developed important relationships, including with the fraternity brothers he met through Doc when he started school.
"Doc introduced me to a couple of guys who played on the team, and the next thing I knew, I was a member of Omicron Pi,' Clair recalled "I became fast friends with them. We all still stay in touch and have met once a year in September for the last five years."
In 2014, Clair was honored at the 14th annual President's Gala with the Outstanding Alumnus Award for his professional accolades and achievements.
"The best thing about Adelphi is the people," Clair said. "If I could change anything about my experience, it would be me. I would have changed my attitude about life. I went through school thinking I was invulnerable, nothing could change me. Looking back at it, I wish that kid would have been more empathic and life changing. My work and my life story have made me more empathic now."