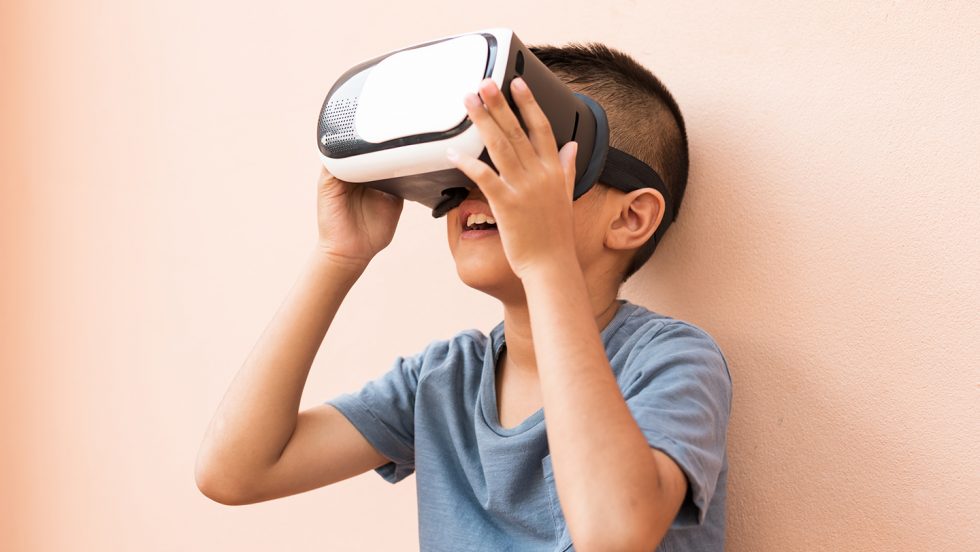 There are, according to the National Institute on Deafness and Other Communication Disorders (NIDCD), as many as 3 million Americans who suffer from chronic stuttering.
They are often stigmatized for their disability, but for many of them, stuttering also significantly impedes fluent communication with others, thus negatively impacting academic performance, as well as job and social opportunities. Most conventional therapies and treatments can be both costly and time-consuming.
Johanna deLeyer-Tiarks, PhD, who joined Adelphi University's Gordon F. Derner School of Psychology faculty in 2020 as an assistant professor of school psychology, has successfully employed virtual reality self-modeling (VRSM) using 360-degree virtual reality videos to remediate severe stuttering—and potentially revolutionize the treatment of stuttering.
She is the principal investigator (PI) and co-author, along with University of Connecticut colleagues, of "Investigating Virtual Reality for the Delivery of Self-Modeling Interventions: Virtual Reality Self-Modeling as an Intervention for Stuttering," a groundbreaking article published in 2021 in the journal Translational Issues in Psychological Science, which offers new hope for those with severe stutters.
Redefining Intervention Science
"I work broadly in intervention science," Dr. deLeyer-Tiarks explained.
"How can we take existing interventions and apply them in novel ways? How can we develop new interventions to support various populations? VRSM, coupled with immersion therapy, is a new intervention that has been remarkably successful for chronic stuttering."
Dr. deLeyer-Tiarks, in fact, is the first researcher to combine two established interventions to treat stuttering: video self-modeling (VSM), which has been in use since the 1970s, and virtual reality (VR) to produce an immersive, 360-degree VR self-modeling video. "The 360-degree video is the intervention," Dr. deLeyer-Tiarks emphasized. When participants watch the video through a VR system headset or smartphone, it promotes positive treatment gains.
Self-modeling is based on the late psychologist Albert Bandura, PhD's theory of social modeling. "If you watch someone do something, and then perform the behavior independently, you're not just mimicking that person," Dr. deLeyer-Tiarks explained. "You've learned the behavior for yourself and internalized it."
"What's different," she added, "is the immersive and relatable experience that VR delivers. The more similar the model is to you, the greater the likelihood of success. Simply put, you are your own best model. With VRSM, you are fully present in the space; you are watching yourself perfectly perform a goal behavior."
Creating the Immersive Experience
Her project, which was privately funded to cover the cost of the virtual reality hardware and software, and video editing software, administered VRSM interventions to three adults who Dr. deLeyer-Tiarks had clinically determined to have chronic stuttering.
She met with the participants over Webex during the pandemic to perform standardized assessments of the severity of their stuttering. "I did a few different measures, from performing a fluency count of 600 conversational words to using the diagnostic Stuttering Severity Instrument employed by speech pathologists," she recalled.
Seeing Is Believing
For her study, Dr. deLeyer-Tiarks collected video footage of participants talking in front of a green screen. Then she edited out all instances when a participant stuttered to produce a three-to-five-minute video that only shows "exemplary behavior." That way, in the final product, the subjects saw themselves speaking fluently without stammering or stuttering in 360-degree immersive videos.
"You don't need to practice," she said. "With VRSM, you're immersed in the experience—and the environment being watched. You can watch the video—no practicing is involved—to obtain results that are potentially life-changing."
The result? After being able to see themselves speaking fluently, the subjects reduced the severity of their stuttering from clinical levels to below clinical levels. "Everyone stutters a little," noted Dr. deLeyer-Tiarks. "They went from clinical levels to normal levels—which means that they expressed themselves fluently."
Looking Ahead
While Dr. deLeyer-Tiarks met with her subjects for a one-month check-in, she has no others planned. "It's kind of like riding a bike," she noted. "Gains are maintained, according to previous literature based on VSM, as subjects don't often fall back. They will generalize their gains after they are learned to other situations, such as speaking to a friend in person or giving a presentation."
Moving forward, however, Dr. deLeyer-Tiarks does plan to replicate her research with a larger subject sample. "I do want to emphasize that single case research, which includes multiple baseline design used in my study, is an empirical research design. Results from such studies are just as meaningful as those found from studies using larger numbers of subjects."
She is also in the process of recruiting subjects for a VSM—not VRSM—study. She's looking for individuals who have Zoom or FaceTime or other online anxieties, expressed by excessive interjections, facial or body tics, or stuttering.
With its feasible, evidence based VRSM intervention, the cutting-edge study makes an impactful contribution to the effective treatment of chronic stuttering, while helping to banish the stigma often experienced by individuals who stutter.
"It's a very simple treatment," Dr. deLeyer-Tiarks said, predicting that in the future people will be able to do this for themselves after receiving some basic guidance.
"It's not a technological feat—they can use video editing apps such as iMovie or even TikTok and do this on their phones. Technology has made this just that accessible," she concluded.
---
This story was featured in the Fall 2022 edition of Scholars and Artists of Adelphi University. View the full newsletter, which highlights the scholarly and creative work of Adelphi's faculty members.