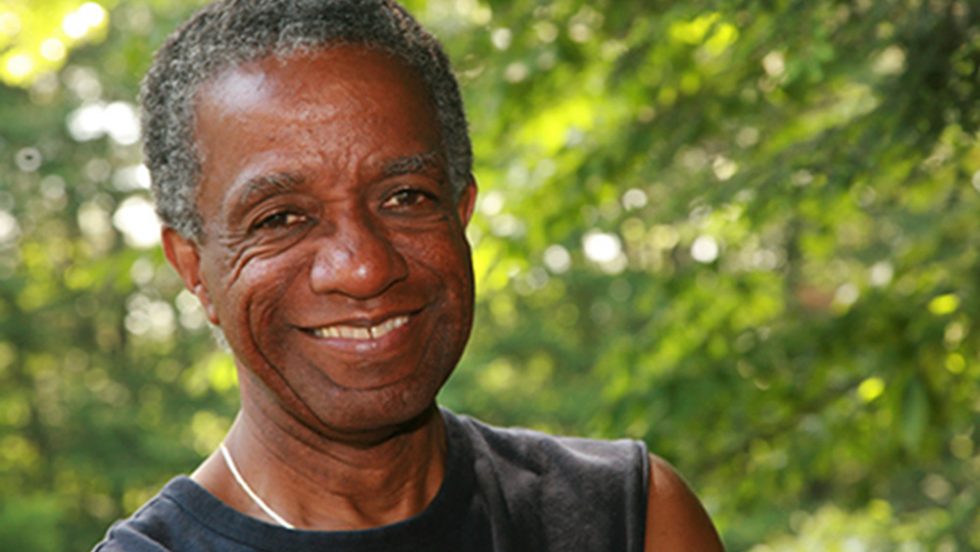 Although written in 1978, Professor Emeritus Kermit Frazier's play Kernel of Sanity still resonates as it examines modern Black issues.
What's the difference between 1978 and 2020 with regard to white privilege and the way Black people move in mostly white spaces? Professor Emeritus Kermit Frazier's play Kernel of Sanity proves that the difference is minor, if there's a difference at all.
Kernel of Sanity was the first play that Frazier, who actively taught at Adelphi from 2004 to 2017, wrote. It examines the imbalanced relationship between a Black actor and a white actor who had worked together professionally. The play was produced by Woodie King Jr. through the New Federal Theatre in 2009 and was published by Broadway Play Publishing Inc. in 2014. But for the most part, it has remained a hidden gem, one that Pulitzer Prize–winning playwright Paula Vogel felt needed to be uncovered and revived for today's audiences.
This year, Vogel created Bard at the Gate, a series dedicated to showcasing works she personally selected that she felt had been overlooked and deserved a wider audience. During a discussion on Kernel of Sanity, Vogel said she had always loved the play and wanted to kick off the series with a play that uplifted Black voices and told powerful stories about the Black experience.
The Power of Sharing Black Stories on Stage
"It is hard to think of theater in this moment when Black communities are under siege from systemic racism," Vogel stated on the Bard at the Gate's website. "It is critical that we behold the experiences and voices of our remarkable Black artists on stage, in film and on television."
On June 25, 2020, Kernel of Sanity was presented on Bard at the Gate's YouTube channel. The cast included Matthew Hancock '10, Abigail Breslin and Josh Hamilton, with stage directions read by Miatta Lebile. It was directed by Gregg Daniel and the stage was managed by Emily Lehrer. After the play, Pulitzer Prize-winning playwright Lynn Nottage moderated a conversation between Frazier, Vogel, Daniel, cast members and others to discuss how the play resonates with Black issues today, the importance of showcasing Black stories as well as answering questions from viewers. Bard at the Gate's presentation of Kernel of Sanity was also featured in The New York Times.
Navigating Through White Privilege as a Black Person
The play is about Frank, a white actor, and Roger, a Black actor. The two had worked together on a production of One Flew Over The Cuckoo's Nest, in which Frank was the star and Roger played a minor role. Frank comes into big news: his girlfriend, Rita, is supposedly pregnant and he will receive payments from the government under the false pretenses that he is mentally ill. Over the course of the play, it shows the power struggle between a white man, a white woman and a Black man. As Frank and Roger catch up, Roger's rage builds. It's the rage of a Black man frustrated with white privilege and moving through a world where his Blackness is a disadvantage.
"For me, it's a play about a Black man trying to make his way in a majority white society. How do people perceive you as a Black person and how do you live your life as a Black person in a society where white is right?" said Frazier. "It's just ironic that a play that was written specifically about the Black issues in 1978 is about the Black issues today, which tells me that 1978 may as well be today, that not that much has changed."
Though Kernel of Sanity is receiving recent recognition, this isn't the first time that Frazier's work has been praised. He's had nearly 20 plays produced around the country and his play Modern Minstrelsy was a finalist for the Eugene O'Neill National Playwrights Conference. Along with being an actor, producer and teacher, Frazier is also a television writer known for his work on shows such as Ghostwriter, Gullah Gullah Island and Wonder Pets! Recently, he was commissioned by Lower Depth Theatre to write a 10-minute play that takes place during a pandemic. The play, Else, virtually premiered on Facebook on July 1, 2020.
"Of course, I wasn't imagining 2020 when I wrote Kernel of Sanity in 1978, but theater, being 'the seeing space,' should naturally be a space where Black stories are also forever told," said Frazier.