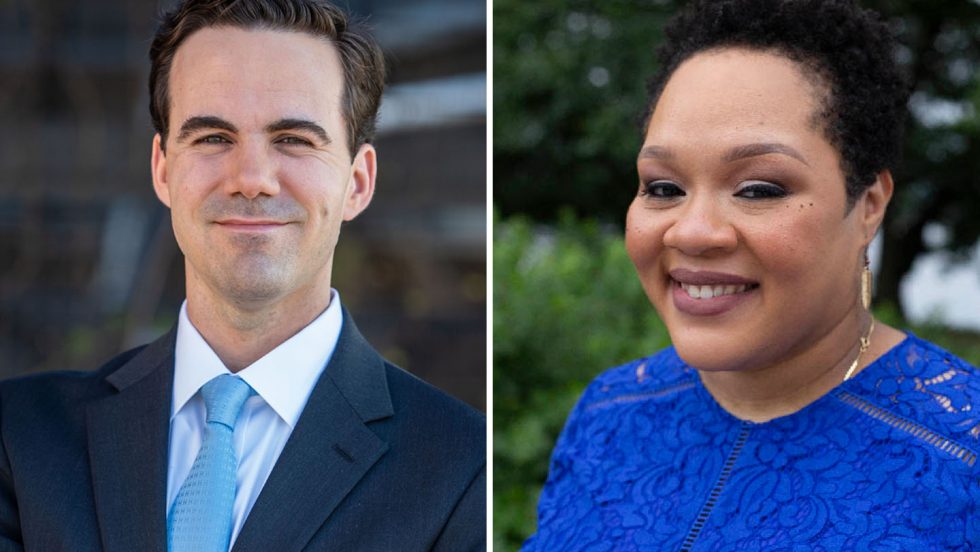 Will President Donald Trump be able to win a second term in the White House? Or will former Vice President Joe Biden be able to beat the incumbent?
On Wednesday, October 14, Adelphi University will host a discussion on the politics surrounding the 2020 presidential election with Robert Costa, national political reporter for The Washington Post, and Yamiche Alcindor, White House correspondent for PBS NewsHour and a contributor for NBC and MSNBC.
The event is sponsored by the William E. Simon Lecture in American Civilization and Values at Adelphi.
Robert Costa, political reporter
Robert Costa is a national political reporter for The Washington Post, where he has been since 2014. Covering the White House, Congress and national campaigns, he demystifies the inner workings of American democracy, using revealing and vivid anecdotes to take readers behind the scenes as he paints a portrait of the key players, policies and moments shaping political news.
Costa's coverage of the Trump presidency and his sourcing at the highest levels have drawn wide notice. As written in Philadelphia Magazine, "He's the guy Trump called to say that the healthcare bill was dead."
And with a no-frills interview style, Costa regularly hosts in-depth newsmaker interviews for Washington Post Live. Recent guests during the coronavirus pandemic have included Vice President Mike Pence, Speaker Nancy Pelosi, senior White House policy advisers, numerous Democratic presidential candidates and some of the nation's top governors and mayors.
Costa has also become one of the most recognizable faces of news as a political analyst for NBC News and MSNBC, where he regularly appears to share his latest reporting on Meet the Press, Morning Joe and The 11th Hour.
As moderator and managing editor since 2017 of Washington Week, the Peabody Award–winning news analysis series on PBS, Costa has increased the show's ratings with his sharp questions and political insights. The Associated Press called the national program "satisfyingly wonkish… and amid a TV sea of partisan megaphones and questions about journalism's role, especially important."
A native of Yardley, Pennsylvania, Costa earned a master's degree in 2009 from the University of Cambridge, where he focused on politics. A year earlier, he earned a bachelor's degree in American studies from the University of Notre Dame, where he served as a member of the board of trustees from 2014 to 2017.
Yamiche Alcindor, news correspondent and contributor
Yamiche Alcindor is White House correspondent for PBS NewsHour and a contributor for NBC News and MSNBC. She often tells stories about the intersection of race and politics.
At PBS, she has directly questioned President Trump on a range of issues, including the disproportionate impact of the coronavirus on Black people and communities of color, the protests following the death of George Floyd and the consequences of President Trump's immigration policies. She also has traveled extensively for her beat, including to places like Belgium for the 2018 North Atlantic Treaty Organization meeting, to Helsinki, Finland, as President Trump met with Russian President Vladimir Putin, and to McAllen, Texas, to chronicle life on the border of the United States and Mexico and the impact of President Trump's family separation policy.
As a contributor for NBC News and MSNBC, Alcindor appears on shows including Morning Joe, Andrea Mitchell Reports and Meet the Press with Chuck Todd.
Previously, Alcindor worked as a national political reporter for The New York Times, where she covered the Trump and Bernie Sanders presidential campaigns as well as Congressional hearings. She also wrote about the impact of President Trump's policies on the working class and people of color.
Alcindor has been a national breaking-news reporter for USA Today and traveled across the country to cover stories such as the school shooting in Newtown, Connecticut, the death of Trayvon Martin in Sanford, Florida, and the police-related protests in Ferguson, Missouri, and Baltimore.
In 2020, the White House Correspondents' Association named Alcindor the recipient of the Aldo Beckman Award for Overall Excellence in White House Coverage. She has also been honored with the Gwen Ifill Next Generation Award by Simmons University and NextGen Leader Award by the Georgetown Entertainment & Media Alliance.
Alcindor earned a master's degree in broadcast news and documentary filmmaking from New York University and a bachelor's in English, government and African American studies from Georgetown University. A native of Miami, she is the daughter of Haitian immigrants.
The event, "Primetime at Adelphi," begins at 8:00 p.m. via Zoom and is free and open to the public. Registration is required at Adelphi.edu/events/primetime-at-adelphi.