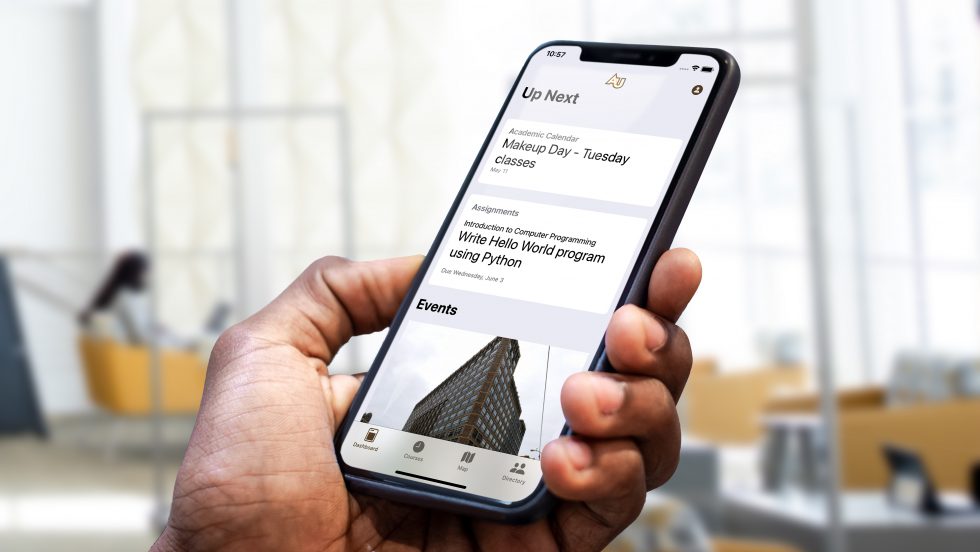 We're excited to show you a sneak peek of what to expect in the new Adelphi App, launching August 2021 on iOS and by mid-October on Android devices.
A noticeable shift from the "tiles" on AU2GO, the new Adelphi app focuses on the resources that you use most with a cleaner and easier-to-navigate design. The new app design and content are based on the feedback from student surveys, individual student interviews, and meetings with student groups and University departments.
Once you're logged in to your eCampus account, the app dashboard will show you:
your course schedule
upcoming assignments in Moodle
the next date in the academic calendar
upcoming events to attend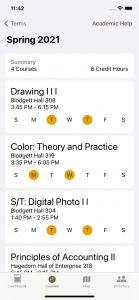 Within the courses tab, you can select a term and then easily see the date, time and location of your courses, showcased in the accompanying photo. Having easy access to your course schedule was the most requested feature for the new app, and we're happy to accommodate that request.
While there still may be some minor changes before launch, the design will remain largely the same. We can't wait for you to get your hands on the completed iOS version of the app this coming August, just in time for the Fall '21 semester, with the Android version coming by mid-October. Until then, feel free to connect with us @adelphitech on Instagram or Twitter and let us know what you're most excited about!