Every year Adelphi honors exceptional employees and faculty members. "Our honorees are Adelphi employees who shine for a number of reasons," said President Christine M. Riordan at the awards ceremony on May 7. "You set extraordinary standards for serving the Adelphi community. We admire and thank you."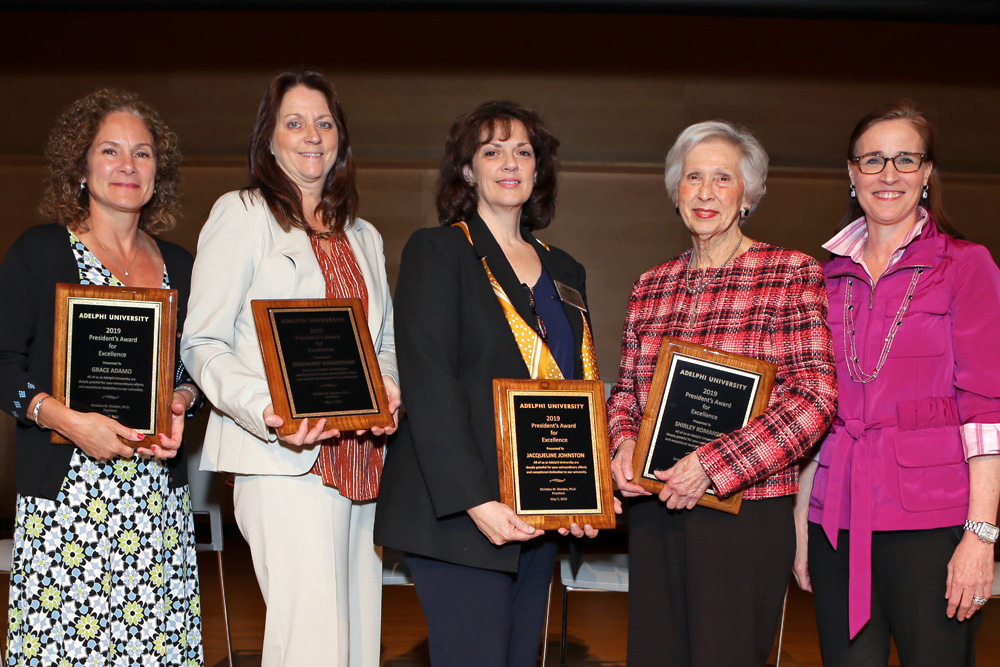 Every year Adelphi honors exceptional employees and faculty members. "Our honorees are Adelphi employees who shine for a number of reasons," said President Christine M. Riordan at the awards ceremony on May 7. "You set extraordinary standards for serving the Adelphi community. We admire and thank you."
Candidates were nominated by their colleagues. Nominations are reviewed by the advisory committee for the President's Award for Excellence. The Committee is comprised of six different constituencies: students, Local 153 representatives, faculty members, previous-year honorees. administrators and co-chairs. After reviewing the nominations, the Committee submits final nominees to the president.
Four employees were chosen to receive the awards for 2019. President Riordan elaborated on the accomplishments of each honoree, often quoting the words of praise submitted by faculty members and colleagues in their nominations.
"The embodiment of selfless service"
Grace Adamo, administrative assistant, Gordon F. Derner School of Psychology
Her nominators wrote that Adamo is an "invaluable resource, a walking encyclopedia for how to get things done" and "the embodiment of selfless service." In addition to organizing senior award ceremonies, Psi Chi International Honor Society inductions, town hall meetings, Psychology Day events, colloquia, job talks and open houses, she developed initiatives such as "Dine with a Derner Professor," a popular event with students.
A nominator added, "Grace's kindness, quick intellect, strong interpersonal skills and genuine concern for the psychology department clearly reflect the tremendous respect that our faculty and students have for her…She is a true ambassador for the University."
"A leading voice on campus"
Rosemary Garabedian '07, M.S. '13, director, Student Access Office
Dr. Riordan noted that "Rosemary's leadership and dedication to Adelphi have resulted in many great achievements and continue to make our community a great place to work and learn. Rosemary has been a leading voice on campus—ensuring that Adelphi not just abide by the Americans with Disabilities Act (ADA) but go beyond its requirements." For example, she has been a facilitator of the Diversity Certificate Workshop "The Americans with Disabilities Act: Issues of Access."
As one nominator wrote, "Across the small world of disability services, Rosemary has made a name for herself, and therefore Adelphi, as a person who holds the highest standard of compliance, and will settle for nothing less than serving our students above and beyond what the ADA directs us to."
Dr. Riordan pointed out that, thanks to Garabedian's leadership and dedication, her department now serves 538 students, a 220 percent increase from the 167 students served in 2008.
"A rare find"
Jacqueline Johnston, Ph.D. '18, director of health services
President Riordan noted that Dr. Johnston "totally transformed the Health Services Center into a multidimensional ambulatory care center," one that now offers "a full range of primary care, women's healthcare, prevention and intervention services, and health promotion programming…She championed the University's implementation of an electronic medical records system and has refined the state-mandated immunization compliance program to ensure that we consistently report 100 percent compliance to New York state."
Dr. Johnston is a member of the University's Threat Assessment Team and the Operational Excellence Council and served as co-chair of a working group for Middle States Accreditation. She has also been the driving force behind the University's annual Health and Wellness Fair.
In Dr. Johnston's nomination, a faculty member referred to her as "a rare find," and commented that "it is incredible what you have done for the health services on campus…and to give the students a great clinical experience."
"A calm, efficient presence"
Shirley Komansky, senior administrative assistant, Department of Biology
One of Komansky's nominators expressed that she is "unwavering in her professionalism. She truly is the person who keeps our department of almost 400 students, 18 full-time faculty, over 30 part-time faculty and six staff members running smoothly."
Dr. Riordan said Komansky's nominators noted how she treats each of the department's 400 biology majors as well as approximately 500 nursing majors with utmost respect and dedication to their many unique needs. "They consider her a role model in the way she demonstrates a successful demeanor through patience, competence, good humor, kindness and professionalism."
A former department chair said of Komansky, "I feel that her dedication to doing the best job possible and her devoted application of her many abilities exemplify the unsung heroes among Adelphi's staff who make the University run well for the faculty and students alike."
Dr. Riordan wrapped up the ceremony in honor of these exemplary "unsung heroes" of Adelphi saying, "Thank you for all you do to make Adelphi the amazing place it is. And thank you to all the nominators—for honorably shining a light on the hard work and dedicated efforts of your peers and colleagues."
The awards to Adelphi employees were followed by those for faculty, which were as follows:
Excellence in Teaching Award to a Tenured Faculty Member: Matthew Curinga, Ed.D, associate professor and director, College of Education and Health Sciences
Excellence in Teaching Award to an Untenured Faculty Member: Michael D'Emic, Ph.D., assistant professor, biology
Excellence in Teaching Award to a Part-Time Faculty Member: Sandra Castro, adjunct professor, sociology
Excellence in Faculty Scholarship and Creative Work Award: Eugene Hecht, Ph.D., professor, physics
Excellence in Faculty Service Award: Lawrence Hobbie, Ph.D., professor, biology
The event concluded with recognition of employees who completed 20 or more years of service.
---
For further information, please contact:
Todd Wilson
Strategic Communications Director 
p – 516.237.8634
e – twilson@adelphi.edu