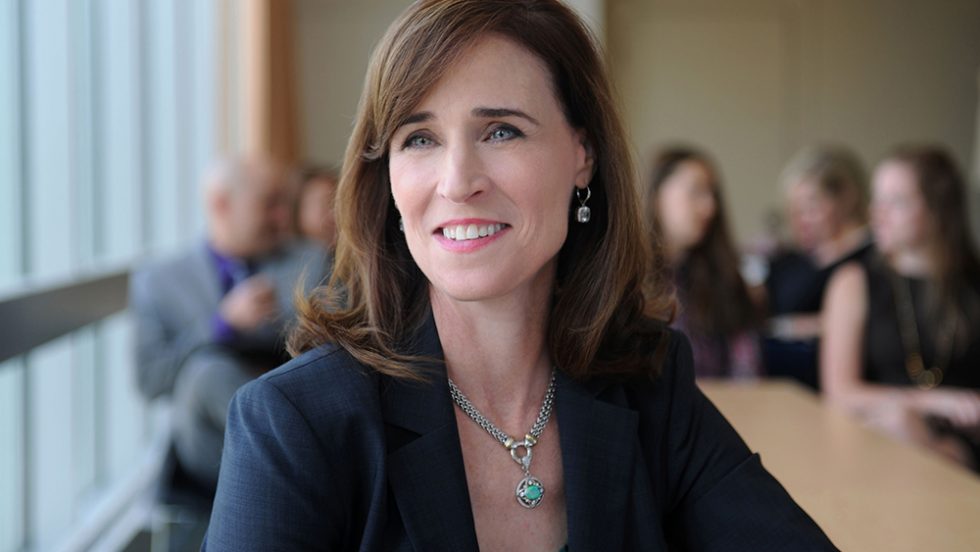 Adelphi University President Christine M. Riordan has been recognized by Long Island Business News (LIBN) and the Long Island Press Power List for her leadership and influence.
"I'm grateful to be recognized by LIBN and the Long Island Press, along with so many influential leaders working to sustain and improve our communities," said President Riordan. "These honors represent the efforts of everyone at Adelphi to advance our strategic vision and create extraordinary opportunities for our students."
Long Island Business News Book of Business Influencers
Riordan was among the 44 women—and one of five university presidents—recognized by LIBN as a part of its Dynamic Women Leaders List in the LIBN annual Book of Business Influencers.
"Integrity. Grit. Tenacity. Grace. These qualities, and more, define a woman who trailblazes the path forward for future female leaders," LIBN announced on June 16. "To honor their commitment to excellence, Long Island Business News is proud this year to salute those who fit this mold."
"Your leadership sets a shining example for fellow women professionals across Long Island and beyond," Jackie Douglas, account manager for advertising at LIBN, said of Riordan.
In addition to President Riordan, two prominent Adelphi alumnae made the Dynamic Women Leaders List: Terri Alessi-Miceli '83, president and chief executive officer of HIA-LI, and Dr. Maria P. Conzatti '88, MBA '90, president of Nassau Community College.
Long Island Press Power List
President Riordan was also recognized in the Long Island Press Power List as an influential individual in the Long Island region. Presented by parent company Schneps Media, "Honorees are being recognized for their commitment, impact and influence on Long Island." She is one of the four presidents of private universities on Long Island to earn a place on the list.
Adelphi University alumni on the 2023 Long Island Press Power List include:
Paule Pachter '78, MSW '79, Long Island Cares, Inc., CEO
Stuart Almer, MBA '85, Gurwin Healthcare System, President and CEO
Maria P. Conzatti '88, MBA '90, EdD, Nassau Community College, President
Eric Alexander '92, Director of Vision Long Island, Founder of LI Main Street Alliance
President Riordan has received numerous honors for her leadership of Adelphi, including inclusion on LIBN's Power List of the 50 most influential people on Long Island for many years, as well as on its list of the Top 50 Most Influential Women in Business and Top 25 Leaders in Education. Among other recognitions she's received are the Long Island Herald Premier Business Woman of Long Island Award in 2019, the ATHENA International Leadership Award in 2020, the Council for Advancement and Support of Education Chief Executive Leadership Award in 2021 and City & State's Power Players in Education in 2022.