The award is given each year by the Adelphi University Alumni Association on behalf of the president.
Adelphi University will hold its 120th Commencement on Sunday, May 22, 2016, at 10:00 a.m. at Nikon at Jones Beach Theater, 1000 Ocean Parkway, Wantagh, NY. At the ceremony, recipients of the Ruth Stratton Harley Distinguished Alumni Achievement Award will be celebrated.
Award Recipients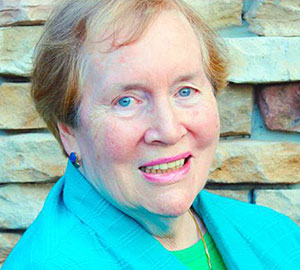 MILDRED CLEGG ACKERLEY '55, M.A. '76
Mildred (Mil) Clegg Ackerley was born in Floral Park, New York, on June 21, 1933. She was valedictorian of Richmond Hill High School in Queens and attended Adelphi University on a full academic scholarship. At Adelphi, she was a member of Delta Tau Alpha honor society, Delta Gamma Fraternity, Lantern Honor Society, Le Cercle Francais, the Math Club and the Judicial Board. She graduated in 1955 magna cum laude with her undergraduate degree in mathematics; married; and while raising five children, returned for her graduate degree in education in 1976.
Ackerley taught mathematics at New Hyde Park Memorial High School for 30 years, where she served as adviser to the National Honor Society, director of Student Activities and Sewanhaka Central High School district coordinator of Talented and Gifted Programs.
Prior to becoming a teacher, she served as a mathematician at the George C. Marshall Space Center in Huntsville, Alabama, and with the American Bosch Arma Corp in Carle Place, New York.
Her devotion to her alma mater was evident in her service as director of the Adelphi University Alumni Association from 1966–1969 and then as alumni trustee on the University's board of trustees from 1969–1971. She became a member of the Ruth S. Harley Planned Giving Society through which she established the Mildred Clegg Ackerley '55 Endowed Scholarship in Mathematics; and continued her association with the University as a member of Delta Gamma Fraternity. In 2002, she was honored by Delta Gamma Fraternity for 50 years of membership and service.
Ackerley served as vice president of the Friends of the Floral Park Library; membership chairperson of the Sewanhaka Federation of Teachers, Retired; and board member of the Nassau North Retired Teachers Association.
After a lifetime of service and commitment to her family, her community and to Adelphi, in November 2015, Ackerley passed peacefully in her home in Floral Park surrounded by loved ones.
Adelphi is honored to count members of her family, including her five children (Mary, Bob, Lee, Anne and Margaret) as part of the Adelphi community.
---
EILEEN R. MCDONELL AND HORACE G. MCDONELL JR. '52, '02 (HON.)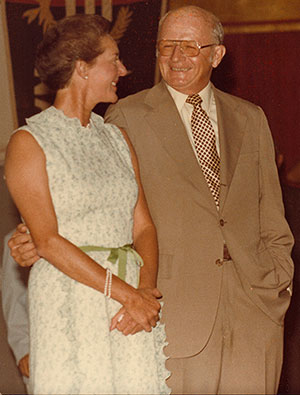 Horace G. McDonell Jr. '52, '02 (Hon.) is a strong proponent of the teaching and advancement of science. His affinity for science was fostered at his alma mater where he met his wife, Eileen Romar. Soon after earning his bachelor's degree in physics from Adelphi, Mr. McDonell joined the Perkin-Elmer Corporation, a leader in the fields of analytical instruments, fine optics and electro-optical systems. That same year, Mr. McDonell and Ms. Romar, an Adelphi alumna, were married.
Over a span of 38 years at Perkin-Elmer, Mr. McDonell held engineering, marketing and management roles within the corporation, eventually ascending the ranks to chairman and CEO, a position he held until his retirement in 1990.
Mr. McDonell's impressive career at Perkin-Elmer led to several prestigious positions in the corporate world. Over the years he served as director of Ethan Allen Interiors, Hubbell, Uniroyal, Etec and Silicon Valley Group corporations. Drawing on his extensive experience, Mr. McDonell also provided leadership in not-for-profit pursuits, serving on the boards of Danbury Hospital, Datahr Rehabilitation Institute and the American Electronics Association, where he also served as chairman.
Eileen and Horace McDonell's commitment to education and the advancement of science is evident in their long-standing involvement with Adelphi. Since their time as students, the McDonells have made invaluable contributions to the University, the scientific community and corporate and nonprofit organizations. Mr. McDonell devoted three years of service as a member of Adelphi's board of trustees. In recognition of his outstanding leadership and community involvement, in 2002 Mr. McDonell received an honorary degree from his alma mater, and in 2009, he was honored for his Lifetime of Service to Adelphi. The University mourned the passing of Mrs. McDonell in 2012.
Through the summer fellowships and scholarships for incoming freshmen studying the sciences, and through annual visits to meet with the students, Mr. McDonell has continued in the tradition of Ruth Stratton Harley by providing both financial support and mentorship to deserving students. The Eileen and Horace McDonell Science Advancement Initiative Fund is one of the University's signature programs for undergraduate academic enrichment
---
The Ruth Stratton Harley Distinguished Alumni Achievement Award was established to salute Ruth S. Harley, dean emerita and member of the Adelphi College Class of 1924. The award is given each year by the Adelphi University Alumni Association on behalf of the president of the University to honor an Adelphi University alumna or alumnus for remarkable achievements in business or professional life, or for distinguished accomplishments through service to his or her community, state or country.
Adelphi University will confirm more than 2,200 graduates at the associate's, bachelor's, master's and doctoral levels at its Commencement. Two accomplished women leaders will serve as speakers and be presented with honorary degrees: Marian Wright Edelman, J.D., founder and president of the Children's Defense Fund, and alumna Jacqueline Woodson, winner of the National Book Award for Brown Girl Dreaming.
For more information and the full day's program, please contact Adelphi's Commencement office at 516.877.4695, or visit commencement.adelphi.edu.
---
For further information, please contact:
Todd Wilson
Strategic Communications Director 
p – 516.237.8634
e – twilson@adelphi.edu