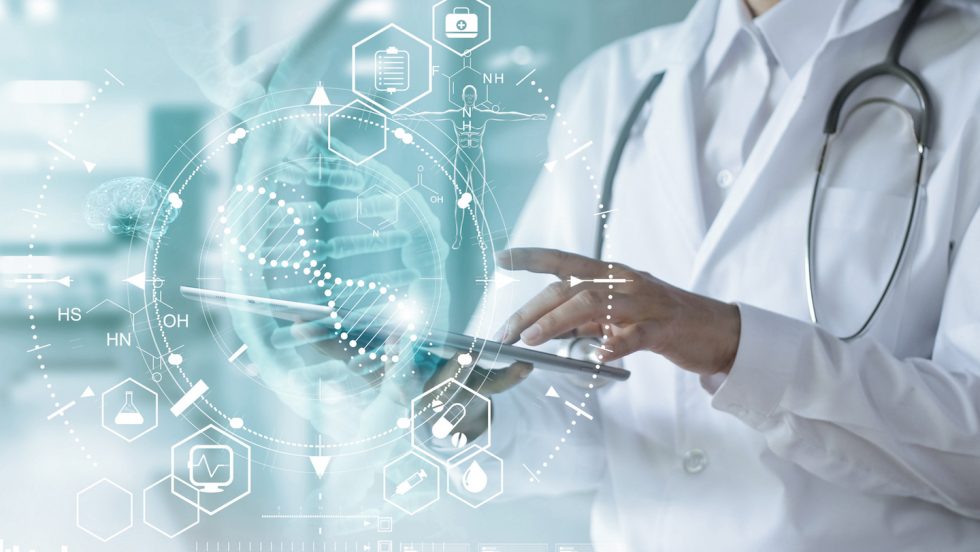 How can nursing fix America's ailing healthcare system? That's what the National Academy of Medicine's (NAM) Future of Nursing 2020–2030 consensus study is looking into.
How can nursing fix America's ailing healthcare system? That's what the National Academy of Medicine's Future of Nursing 2020–2030 consensus study is looking into. Toward that end, the College's faculty and administration continue to incorporate new ideas and approaches into their students' education.
National Academy of Medicine and the National Academies of the Sciences, Engineering and Medicine's Future of Nursing 2030 Committee, now gathering input, will develop recommendations for publication in late 2020.
Here are some ways the College is preparing its educators and students for what lies ahead:
The College of Nursing and Public Health will increase emphasis on unconventional student placements.
Besides placements at longtime hospital partners like Memorial Sloan Kettering, NYU Winthrop and St. Francis Hospital, Deborah Murphy '85, assistant dean for undergraduate programs, said two of College of Nursing and Public Health's 264 capstone students in the Spring 2019 semester worked in the community—placed at the Mineola Department of Health and United Cerebral Palsy of Nassau County, Roosevelt, New York. Although Murphy acknowledged that the students were disappointed at first because their experience would not be in a hospital-like their peers, she pointed out to them that nurses will increasingly be working beyond hospitals because that's the future. Ultimately, she said, the students were happy with their placements.
More and more, students will be exposed to environments outside hospitals, including community settings and outpatient ambulatory care. Murphy, who developed a new ambulatory surgery student placement program at Northwell Health with Andrea McCrink, EdD, associate professor, last year, explained, "Healthcare is moving
more to outpatient settings. There is a movement to have patients who need low-risk surgeries to have it performed in an outpatient setting."
Karen Mancini, PhD, Department of Nursing Specialties chair, said her department—whose clinical courses include Community Health, Maternal Child Health and Mental Health— continues to "expand our academic and community partnerships to give students the opportunity to learn from nurses and health professionals who facilitate delivery of healthcare and social needs care in the community."
Senior students in the Community Health rotation, for instance, attend various sites, such as DaVita Kidney Care, the Long Island Alzheimer's Foundation and ProHEALTH Urgent Care Centers. Students also visit the surrounding community to examine the resources available to the population, she added.
Technology is transforming healthcare with informatics, robotics, simulation labs and electronic medical records— and the College of Nursing and Public Health is staying up-to-date on those advances.
College of Nursing and Public Health faculty use innovative teaching pedagogies in both theory and lab courses, such as Victoria, a high-fidelity birthing simulator that allows Maternal Health students to participate in high-risk, low-exposure scenarios, Dr. Mancini said. Obstetrical hemorrhage and hypertensive illnesses of pregnancy are leading causes of maternal morbidity and mortality in the United States, especially in underserved populations, she pointed out.
Another growing trend is treating some ER patients at home. Johns Hopkins Medicine, Mount Sinai and the U.S. Department of Veteran Affairs have been studying that approach and found that ER patients treated in their homes have better outcomes than those treated in hospitals. Those at home tend to sleep better and be more active—with costs significantly lower.
Patients are examined remotely through a wireless patch tracking their vitals, transmitted to a computer screen at the hospital, then given appropriate medication or an IV by a staffer in the home. (Patients destined for intensive care would not qualify for such at-home care.)
Dorothy Ferraro, DNP, director of the NP and DNP programs, said, "Our aging population underscores the need for nurses to be well versed in geriatric care with a focus on healthy aging and chronic care management." She noted that "in our state-of-the-art Clinical Education and Simulation Lab (CESiL), our graduate students are provided the opportunity to translate theory into practice and build competency in diagnostic reasoning and clinical decision-making. With advanced patient care manikins, simulators, telemedicine training and the use of virtual patients, lifelike situations are created in which students must think critically, respond appropriately and quickly, and make informed decisions."
Edmund J.Y. Pajarillo, PhD, department chair, graduate nursing studies, said, "Technology is causing sweeping changes so that the traditional roles of nurses might become outdated." For instance, the new definition of nursing informatics puts "increased emphasis on interprofessional education and collaboration. We have begun to focus on educating our nurses [on those aspects] but we need to do more and make it the core of our functioning." Thomas Virgona, PhD, associate professor of informatics, said that the Healthcare Informatics program, which launches its new online curriculum in Spring 2020, is now emphasizing accreditation. "Adelphi's Healthcare Informatics program hopes to be one of the few accredited programs in the U.S. in the next few years." He added, "That effort is in conjunction with a highly successful practicum placement program, published research at conferences and a fully operational robotics lab in the Nexus Building."
Nearly every day, there are news headlines about growing public health emergencies or concerns, ranging from measles outbreaks and childhood, obesity to opioid addiction and, most recently, e-cigarette vaping's dire impact on teenagers' lungs.
Maria-Pilar Martin, MD, assistant professor and director of the Master of Public Health program, said that the National Academy of Medicine has long recommended that "medical professionals all have some exposure to public health."
That need only intensified with the spring 2019 outbreak of measles—a disease considered nearly eradicated
in the United States a decade ago—that sparked a public health emergency declaration by New York City Mayor Bill De Blasio and eventually topped 1,240 cases in 31 states in September. Some 700 of those cases were in Brooklyn and Rockland County, New York, centered around the anti-vaccine Orthodox Jewish community.
That measles surge "was not a consequence of lack of access to healthcare, but of cultural and/or religious factors," Dr. Martin pointed out. "As our nation becomes more diverse and its healthcare needs change, it is imperative that students improve their cultural competencies and use the social determinants of health to inform their practice."
Cultural competencies are more important than ever in this era of growing immigration, legal and illegal.
[pullquote direction="right"]"As our nation becomes more diverse and its healthcare needs change, it is imperative that students improve their cultural competencies and use the social determinants of health to inform their practice." —Maria-Pilar Martin, MD, director of the Master of Public Health program[/pullquote]
"Students of nursing and public health have a prodigious opportunity to influence the future health of our nation by learning about and understanding the concept of social determinants of health (SDOH)," Dr. Martin said. Citing the Office of Disease Prevention and Health Promotion's Healthy People 2020 initiative (HealthyPeople.gov), she said SDOH includes such social and economic factors as access to education, jobs and affordable housing.
Besides working within communities in this country, nursing students can learn much from their study abroad experiences in Costa Rica, Guatemala and the Dominican Republic. Maureen Roller, MS '01, DNP, who helped start study abroad at Adelphi, feels the faculty-led study abroad trips that College of Nursing and Public Health students take during spring or winter break are great preparation for working with diverse populations here. "We always talk about cultural competency in our courses since New York is so diverse." But, she added, "Rather than just discussing it in a lecture and hoping students internalize, this is a lived experience for them."
Even within one of New York state's healthiest counties, there are significant health disparities in Nassau County's lower-income neighborhoods. In other words, as 2017 Buckley Scholars Lecture speaker Diana Mason, PhD, observed, "Your ZIP code may be more important to your health than your genetic code."
Reducing such disparities can lead to improved health and well-being, according to the National Academy of Medicine.
Self-care is one recommendation Marissa (Lepore) Abram '08, PhD '17, said that she will focus upon as she readies her students for future changes.
"It is vital that we integrate discussions about self-care which include strategies to recognize risks for burnout and compassion fatigue," she said, adding that nurses' well-being can impact their delivery of high-quality healthcare.
Related to that, Dr. Abram said, "Nurse leaders can have a significant impact on solving the growing problem linked to the opioid crisis within the profession. The first and most important part is to recognize there is a problem." She added, "Healthcare professionals are a subset of society—yes, we are humans too. We carry a higher level of risk to becoming addicted due to stress and accessibility to substances. The issue must be addressed immediately."
Whatever the changes, already underway or yet to come, one thing is certain. As Adelphi Trustee Leonard Achan '99, chief innovation officer and senior vice president of innovation and business development at the Hospital for Special Surgery, advised at the 2018 Nursing Leadership Conference, "Never forget that we in the healthcare industry exist because of patients. Keep them at the center of what you do. Always."
---
For further information, please contact:
Todd Wilson
Strategic Communications Director 
p – 516.237.8634
e – twilson@adelphi.edu