Artist Lorryn Moore '13 is inspired by our bunnies—and Peeps.

Among the nine eye-catching artworks— made largely from recycled materials—that make up Adelphi's new Outdoor Sculpture Biennial 2016–2018, one has become a campus favorite: a trio of bright yellow bunnies that look like marshmallow Peeps. It's an homage to Adelphi's unofficial mascot—the beloved rabbits that make Adelphi's Garden City campus their home—and the piece has grown so popular that it's earned social media hashtags #adelphibunnies and #aupeeps.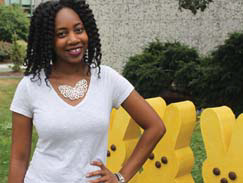 Perhaps not surprisingly, it's also the only work by an Adelphi graduate—Lorryn Moore '13.
"I chose Peeps because I generally work with junk food," Moore said. "And working off of the bunnies at Adelphi, I thought it would be very fun and playful to do marshmallow Peeps."
Moore said she has always been captivated by fast food and sweets, a fascination that started as a child growing up in Queens, New York. Every Sunday, she and her sister would walk to the nearby bodega to buy chips and candy. Now, in paintings and sculptures, she depicts sumptuous hamburgers, Popsicles, Twinkies, Oreos and cakes. She says her art is about the desire to "possess and consume these confections."
She finds inspiration in well-known pop artists from the 1960s as well as in fellow female artists of color, including Allison Guevara, Ebony G. Patterson and Erin Rothstein.
Moore applied for Adelphi's biennial project after seeing a listing online. She originally created just one Peep sculpture for the judging. The gallery staff suggested she make a few more. It took her two to three weeks to make the new sculpture.
Mounting her art on campus is a thrill for Moore, who treasures the time she spent at Adelphi. She said it was easy to get to know her professors and fellow art majors and found that faculty were "always willing to help" her in and out of class. She continues to consult with Hannah Allen, assistant professor, "for just about everything."
---
Nailing It
At Adelphi, Moore won the Thomas McAnulty Award for Excellence in Sculpture. Since graduating, she's participated in gallery shows and artistic projects throughout New York City, such as Single Fare 3, an annual exhibition that asks artists to create work on a tiny piece of plastic. She works part time in visitor services at the Whitney Museum of American Art, and as a manicurist at a salon in SoHo.
"Occasionally I'll merge my interest in both nails and sculpture by creating food sculptures on nails either out of polymer clay or acrylic," she said.
But making fine art remains her number one focus and passion.
"My ultimate goal would be to have a solo show," Moore said. "I just want to make more art and show more art."
---
For further information, please contact:
Todd Wilson
Strategic Communications Director 
p – 516.237.8634
e – twilson@adelphi.edu