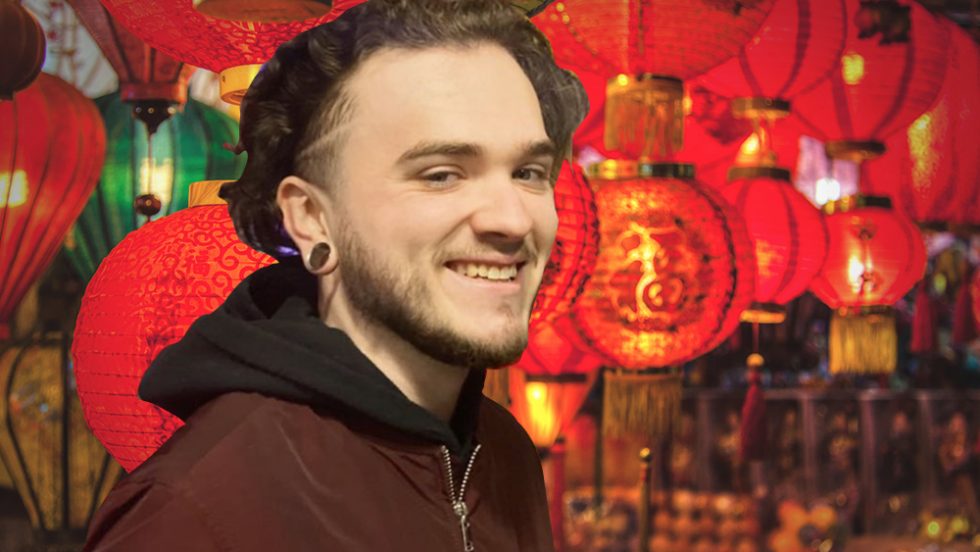 Launching a career in the video-game industry takes skill. Daniel Hickey '20 is hoping he's found a winning strategy by creating his own game-development studio while interning for an established one.
The coronavirus pandemic disrupted his senior year and Commencement plans, canceled his attendance at the Game Developers Conference in San Francisco, and greatly complicated his job prospects. But Daniel Hickey '20, whose goal is a career in the video game industry, took the long view and came up with a plan for navigating the difficult job market.
An information systems major and video game design minor, Hickey transferred to Adelphi in 2017 from City Tech (New York City College of Technology) in Brooklyn. He did that mainly for the just-introduced minor in video game design, which was developed by Lee Stemkoski, PhD, professor of mathematics and computer science.
Graduating in August 2020, Hickey postponed his job hunt and instead formed a game studio with two friends, casting himself as the programmer. "We wanted to spend this mess of a year by making games," Hickey said. "We are hoping that, come this time next year, we will either have résumés to pursue well-paying game development jobs or double down on this studio and develop a game with the intention of bringing in some money."
He is now focusing on one of those game ideas. "I worked with the artist in our group to create the prototype for a game that we'll continue developing as a passion project through our first industry jobs."
At the same time, he is working in an internship at a company called Running With Scissors. "I've got two roles: environmental programmer and marketing intern," he said. "Thus far, it's been an amazing experience. This internship acts as a gateway into a full-time job with them. They bring on new talent as interns to see how we manage the workloads."
Benefiting From Internship Experiences at Adelphi
In both game development studio work and his internship, Hickey is building on career experience he gained as a student at Adelphi.
In the spring of his junior year, he started an internship with the Electronic Gaming Federation (EGF), which runs e-sports championship tournaments. His main role was to do the groundwork for recruiting. "That included getting contact information on every public high school district, state by state, and doing the same for all Division I and II colleges," he said. He reached out to high school superintendents and athletic directors and, later, to college students running e-sports programs, to explain the benefits of joining EGF's program. He also kept score at tournament events and posted to social media.
Months later, in August 2019, his boss at EGF recommended him for a position as a student ambassador for Unity Technologies, which Hickey said is "one of the biggest game development software companies."
Part of the Global Gaming Community
The Unity student ambassador program that Hickey joined is a selective program for talented game creators who want to help other students improve their ability to develop games. The program also helps ambassadors connect with advanced creators around the world to improve their own skills.
"My favorite part of being a student ambassador was the global community," he said. "I have personally swapped notes and resources on virtual reality development with students from Ireland, India and Spain."
The biggest opportunity of all, however, was the chance to attend the annual Game Developers Conference. "Each year Unity flies around 20 student ambassadors to the conference in San Francisco to attend workshops, network, help out at the company's booth and meet other student ambassadors," Hickey said.
Unfortunately, the event, which was scheduled to be held during Adelphi's March 2020 spring break, was canceled due to pandemic concerns. "Luckily," Hickey added, "Unity has told us that they will fly us to the event next year when it's back on."
Gaining Experience Right on Campus
Hickey gained plenty of experience on campus at Adelphi. He served as president of the Adelphi chapter of the International Game Developers Association (IGDA), which informs gamers about upcoming events like game showcases and game development contests called game jams.
He also served as a teaching assistant for the video game course that Dr. Stemkoski taught in Adelphi's Pre-College Program. "Professor Stemkoski taught game development with Construct 2 to high school students," Hickey said. "I helped him by working with students and grading their assignments. The program ended with a showcase of the students' games."
So, in many ways, Hickey has launched his career—not with a staff position, but by taking all the steps necessary to gaining a job in what is undoubtedly a "mess of a year."