Adelphi changed every aspect of my life. It filled me with intellectual curiosity, and helped me to find my passion for the law. Adelphi was the foundation on which I built my career.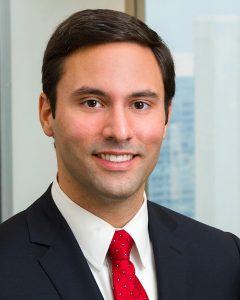 Member of Adelphi University's 10 Under 10
Associate, Willkie, Farr & Gallagher LLP
Phil DiSanto '12 knew all about Adelphi before enrolling. As a member of a legacy family, he had heard all about the positive experiences of his father Phil, MBA '03, and his sister Gina '08, MA '09. However, he also understood that, with Adelphi's personalized approach to education, he would be able to decide his own path and design his own future.
Early on, those interests tipped toward law. In the Honors College and Political Science Department, DiSanto found superb faculty mentors who challenged and inspired him.  DiSanto noted that his law classes at Adelphi "were some of the best that I've taken!"  Reflecting on his Adelphi education more generally, DiSanto's fondest memories are of his intimate and thought-provoking seminars for the political science capstone and his one-on-one work with faculty for his Honors College thesis.  "The small class sizes and personal attention encouraged me to think critically, which is very important in the legal profession," DiSanto explained.
Inspiration came from outside of the classroom as well.  DiSanto was an active member of the Adelphi community and served as president of the Student Government Association during his senior year.  In that capacity, DiSanto worked closely with faculty members and administration on issues such as Adelphi's first non-smoking policy.  "Adelphi is an incredible community of people," he said, "so I tried to learn as much as possible from as many people as possible, both inside and outside the classroom."
After Adelphi, DiSanto pursued his interest in law and entered Columbia Law School in 2012. Through hard work and determination, he was recognized for his academic excellence and was selected as a member of the Columbia Law Review, rising to the position of executive articles editor by his third year and publishing a student note on a novel issue of constitutional and federal criminal law. Challenging internships and externships including positions with the New York State Attorney General's Office and the United States Attorney's Office for the Eastern District of New York further honed DiSanto's legal experience.  Between his second and third year, DiSanto worked as a summer associate with the international law firm of Willkie Farr & Gallagher LLP, where he worked on a variety of matters across the firm's practice areas.
After graduating from Columbia and passing the bar exam, DiSanto returned to Willkie as an associate attorney in the litigation department. As a general practice litigator, his breadth of work has included complex commercial litigations, bankruptcy cases, data breach investigations, and white collar and government enforcement matters. He has worked on three major trials, including most recently on a six-week federal trial during which he led Willkie's questioning of a key expert witness.  DiSanto relishes in the experience of seeing firsthand the justice system at work and the satisfaction of securing positive outcomes for his clients.
DiSanto has remained connected to his Adelphi roots throughout his career journey. In addition to staying in touch with faculty mentors, he was a member of Adelphi University's Board of Trustees from 2012 to 2015 and then a member of the Adelphi Alumni Advisory Council. He remains active in the NYC Alumni Chapter and offered some words of encouragement to recently graduated students:
"You are part of the Adelphi alumni family now!  There are thousands of Panthers in your network who are eager to help you, so stay in touch and come home often."