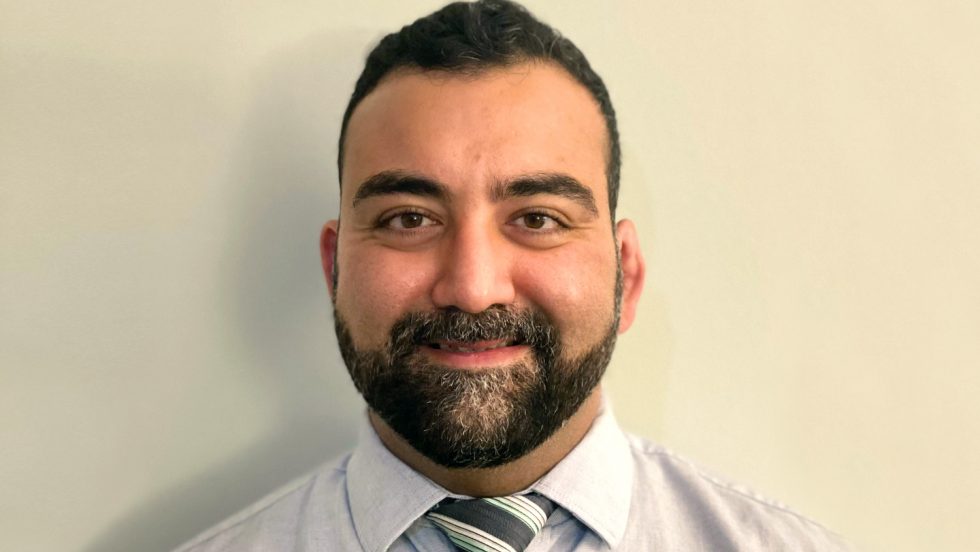 Adelphi University's highly ranked nursing program has a long and rich history of producing students who excel in all sectors of the healthcare system throughout the world. A testament to the program is the recent naming of Joseph Amnawah, a doctoral candidate, as a 2021–2023 national Jonas Scholar.
Launched in 2008, the scholarship program is sponsored by Jonas Nursing and Veterans Healthcare. It invests in high-potential doctoral nursing students whose areas of clinical focus and research address some of the nation's most pressing healthcare needs. Scholars in the program are expected to focus on one of these areas: environmental health, psychiatric-mental health, vision health or veterans health.
"It's a great honor. It's something I really didn't expect, but it's great," said Amnawah, whose research area is psychiatric-mental health. He was nominated by Patricia Donohue-Porter, MS '78, PhD '87, director of Adelphi's PhD in Nursing program. Amnawah is the first Jonas Scholar from Adelphi's College of Nursing and Public Health.
Taking a leap of faith
Amnawah's journey to the Adelphi program was not a direct one. Like an estimated 26 percent of college graduates who turn away from their majors to pursue other interests, Amnawah had initially studied to be a physical therapist in college but made a switch in careers. He took up a job as a New York City emergency medical technician (EMT), working in the Bronx and in Mount Vernon in Westchester County.
"I started working with the nurses," Amnawah recalled of his early days as an EMT. "They kept telling me about the [nursing] program and how I'll be good at it."
Initially, Amnawah paid little attention to the suggestions from his colleagues. But he found himself responding to more and more calls from psychiatric hospitals and, working with patients, he eventually developed a deeper love for nursing and, in particular, psychiatric nursing.
In 2010, while still working part time as an EMT, he enrolled in a nursing program at St. Paul's School of Nursing in Queens. He graduated with an associate degree in 2012 and completed more study at Molloy College for a master's degree in psychiatric nursing practice before applying to the PhD program at Adelphi.
"I just wanted to dive deeper into the philosophical and educational aspects," Amnawah said about his decision to enter the PhD program.
Since he has attained a lot of clinical experience over the years, Amnawah said he chose Adelphi because its PhD program is both research and nursing education science based. "The Adelphi program is taking me through the foundations of education and teaching adults and it's really preparing me for the educator and researcher roles."
William Jacobowitz, EdD, associate professor in Adelphi's College of Nursing and Public Health, has been Amnawah's critical faculty mentor during the past two years. He describes Amnawah as "a very intelligent and thoughtful individual" and psychiatric nurse practitioner with whom he also shares a common research interest.
"Since my clinical background is in psychiatric-mental health nursing and my published research addresses issues of stress and trauma, it is a good match with respect to my mentoring him on his future research," Dr. Jacobowitz said.
Working toward a healthier future for mental health
Currently, Amnawah works as a child and adolescent psychiatric nurse practitioner in the comprehensive outpatient behavioral service program at South Oaks Hospital-Northwell Health in Amityville, New York. One of his research goals is to help equip school nurses to meet the mental health needs of the students they serve. His interest in this field stems from his experience working part time as a school nurse, where he noticed that many of the students he worked with presented with mental health issues.
"A lot of them had stomach pain, but when you checked their vitals and temperature and everything, you realized it was more related to stress," Amnawah said. "I want to see if I can help educate school nurses to identify the signs and symptoms of anxiety, depression and self-harm behaviors."
Dr. Jacobowitz said he's working with Amnawah to ensure he meets his PhD goals beginning with his research, which starts in the summer.
"I will meet weekly with Joseph to review his findings from the literature and to begin to plan out a research strategy that will in all probability become his doctoral dissertation study, and one or more future publications in nursing journals by which to inform school nurses, nurse practitioners and others conducting similar research," Dr. Jacobowitz said.
For the next two years, Amnawah is looking forward to an opportunity to share ideas with colleagues and other practitioners at conferences, broaden his horizons, and connect with other professionals from across the country as a Jonas Scholar.
"I really am appreciative of the opportunity Adelphi gave me by nominating me for the Jonas scholarship and for all the support I've received throughout [my time here]," Amnawah said. "[In the future] I'd even love to give back to Adelphi at some point as a faculty member or researcher."