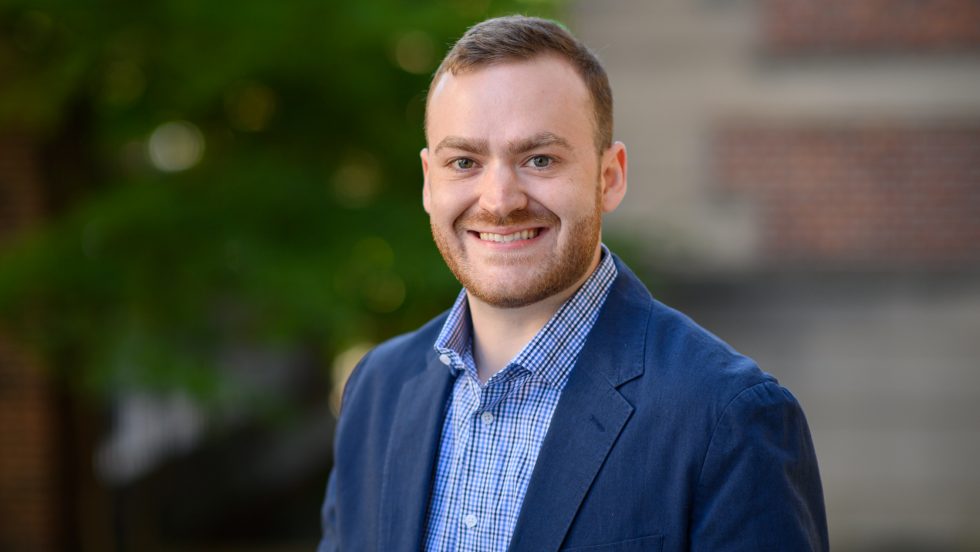 I discovered my voice, unearthed my leadership potential and tapped into a greater consciousness to those around me.
Member of Adelphi University's 10 Under 10
English, College of Arts and Sciences
Corporate Law Clerk, Mergers and Acquisitions Group, Debevoise & Plimpton LLP
Peter Hraniotis was seeking a college with a resounding intellectual and social community that integrated finely tuned values within all aspects of its endeavors. He says he found this in Adelphi's values of community and collaboration, global awareness and diversity, and truth and integrity—characteristics he sought to develop in himself as he transitioned from a small town to the school's greater community.
Hraniotis' mentor at Adelphi was Louise Geddes, PhD, associate professor and chair of the Department of English. He says she encouraged his voice both inside and outside the classroom, and had an indelible impact on the development of his leadership abilities.
After graduating cum laude from Adelphi, Hraniotis moved to Tennessee/Kentucky to manage his twin sister's domestic affairs while she was stationed abroad. He took the role of executive assistant under the president and CEO of the Christian County Chamber of Commerce, where he became deeply entrenched within the organization, a pivotal partner in community and business development initiatives. This work developed his interests in the economic, political and social systems interwoven within diverse communities and helped to reveal an aptitude for business development and government. Hraniotis' interest in attending law school was born, and the stage was set for his current endeavors. 
Hraniotis enrolled in the University of Pennsylvania Carey Law School as a joint-degree law student pursuing a Juris Doctor/Master of Bioethics with the University of Perelman School of Medicine with a Certificate of Business Management from Wharton Executive Education of the University of Pennsylvania. While at Penn, he further developed his interest in the intersection between business and community by becoming an associate editor with the law school's Journal of Law & Public Affairs, Penn Law Inn of Court and a scholar with the Penn Carey Law Global Exchange program with the University of Hong Kong, Faculty of Law. 
Continuing the importance of community he learned at Adelphi, Hraniotis joined Penn Law Lambda and completed various legal pro bono projects through Penn's clinical program and the American Civil Liberties Union of Louisiana. He graduated from the law and medical school, cum laude, with the distinguished pro bono service award while drafting a senior thesis exploring areas for potential reform regarding private equity financing in America's healthcare sector. 
These academic and leadership opportunities culminated in his current position as corporate law clerk and member of the Mergers and Acquisitions Group of the law firm Debevoise & Plimpton LLP, which he began in 2022. 
Hraniotis says the strong foundation he received in the Department of English at Adelphi was pivotal groundwork for his legal education, and shares his pride in attaining opportunities that are competitively reserved for individuals with strong intellectual rigor, dedication and high character. "I am honored to count myself amongst these individuals and community," he says.
Hraniotis adds, "Adelphi changed my life in more ways than one, in ways that I am continuously recognizing as originating from our community in Garden City. I found my voice, leadership potential and a greater consciousness to those around me."