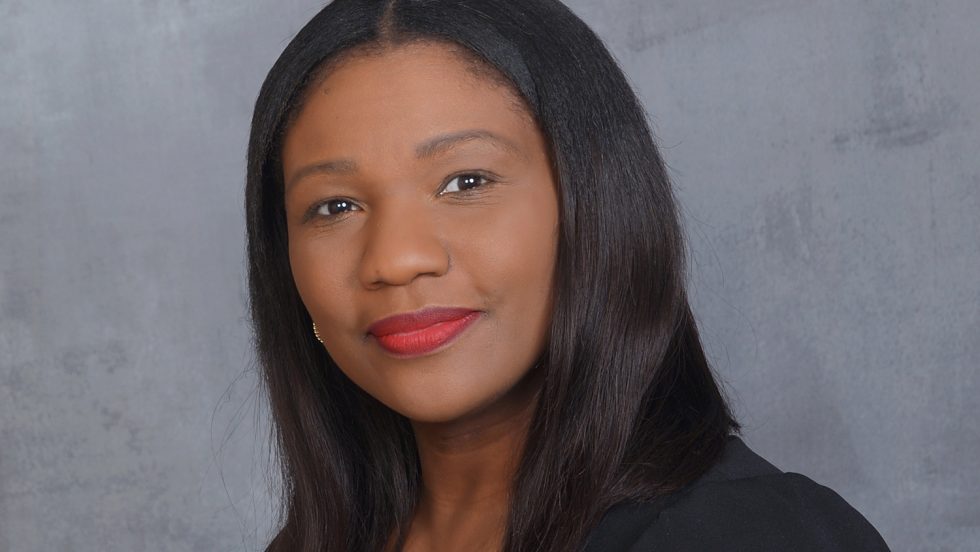 Courses in jazz and blues literature and race and gender in film added to African, Black and Caribbean Studies offerings.
Patricia G. Lespinasse, who has a PhD in English and Comparative Literature, associate professor of African American literature in the African, Black, and Caribbean Studies program, came to Adelphi at the beginning of this semester. Dr. Lespinasse earned her BA in English from St. John's University and went on to earn her MA, MPhil, and PhD in English and Comparative Literature from Columbia University. She was awarded a Postdoctoral Fellowship in African American and African Diaspora Literature at Rutgers University where she began work on her latest book, The Drum Is a Wild Woman: Jazz and Gender in African Diaspora Literature. She is also co-director of the film Proud Blood, a documentary examining the United States Food and Drug Administration's ban on blood donations from Haitians in the 1990s as part of a policy to prevent the spread of AIDS, and the present-day ramifications associated with that ban.
Dr. Lespinasse teaches courses in Caribbean literature, African American studies, and race, gender and American film, and this fall will introduce a new course in blues and jazz literature.
How did your interest in African American literature begin? What were some of the first works you read and what was your reaction at the time?
Well, my siblings and I were raised in a home surrounded by books. Books were everywhere. My parents curated a library filled with great works by Haitian, African American and American authors. My father, who studied accounting and wrote poetry, introduced my siblings and me to the tales of Bouki ak Malis. His storytelling was accented by melodies on his guitar. As a first-generation Haitian American, I learned songs in my parents' native tongue and engaged in discussions about literature and culture.
As I think back on this formative period, it was the first time that I experienced the power of music and literature combined.
While pursuing my PhD at Columbia University, I decided to delve deeply into African American and Caribbean literature. A course with Robert G. O'Meally, PhD, entitled Jazz in American Culture brought back memories of the music-literary salons we'd have at home after dinner.
The course reinforced my notions about music and literature as being foundational to our understanding of the Black experience. It also showed me how jazz music is a major part of American cultural life beyond literature—we saw jazz in art, cityscapes and even cartoons. Dr. O'Meally introduced me to The New York Times writer Ben Ratliff, whom I shadowed in an attempt to learn how to write about jazz performances. I also took a course on improvisation with Stanley Crouch, who at the time was a jazz critic and visiting professor at Columbia. And a part-time job at the Center for Jazz Studies exposed me to top scholars and musicians who discussed current trends in the field. These experiences served as the foundation for my research into the meaning of jazz music in African American writing.
You're introducing a new course, Blues and Jazz Literature, in the fall. Tell us why blues and jazz literacy is important and how it differs from the other courses you already teach.
Yes, I am really excited about this course, as we will examine authors that use music in their writing to give their characters a sense of agency. I believe that an understanding of the African American vernacular tradition, which includes jazz, is vital as it provides a window into the realities of African American life and culture. The music is a testament to the Black experience in America. Without the music, it is difficult to fully appreciate the nuances of Black existence from slavery to the contemporary period. What makes this class interesting is that students will be exposed to music that they may not have ever listened to. I will invite them to examine both literary and musical texts in order to gain a layered perspective on how Black writers write music into literature.
What about Adelphi made you want to join our campus community?
That's a great question. Adelphi holds a special place in my heart of memories. Many years after my parents emigrated from Haiti as children, and long after my siblings and I were born, they found an intellectual home at Adelphi. Adelphi afforded them the opportunity to earn their degrees at night. After arriving home, checking our homework and preparing dinner, my parents would sit at the kitchen table to complete their own school assignments. As a child, seeing this affirmed for me that education should not to be taken for granted.
Recently, I was a visiting professor at Adelphi. After a wonderful year interacting with students and colleagues alike, I was overjoyed by the invitation to return.
Where do you think Adelphi has room to grow? What do you hope to bring to the University?
A university that does not grow cannot adapt to the changing needs of the student population. Adelphi, like all great institutions of higher education, must continue to find ways to grow and meet the needs of the community.
I have a personal investment in the area of Africana studies. I hope to bring new research, exciting courses and study abroad programs that will widen student perspectives on African American literature and literature throughout the African Diaspora. For example, my Spring 2023 course, The Harlem Renaissance and Beyond, will examine notable authors of the Harlem Renaissance and the Negritude movement. The course is designed with a study abroad component that will allow students to travel to Paris where they will visit cultural markers and institutions that influenced Black writers in New York and Paris in the 1920s and 1930s.
Most importantly, I hope to build upon the current curriculum of the African, Black and Caribbean Studies program and assist in establishing a Department of Africana Studies.
How and where can people see your film
 

Proud Blood?

I, along with my co-director [New York University associate professor Millery Polyné, [PhD, history], will debut the interactive website in Summer 2022. The website will include videos from various community members who participated in the protests that led to the reversal of the ban. Proud Blood is currently in production but stay tuned for scheduled screenings.
Lastly, could you offer us one summer reading suggestion?
Now Lila Knows, the highly anticipated 10th novel by Elizabeth Nunez, will be released in June 2022. I am looking forward to its release.