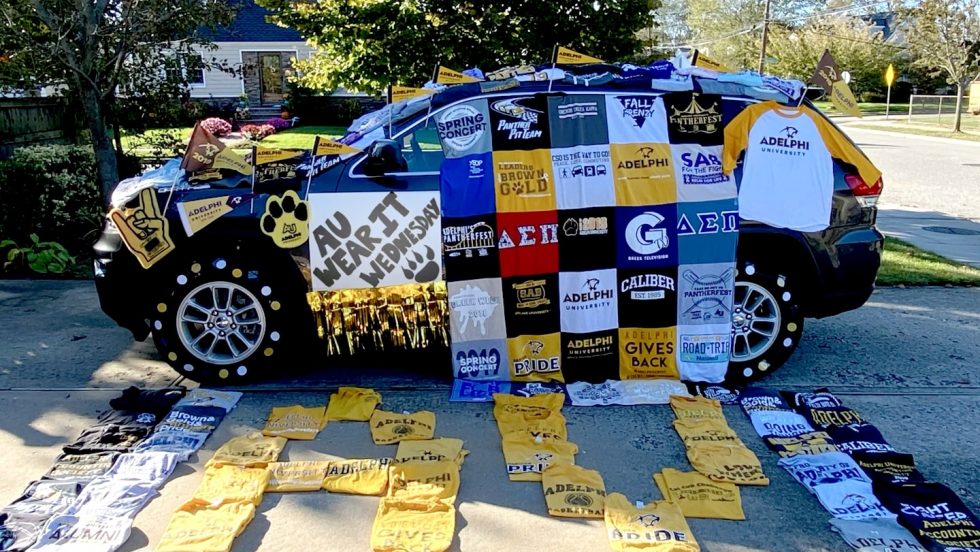 Panther pride went virtual this year for Adelphi Spirit Weekend. The Center for Student Involvement (CSI) and the Office of Alumni Relations spearheaded this tradition for the fourth year. Ten departments hosted 42 virtual events that Panther participants—whether they were current students, alumni or family members—could attend from the comfort of their own homes.
CSI introduced four new traditions for Adelphi Spirit Weekend this year, including a first-year and transfer program, a virtual wine tasting for graduate students, and two parent and family programs: a cooking class and happy hour trivia.
Alumni Relations encouraged folks to show their spirit and their support for Adelphi students and raised more than $12,000 from 48 donors in its crowdfunding campaign. More highlights from the weekend included:
A hundred pet toys were made and donated to the North Shore Animal League during the Panthers Give Back event.
Seventy-five students submitted a Car Spirit Display. The winning submission was Rachel Foley '19, MBA '20.
Jillian Hajek, Jessica Bellomo and Aadil Khan were crowned this year's Prestigious Panthers, embodying leadership and Panther pride.
The Caribbean Student Union, Black Students United and African Student Association hosted a powerful and impactful Drive-In for Black Lives, with 17 vehicles and 30 students in attendance and 110 nonperishable items collected for the Panther Pantry.
More than 450 community members attended Jason Derulo's virtual concert and Q&A, hosted by the Student Activities Board.
Overall, 1,700 Panthers participated in Adelphi Spirit Weekend, showing that no matter our location, our Panther pride cannot be stopped.