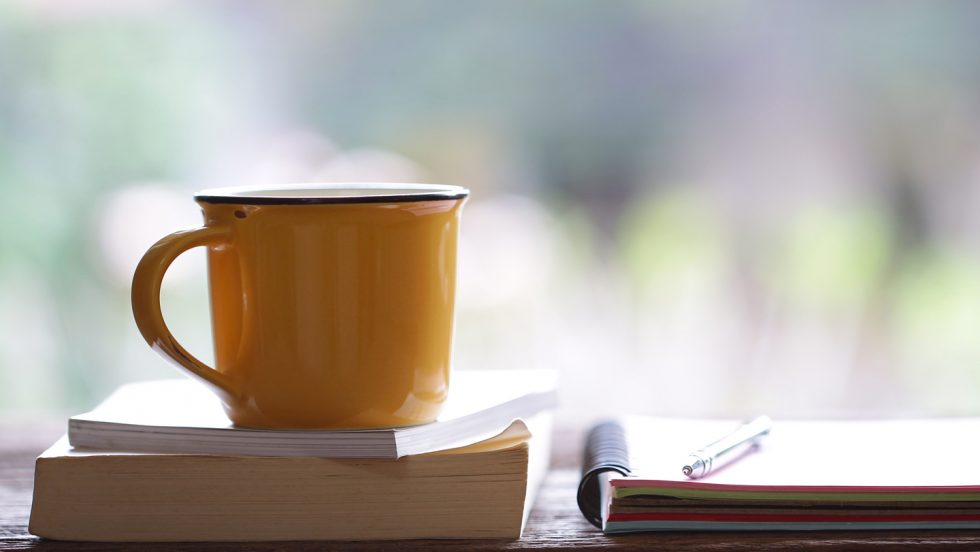 For 16 years, Adelphi's English department has celebrated outstanding undergraduate and graduate student writers with the Donald Everett Axinn Awards in Creative Writing. Started in 2005 by Professor Judith Baumel (also founding director of the Creative Writing program), former Adelphi President Robert Scott, PhD, and generous donor Donald Axinn, DHL '03 (Hon.), the awards recognize and encourage student work.
Axinn Award winners have usually been announced at the English department awards ceremony each May. Because the department couldn't hold an in-person ceremony due to the pandemic, Jan-Henry Gray, visiting assistant professor of English, organized a virtual reading in order "to celebrate the amazing writing happening every day in the undergraduate and graduate program at Adelphi. We wanted to give students a sense of support from the larger writing community." Current students, alumni, family and friends attended.
This year, I was fortunate to both sit in on March 17 for the celebration of the 2020 winners, and participate in the 2021 competition. The awards are given for four categories respectively: fiction, creative nonfiction, poetry and literary criticism, literary theory or literary history. All Adelphi University students are eligible to submit their work to the awards. This includes undergraduate and graduate students, whose work is judged in separate categories, and students in the English department as well as all departments in all schools and colleges of the University.
At first, I skipped past the frequent emails urging us to participate, until Professor Gray himself encouraged me to submit my work. He helped me select and edit five poems I had written in a previous chapbook, and I put them together, added the necessary information, and sent it in at the last minute.
Before this, I had never felt comfortable participating in poetry competitions or awards because I was certain I would lose, and I was afraid of experiencing failure. Several weeks later, when the results were posted and I found out that I had been given an "honorable mention," I couldn't believe my eyes. I had not been expecting anything near that. I had only participated in an effort to get myself accustomed to the feeling of failure—what I had expected.
"It's too easy for students to think that they are only writing toward the classroom," Professor Gray said, commenting on my experience. "This experience enables student-writers to understand how they're not only writing for themselves. I think students should always think of the writing as having the ability to move outward, beyond the classroom. The writing happening in classrooms isn't just "practice"—it's potential literature. The poem or story or essay may start as an assignment but it can be published, can win awards and it can reach people. That's a really powerful thing, especially early on."
As proven in my case, the awards don't only recognize work, they also teach students how to hone their writing skills as well as how to choose and submit their work for a contest, revise their work and then get up in front of an audience and read their writing out loud.
Professor Baumel says that most winning students have gone on to publish work, and some have published full books and won prestigious prizes. Writers who receive an award at the start of their careers report that the recognition helps them find the strength and courage to pursue the difficult and lonely work of writing. It's true—since I received an honorable mention in the poetry category of the Axinn Awards, I have felt more confident submitting more work to both fiction and poetry competitions, and more frequently, too.
The winners and honorable mentions for 2021 are:
Undergraduate:
Best Essay in Literary Criticism, Literary Theory, or Literary History: Chloe Adamczyk
Creative Nonfiction Writing Award: Rebecca Justiniano
Creative Writing for Poetry Award: Julia Gobes
Graduate:
Creative Nonfiction Writing Award: Stephen Pisani, MFA '21
Creative Writing for Fiction Award: Sierra Lindsay, MFA '21
Creative Writing for Poetry Award: Sophia Tarin, MFA '21
I gained much more than an honorable mention from participating in the Axinn Awards. The recognition certainly felt wonderful, but the true gift is the confidence I attained and the boldness I feel whenever I submit my prose or poetry for publication. I am no longer afraid of "failing" because I know it just means I am trying; I am putting myself out there—and that is always a good, brave thing for any writer to do.
Excerpts of the winning works
Below is Sophia Tarin's winning poem and excerpts from some of the winning works.
Besides
 

(On Kehinde Wiley's "Rumors of War," Times Square, NY 2019), by Sophia Tarin

In a canyon of commodity

comprised of mountains of LED screens

& a raging river of refugees, rises

a lost child of democracy. Waves of people

crash against the marble pedestal

of this stately son astride a charging horse

like a portrait of a naked baby that a crowd

paints into the part of an angel without

consent, stripped of youth & made eternal

in allegory. Seeking respite on the marble

Lady Liberty is prostrated, her back cracked

forward, a powdered turquoise Quasimodo,

a shiny new penny dulled by the breath of wealth.

Liberty wobbles on stilts, she engulfs paper

hand over fist, arms stretched for take

counting tinted paper in a sweeping gesture

slow & exaggerated flicking each dollar

rolling & consuming into her costume,

a habitual custom. A destitute prostitute,

Lady Liberty's ideals are pimped

like pulp images on bright screens luring

shiny new citizens to empty glass mountains.

This lady tainted green with greed

calls sanctuary on the pedestal of the sainted

child held above a sea of pavement & trash.

The child carved into stone is marked

with the prayer: "Rumors of War."
Babyland,
 

by Sierra Lindsay

So Meg in theory should not be getting pregnant. Between the pill she takes every night with dinner and the colorful treasure trove of Seon's condoms, the baby would have to fist-fight a lot of things to implant in her uterus. Babies are not very strong, but Meg can't help but think that a baby of hers, and of Seon's, might be very strong. Just look at them both! Meg, having gone to state for tennis tournaments. Seon, thighs thick as horses from all the running. Maybe the two of them together are dangerous. Meg sits on the toilet and gets nervous again. She dares a look down, pokes her flesh. You better not, she says. I'm very very busy and I don't need this. I don't want you. She squints and sucks her belly in. She's sure Seon isn't thinking about any of these things. He's probably just thinking about her neck, which he loves, enough that Meg has had to buy a new tube of concealer to make sure people don't see proof of his teeth. Maybe he's making breakfast right now. Six eggs, spinach, potatoes. He loves to eat. Makes her food sometimes. All the portions are big and rich. He needs the calories, he says. He's been training at the gym recently. So Meg is his sport but he still has training, which she likes. He's very strong, getting stronger. Maybe the training is making his sperm stronger, too, stronger than her pill. Diseases get stronger than vaccines sometimes, so maybe it could happen to sperm. Meg finally gets up because her feet are falling asleep.

So she'll get a pregnancy test. That's not hard. There's a drugstore a few blocks away that's walking distance, or Seon will drive her. Yes, she will sit in the passenger seat and hold his hand and they'll coast down the narrow road with the windows down. A favorite song will be playing. He will put a hand through her tangled hair and they will park and she will find out that she is not pregnant. Life will continue the way it should continue: her, and him, and that's it.

Find the full version here.
Trauma and Feminism,
 

by Chloe Adamczyk

Though many call her poetry dramatic or hysterical, Plath implores what it means to be a feminist as she makes a space for women's voices among the men who dominate certain genres. Lisa Narbeshuber writes, "Daddy" notoriously restages secret family conflicts between parents and children, husbands and wives. It lifts a veil covering shameful social relations" (189). Plath wrote a poem that tackles multiple feminist issues at the time, and it does so with imagery and metaphors that can be seen as self-destructive. "Daddy" leaves its readers with a sense of importance; Plath shares personal aspects to connect her readers with the heavy topics she discusses. "Daddy" is a feminist revolt against the patriarchy that plagued Plath's life.