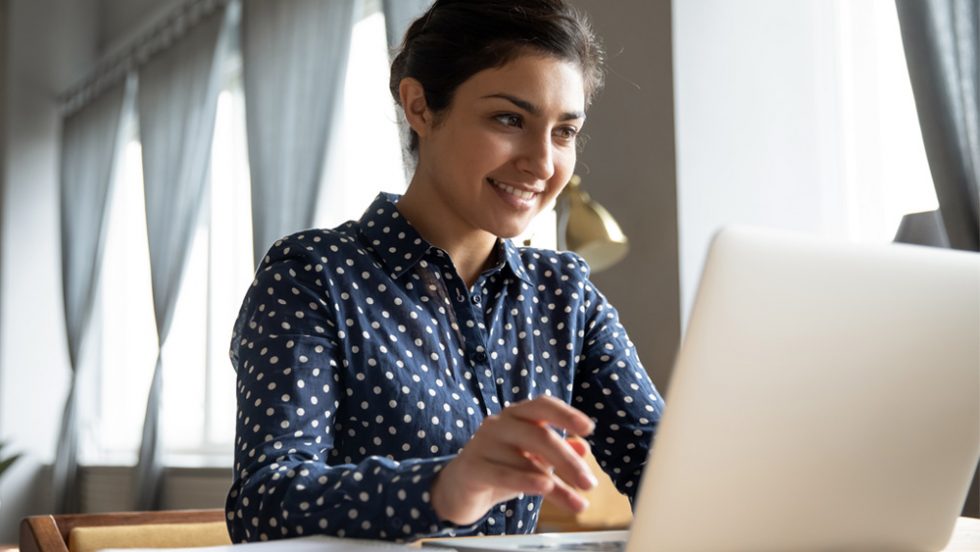 Children, teens and adults in neighboring communities depend on the therapists in the Hy Weinberg Center for Communication Disorders for speech-language and hearing evaluations and interventions. The Center has more than 100 speech and hearing client visits per week.
The Center is also a clinical training ground for students pursuing a master's in speech-language pathology in the Department of Communications Science and Disorders or their doctorate in audiology (AuD) as part of the Long Island Doctor of Audiology Consortium, which comprises Adelphi, Hofstra University and St. John's University.
When the state went on lockdown due to COVID-19, training and services could no longer physically take place in the Hy Weinberg Center. But, according to Anne Marie Skvarla, director, it was imperative that community members continue to receive needed therapies and our students continue their work.
"The directors, staff and students—in collaboration with the Department of Communication Sciences and Disorders, the Office of Public Safety and Transportation and executive leadership—worked tirelessly to continue to provide important clinical training experiences and clinical services to our community," she said. "It serves as a testament to our commitment to our students and community."
Bringing Hearing, Speech and Languages Services Virtual
During the spring semester, students and their clinical supervisors participated in virtual clinical simulations, said Skvarla. The students were also trained in how to conduct services online via teletherapy for the summer semester.
"The students are now providing evaluation and intervention services to their clients via Zoom-HIPPA, while being supervised 100 percent by our New York state–licensed and ASHA [American Speech-Language-Hearing Association]-certified clinical educators," she said. As a result, students learn an important skill that will serve them well in their careers. "Teletherapy knowledge and experience will be very beneficial to them in their clinical externships as well as future employment," Skvarla said. "There is no doubt teletherapy experience and services will be in demand for the foreseeable future and will become part of the 'new normal.'"
In addition, the AuD students meet every day on AudSim to virtually assess simulated patients and learn how to counsel and manage audiological cases.
Serving Hearing Aid Users
Hearing aids are delicate instruments that frequently need to be repaired. To do so safely, the Center began offering contactless "emergency curbside" audiology services to current clients in June. "The clients were very excited and grateful this service is now offered," said Skvarla.
Clients are required to wear a mask or face covering and complete the COVID-19 screening via the AU2GO mobile app.
Clients park at the Center, then call the clinic. Deborah Senzer, AuD, clinical coordinator of audiology at the Center, goes to each client's car, wearing personal protective equipment (PPE) and strictly adhering to all CDC guidelines. She retrieves the client's hearing aid and brings it into the audiology suite. She evaluates the problem and either repairs it, if possible, or sends the hearing aid to the vendor to service. Once repaired, the instrument is disinfected and returned to the client in a new bag. Between client visits, the audiology suite and equipment are disinfected in accordance with CDC guidelines.
Committed to Community
According to Skvarla, these efforts "demonstrate how members of the Adelphi community collaborated to assure continuity of student learning and services to our clients and neighbors despite the COVID-19 pandemic."