Two speech pathology graduate students gain a new perspective on their field through their hands-on clinical work with older adults at Adelphi's Hy Weinberg Center for Communications Disorders.
As a speech therapist in training, Francisca Kim had little interest in working with adults. "My thing, when I decided to go for this field, was to treat children," she said. So when the first-year graduate student was assigned a group of mostly senior citizens with communications difficulties, she said, "I wasn't really too excited. To be honest, I wasn't interested at all."
Kim was assigned to one of four aphasia groups at the Hy Weinberg Center for Communications Disorders, a program of Adelphi's Communication Sciences and Disorders department. Aphasia—losing the ability to express oneself in speech and language—can occur after a stroke or traumatic brain injury. Learning to talk again is often a slow process. Practice is essential, and the groups provide a safe, supportive environment for conversation.
Kim approached her first group meeting with some trepidation. "I was really scared," she admitted. "I'm Asian, and in my culture we're not really used to talking back to elders." For her, that first meeting was "a breakthrough. I had to learn to open up to the clients. They needed to trust us, and I needed to trust them too."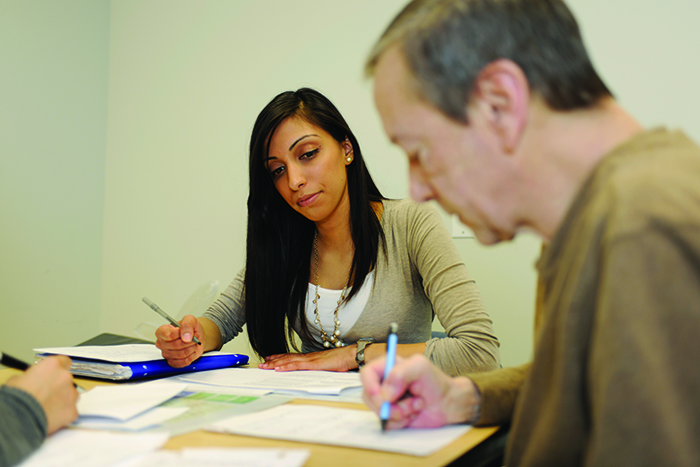 Each aphasia group has three graduate students per semester, said Anne Marie Skvarla, director of the Hy Weinberg Center. Under the direction of a certified and licensed clinical supervisor, the students run the groups, creating session plans and activities and working directly with clients. Many clients at the center also see student clinicians for intensive one-on-one sessions.The clients' individual and group student clinicians stay in close communication with each other to assure continuity of care. 
Like Kim, first-year graduate student Safa Alsaidi assumed that children would be her professional focus. She was also a student clinician for an aphasia group last semester—a group of three individuals with the diagnosis of primary progressive aphasia, caused by neurodegenerative diseases such as Alzheimer's.
"It's the same disorder, but everybody is affected differently," said Alsaidi. Having three clients with widely disparate symptoms "was a great learning experience. It really tied in everything we were taught in our classes and lectures."
For both Kim and Alsaidi, working with an aphasia group has made them rethink their future career plans. "I realized, 'Oh, children are not the only ones who need help,'" Kim said. "I'm not sure if I would even want to do children at this point," said Alsaidi. "I'm keeping an open mind, but for now I have more interest in adults."
Alsaidi spoke with pleasure about a client in her group who had tried individual therapy earlier and found it too anxiety-provoking. After last semester's aphasia group, she's ready to try it again—with Alsaidi as her student therapist. "I'm very excited about it," Alsaidi." Kim understands that excitement. There is a real impact, she said, "when you're able to change somebody's quality of life, to give them a new perspective—a chance."
» Learn more about the clinical experiences students gain at Adelphi's Hy Weinberg Center. 
---
For further information, please contact:
Todd Wilson
Strategic Communications Director 
p – 516.237.8634
e – twilson@adelphi.edu